FinishMaster has grown from a single outlet to more than 205 locations in 32 states since its founding in 1968. With more than 1,800 team members, the company's combined experience and knowledge enables it to provide customers with the best automotive and industrial paint products and services needed to grow their businesses. Through exceptional customer service and a commitment to its core values, FinishMaster has become a leader in the automotive aftermarket.
"I believe we're the leader in providing value to our customers because of our people," President and COO Steve Arndt says. "All of our team members strive to wow our customers and give them the greatest experience whether they have been here for 30 years or 18 months. We're a united team in that way. Culture will eat strategy's lunch every day, and if you have the right culture, your strategy will follow. That philosophy has put FinishMaster in a leadership position."
FinishMaster continued to solidify its leadership position after making seven acquisitions in 2016, adding 370 team members and 44 branches. This year, FinishMaster has already opened a Greenfield branch in Portland, Ore. As 2017 progresses, the company plans to become a bigger player in the industrial segment and to continue growth in the automotive sector. In addition, it will expand its private label brand of products that are targeted to meet the need of its customers in the automotive aftermarket industry. This growth plan will help FinishMaster exceed customer expectations through tailored services.
"It's not a one-size-fits-all for every customer," Arndt explains. "Some customers want to see a sales representative every week, others want a tech representative once a month, and some want delivery twice a week. We try to tailor our services and support to their needs. It's not about the product, but about servicing the customer – what works best for them in their location. Service goes across all products lines."
FinishMaster services customers of all sizes, from the largest in the multi-shop operator and repair industry segment to the single one- or two-operator shops. On an even smaller scale, the company has walk-in and do-it-yourself customers who visit FinishMaster's branches.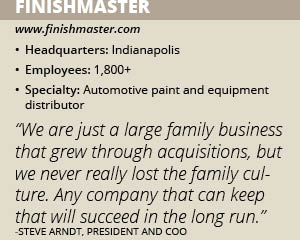 "We try to service all segments of the vehicle refinish market," Arndt notes. "We feel we're in a great position to support the market. This is a vibrant industry and there's a lot of room for growth. We're excited to grow our market share and remain a leader in the automotive aftermarket."
Setting Goals
FinishMaster's product lines don't change very often, but the company is always looking for the best products in the market for its customers. It has more than 7,000 products to offer, but its team members are always on the lookout for new or improved products that can make customers more efficient.
"One of the advantages we have is our size. We have quite a few manufacturers coming to us and asking us to take on their product because of our footprint," Arndt says. "It makes us an attractive target for new products. When it comes to our vendors, we really believe they are a key part of our success. We work closely with them to drive growth of new products and important initiatives.
"In that sense, it's a partnership," he adds. "The only way we can do that is with consistent communication from top to bottom. One of the things we take great pride in is working very hard to build and maintain great relationships."
In addition to providing the best products from its vendor partners, another one of FinishMaster's goals is to maintain 98 percent on-time delivery to its customers. Branches are replenished at least once a week and the team works diligently to ensure it has enough or more than enough product so customers don't run out. "Product is one of those key measurements customers look at," Arndt says. "We can provide them with a lot of data and be a great partner, but we have to have product available to them when they need it."
FinishMaster is in the final stages of opening its fourth distribution center in Moorestown, N.J. With the addition of this distribution center, all FinishMaster branches are within one-day delivery. FinishMaster plans to open another one both this year and in 2018.
"Success starts with setting goals for productivity, whether at the distribution center, at our branches, or with our customers and vendors," Arndt explains. "Our job is to set goals, measure them and ensure we have good processes in place so we can provide the best support for our customers. We utilize the same practices we have internally with our customers and vendors to help them grow their business. They hold us accountable to the goals, processes, and improvement plans we build together. Our core values are a constant reminder to be part of the solution, look for the next best answer and leave things better than we found it."
FinishMaster's goals wouldn't be met without the dedication of its 1,800-strong team. "They have a real desire to make sure our customers see them as a value-added component of their business," Arndt says. "Our vision statement says our goal is to be a key factor in customer success and our team members strive every day to do that. I think we have the best in the industry. They care and know we have a responsibility to take care of customers, vendors, and fellow team members. We are just a large family business that grew through acquisitions, but we never really lost the family culture. Any company that can keep that will succeed in the long run."