Finn Marin powers through
Established in 1990, Finn Marin has been a major player in the Scandinavian motorboat industry, and as part of the Terra Patris conglomerate since 2015 has been going from strength to strength
Based in Kokkola, Finland, Finn Marin is one of the largest boat manufacturers in Scandinavia, and its CEO Raimo Kielinen is very passionate about the service that his company offers: "The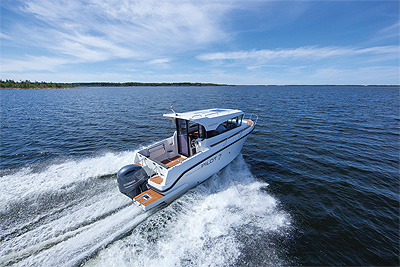 range consists of Finnmaster, Husky and the premium brand Grandezza, each one offering a wide array of options, compared to what other competitors can provide."
The Grandezza is described as 'a boat for people who don't want to settle for the ordinary', with the 40CA referred to as a 'true beauty of the seas', complete with a sandwich structure for exceptional handling, bedrooms that wouldn't look out of place in a boutique hotel and a maximum speed of 40 knots, which Raimo describes as the 'luxury' option. Elsewhere, the Finnmaster Pilot 8 is 'a model without compromise' with smart storage compartments and features such as a Garmin chart plotter and echo sounder, while the Husky R7 is described as 'a versatile bow rider, perfect to spend a day at sea in.'
Raimo's journey to becoming CEO of both Finn Marin and fibreglass boat builder Selio Boats is a fascinating one. After graduating from the College of Forestry, he went on to become Sales and Marketing director of wood products, Finnforest (which has since been renamed Metsa Wood), before starting his current role, which also includes being a board member of the Finnish Marine Industries Federation.
Raimo is proud to have witnessed the organisation grow and develop. In 2004, it became part of Finnish conglomerate Terra Patris group, that also includes agricultural machinery, contract manufacturing and excavation services. This association has had enormous benefits: "Coming into this allowed the company to expand, and it has been growing quite fast in the last three years."
Another prominent partnership has been with Yamaha, with Finn Marin distributing for its network since 2003, and the agreement has been beneficial for both sides: "There is a close connection with all of the Finnmaster and Husky products pre-rigged for their engines, and we also distribute in other parts of Europe as well," he confirms.
One aspect that Raimo is concerned about is the process of finding the next generation of builders, something that will be crucial to protect the industry in the long-term: "At the moment, it is very challenging, and steps have been taken to educate new employees coming into the team," he explains.
One way that Finn Marin is building on this is by looking to expand its operation by opening a new factory in Tchew, a northern port in Poland: "At present it is in the planning stages, and it should be ready for operation in 2019.The reason that this decision has been taken is because production in Finland can be quite costly at the moment, especially when it comes to making smaller ones, so it is important that facilities are in place that can manufacture quickly and efficiently." Reports have suggested that PLN 16.5 million (the equivalent of $4.5 million) is being put into this project, and it will create 20 new additional jobs.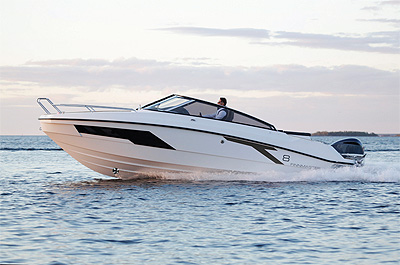 When it comes to what may happen in the future, Raimo is cautiously optimistic, and not just in terms of literally building towards sales targets: "For the next 12 months, the focus has to be on growth, though we do have one eye on the important trade events that are taking place in January and March." This is a sensible approach, but the results suggest there are reasons to be cheerful, with turnover estimated to have increased by 40 per cent in the 2016 period just before the Helsinki exhibition last year (27.7 million euros compared to 20.2 million euros in 2015).
The show was significant, as it also saw the debut of four new additions, including the fibreglass Finnmaster S6 and the sporty Husky R8s, complete with a 350-horsepower engine. During this event, Raimo was quoted as saying: "The strongest export markets are Sweden and Norway, with traction in the UK and Switzerland. Going forward, the sales network will be expanded to cover new parts of Europe."
Raimo is aware that some factors are outside of his control: "The group will be paying close attention to its new Polish factory, and it is hoped that this will be beneficial in the long term. How far the business develops also depends on the economic situation, which is very difficult over the next five years." As well as investing in facilities, there will also be more money put into product development, further improving on the quality of choices for potential customers.
With vessels capable of speeding through the seas, or something that allows for a serene cruise, it is no surprise that Finn Marin is adapting to the ever changing waters of the current economic situation. In summary, Raimo has a message to motivate and inspire everyone: "As long as it is possible, we will keep going!"
Finn Marin
Products: Exporter of leisure motor boats and associated equipment and services
www.export.finnboat.fi