First American Plastic Molding Enterprise
At the industry's apex, there were about 10,000 plastic molding companies in the United States, according to First American Plastic Molding Enterprise President Bill Bartlett. However, by the end of 2009, that number was down to 6,000.
The substantial decrease happened in the past two years, but the number has been gradually diminishing for the past five to seven years, he adds. And although many companies have moved their full-time production overseas, South Beloit, Ill.-based First American Plastic chooses to ride out the storm at home. "A lot of companies are upset about [the market changes], but we view it as a global economy," Bartlett says.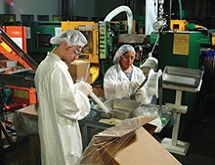 "We are going to be in a global economy – something that constantly changes – for a long time, so we have to figure out how to adapt to it instead of fighting it." For example, instead of moving its production overseas to offset costs, First American Plastics offers its customers the option to have their molds built in China. "Our customers know about it, and we oversee their production," Bartlett notes. "We recognized that we still need tooling shops in the United States that we can count on, but we also work hard to embrace the global aspect of the business."
To ensure quality, the company main­tains constant communication with its tooling partners in China. "Our customers come to us with a concept, and we work with [our partners] to design and build molds, and we oversee everything," Bartlett says, adding that First American Plastics has two companies it works with in China.
A Systematic Approach
First American Plastics manufac­tures a variety of plastic components, such as knives, forks and spoons for McDonald's out of its Ocean Springs, Miss., facility, and valves for Pepsi soda fountain machines out of its Illinois facility. In addition, it manufactures automotive speaker components for the automotive industry. "Everything we do are component parts for other companies," Bartlett states. "What we market is our manufacturing capabi­l­ities and how we do business. The result is high-quality, cost-effective plastics [that are] always on time. "
Aside from its ability to stay flexible, performing difficult assemblies and its approach to business set the company apart. "We had an independent company contact our largest customers to find out how we do business," Bartlett continues. "We know how we feel about what we do, but we want to know how our customers feel, and we found out that they appreciate our systematic app­roach to doing business."
An example is the company's ISO-9001:2008 certification. "We are certified at both of our locations, and we take it very seriously," Bartlett adds. "A lot of companies are just certified on paper, and they are just doing enough to get by. But we are doing everything we can to adhere to it. We have well-honed processes that assure customers they'll always get accurate parts delivered on time."
"For example, we have continuous improvement teams that meet on regular basis to take a look at cor­rective action if customers come back with any issues," Bartlett continues. "It has to be [reviewed] by a cross-functional team. If we see there is a better way of doing things, we improve it." Additionally, First American Plas­tics is a Certified Minority Business Enterprise that holds a dairy certification, as well as NSF- and sanitation and HACCP-certification.
Staying Profitable
Like many companies, First Amer­ican Plastics faced a tough 2009 fiscal year; however, the company has re­mained profitable. "In the past year-and-a-half, our sales have gone down from $19 million to $13 million," Bartlett explains.
"But the good news is that because of the decisions we made way back in October [2008], we managed to stay profitable. That is something that a lot of companies can't say [during this time]."
Once the company noticed that its sales were going flat, it cut expenses to adapt to challenges. Most importantly, First American Plastics looked at sustainability as a way to do business. "Sustainability actually turned out to be very good for our business," Bartlett states. "We looked at things that would be good for the environment, but good for the business, as well."
The company looked at ways to de­crease power usage by installing motion detectors so lights turn off when not necessary. In addition, the firm also replaced its lights with energy-saving fixtures.
"We also looked at ways to recycle our waste," Bartlett explains. "We were able to reduce trash pick-up from five days a week down to three, and we are looking into making it one pick-up a week."
Embracing Lean
In the next five years, First American Plastics plans to grow its sales. The company's No. 1 priority right now, however, is to help educate its people so they are prepared for the company's future growth.
"We spend a lot of time training our employees," Bartlett states. For example, the company offers English-as-a-second language classes for non-native speakers. It also trains its staff to perform just-in-time delivery and lean manufacturing. "One of our goals is to continue to embrace lean to drive cost down so we could be cost-effective and profitable at the same time," Bartlett says.