At the forefront
With operations spanning more than two decades, US-based First Solar is setting the standard for innovation within the solar industry, with the least energy-intensive panels on the market, and an ambitious plan for growth
Not all companies can claim to be 'leading the world's sustainable energy future' – but not all companies are First Solar. Founded in 1999, and headquartered in Tempe, Arizona, the company is the largest photovoltaic (PV) solar panel manufacturer in the US, and the only US-based company among the world's ten largest solar manufacturers, with an unparalleled history of developing, financing, engineering, constructing, and operating grid-connected PV power plants across the globe.
Among that list of ten, First Solar is also the only company in that list to produce an advanced thin film solar panel that does not use crystalline silicon as a semiconductor. Instead, First Solar's PV panels utilize a next-generation solar semiconductor, known as Cadmium Telluride, or CadTel. "It's an inherently sustainable semiconductor," explains Mike Koralewski, COO at First Solar. "We're essentially taking two by-products from mining waste streams, Cadmium and Tellurium, and combining them into a stable compound. A layer of this material fixed between two sheets of glass, just three percent the thickness of a human hair, can produce electricity for 30 years or more."
It might sound like something out of science-fiction, but the benefits of CadTel are real. As Mike indicates: "Unlike the crystalline silicon industry, which takes several days to accomplish all the steps in its manufacturing process, from refining polysilicon to assembling a solar panel, we take just four-and-a-half hours to produce a fully functioning solar panel at any one of our vertically integrated factories." It's a fact that allows First Solar to exercise full control over its value chain and manufacturing processes, giving the company the ability to offer a level of transparency and product traceability that is virtually unrivaled across the industry. It also allows the company to recycle its solar panels, recovering as much as 90 percent of the semiconductor and other materials.
This process, which "has more in common with making flat-screen televisions than it does a crystalline silicon panel," also has its environmental benefits. "It's significantly less energy intensive," Mike explains. "This allows us to have a carbon footprint that is two-and-a-half times lower than the average crystalline silicon solar panel made in China."
Factory of the future
First Solar's panels, with the lowest carbon footprint in the industry, are yet more evidence of the company's impressive track record on sustainability. The company was the first in the industry to commercialize solar recycling operations, and, in 2020, joined the RE100: a global, collaborative initiative bringing together influential businesses committed to 100 percent renewable power. First Solar has pledged to meet the 100 percent renewables target by 2028 as part of its RE100 commitment, with the interim goal of transitioning its US facilities to carbon-free electricity by 2026.
"There tend to be two ways in which people look at the potential and future of the renewable energy sector, and both are intrinsically linked," Mike suggests. "The first is to recognize the urgency of the fight against climate change and the fact that renewable energy in general and solar energy in particular represent our best bet at decarbonizing power generation. The second is to recognize the fact that solar energy makes economic sense. It is now cheaper to build new utility-scale solar power plants in most parts of the US than it is to build any new conventional generation capacity. Together, these perspectives are driving policy changes, as governments look to further ramp up clean energy development and energy security, and growth as investors seek to capitalize on the industry's potential."
Added to this, First Solar remains the first and only of the world's ten largest solar manufacturers to join the Responsible Business Alliance (RBA), the world's largest industry coalition dedicated to supporting the rights and well-being of workers and communities in the global supply chain, and has been vocal in speaking out against the use of forced labor in solar supply chains. "As the solar industry continues to grow, it's important that we do not lose sight of our original mission," Mike insists. "We want to change the world for the better, and build a sustainable energy future that does not come at the cost of the people of the planet."
Today, First Solar operates some of the cleanest, safest, most diverse and inclusive, and modern factories not just in the solar manufacturing industry, but in the US as a whole. The company currently operates two factories in northwest Ohio, amounting to what is the Western Hemisphere's largest solar manufacturing footprint.
"We're building a third factory, which when fully operational, will scale our footprint to a total annual capacity of six gigawatts, which is believed to make it the largest fully vertically integrated solar manufacturing complex outside of China," Mike reveals. "The new $680m facility will be one of the most advanced of its kind in the solar industry, combining highly skilled workers with Industry 4.0 architecture, machine-to-machine communication, artificial intelligence, and Internet of Things connectivity to produce a higher degree of automation, precision, and continuous improvement. We anticipate that it will allow us to produce an average of one solar panel roughly every 2.75 seconds across our three-factory Ohio footprint, once it achieves its full production capacity.
"This level of advanced manufacturing requires a new breed of US factory worker," Mike continues. "One that is highly skilled, possesses technical knowledge, and is capable of troubleshooting from behind a console. While designing and building this factory of the future, we're challenging ourselves to focus on the continuous improvement of our throughput, quality, and safety through automation without losing sight of our greatest strength, our people. We see this as an opportunity for our associates to upskill, learn new technologies, and continue to grow and develop themselves as our factories and products continually evolve. We also see this as an opportunity to attract new talent – people who will join us in establishing a new blueprint for US manufacturing that doesn't just compete against China, but can outcompete."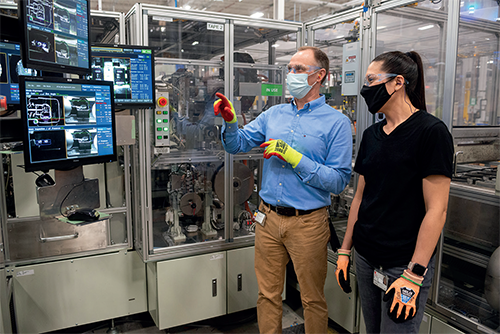 Supply chain relationships
Underpinning First Solar's approach to growth and development is a mindset that puts the employee firmly at the heart of the company's operations. "Our employees form the foundation of who we are and what we do," Mike tells us. "As a result, we ensure that our employees are treated with respect and are competitively paid.
"Our employees work in a high-tech environment that is safe and clean, with reliable and consistent work schedules that allow them to plan ahead," he develops. "They have comprehensive medical coverage and access to a host of benefits, including tuition reimbursement for higher education, internal career progression, a wellness program, and paid parental leave. When you combine this with the sense of purpose that many find in working for First Solar, you have a healthy, safe, and comfortable working environment that makes it possible for us to out-innovate the competition and build the technology needed to power America's sustainable energy future."
It's an attitude that extends to First Solar's suppliers. "We're proud of the level of transparency and traceability that we're able to deliver to our customers, especially considering the level of opacity that many others in the industry operate with," Mike remarks. "This wouldn't be possible without the strength of the relationships we share with our suppliers, many of which have grown with us for a number of years."
The company is especially proud of its success in building domestic supply chains in the US, with spending of approximately $1.5bn a year on hundreds of US businesses. "All too often, it's the people on our factory floor or installing solar panels in the field that immediately come to mind when most think of American solar workers," Mike states. "However, it takes the effort of thousands to enable our industry, and First Solar alone supports about 15,000 US jobs through its supply chain.
"These are the workers processing tellurium in Utah, the soda ash miners in Wyoming, the sand miners in Michigan, the glassworkers in Ohio and Illinois, the truckers and railroad workers that transport raw materials and completed solar panels, the warehouse and logistics workers, the scientists and academics, and so many others," he lists. "These people power our supply chain and deliver our solar panels. They are American solar workers."
In the near future, Mike is expecting to see First Solar continue to grow substantially. "In terms of scale, we expect to be a 16+ gigawatt company with a manufacturing footprint that spans four countries on two continents in the next two to three years," he concludes. "I don't expect that we're done scaling, either. In fact, we are looking into the possibility of further expanding our manufacturing footprint. While no decisions have been made, we're working with our suppliers to maintain a line of sight on equipment availability, while also following policy developments in key markets."
First Solar
www.firstsolar.com
Products: Solar PV panels