Excellence in solutions
An unrivalled reputation for the quality and size of its range of certified ventilation and fire safety fans enables Fläkt Woods to stand out in the UK, European, Asian, Middle Eastern and North American markets
When someone first hears the name Fläkt Woods, it is likely that the first image that will surface in their mind will be that of an axial fan solution. Yes, Fläkt Woods is among the most prominent manufacturers of this type of product globally, particularly with regards to fire safety. The company competes successfully in the building ventilation, kitchen extraction, various industrial, and road tunnels and metros segments.
"Of these four areas, the largest is supplying fans for the building services and HVAC market where we still expor t approximately 70 per cent of our products," begins Steve Chesney, Managing Director of Fläkt Woods. "We also have our Tunnel & Metro division, which produces fans for the global road and rail tunnel markets and leads the world in complex underground solutions.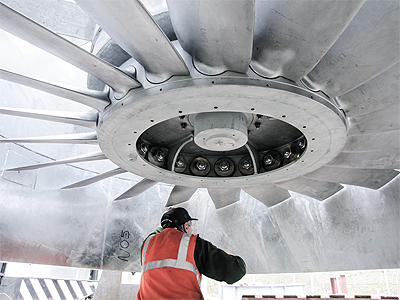 "Another field in which we are active is commercial kitchens. We put all types of kitchen extraction equipment in the kitchens of major restaurant chains. This is done predominantly across their UK distribution outlets, but we do work abroad, too with our established partners," Steve continues. "Last but not least, we design and develop bespoke products as OEMs. If you take a large chiller or generator, for example, we are the ones that manufacture custom fans that go on that product where we offer high efficiency, low noise and guaranteed quality."
A number of competitive advantages separate Fläkt Woods from other businesses in the fan manufacturing arena. Fläkt Woods has one of the broadest certified product ranges in the market, which features items that can exceed the highest efficiency requirements according to EU standards, makes it the preferred choice for customers. "Higher performance and higher efficiency are the two chief requirements clients have at the moment," he comments. "We listen to them carefully, in order to design fans that suit their needs and as we do so, we continually expand the range of efficiencies and pressures that we can offer."
Alongside the standardised products in its catalogue, Fläkt Woods is also capable of designing to order customised air movement solutions for the more specific requirements of its customers. Steve adds: "We also benefit from the utilisation of advanced technology that supports our product configuration efforts. We have the most advanced fan selector, which allows designers, consultants and contractors to configure products in accordance with their requirements remotely from our factory and we can then create a quotation for them based on their selection."
He goes on: "In addition, we have 3D scanning and rapid prototyping capabilities, which once again demonstrates our forward thinking and desire to take advantage of new technology. Then, when it comes to ensuring the reliability of the product, we undertake X-ray inspection of all rotating cast parts that go into our fan assembly, which gives customers a lot more confidence in its performance and quality."
Fläkt Woods' growth over the years has been exclusively organic and has been achieved through the organisation's worldwide activities. Together with its domestic UK market, it has historically been strong in Finland, Poland, Italy, and Germany in Europe. It is currently expanding in Asia. Moreover, Fläkt Woods has recently made a return to the North American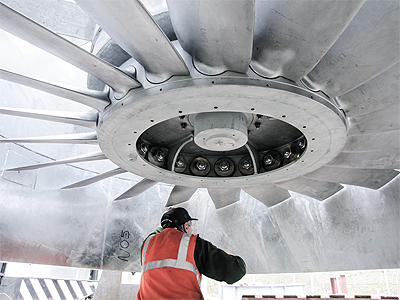 market, having previously had a business there. "It was divested as part of a larger project, but our customers wanted us back – so that is what we are providing." Now that the company has reappeared on the other side of the Atlantic, it will be pursuing growth predominantly in the tunnels and metros segment.
"The high amount of sales we make is just one part of the equation," Steve maintains. "We also place very strong emphasis on our customer service and making sure that we have market acceptable lead times. Furthermore, we try to add value wherever we can, which is why we say that we do not merely sell a product, but also can provide a complete turnkey solution. For instance, we provide control panels and contracting for installation to customers. We also have our aftermarket business where we offer maintenance and ongoing service. It is an aspect of our organisation that we are planning to exploit a lot more in the near future, because we have an enormous installed base of products around the world and we have the expertise to add value by providing on-site field services.
"We never accept we have achieved everything – we are always striving to meet and exceed new challenges," he added. Whether it is increasing productivity in the factory or stretching its commitment to improving the office environment, it is through new technologies where Steve wants the company to set its sights in the coming years. "Everything we want to introduce, such as new customer relationship management (CRM) software and some smart configuration tools, will add value to our customers. Right now, we have a capacity to manufacture 80,000 fans a year and I am sure we can do a lot more from our 177,000 square feet factory, if we implement the efficiencies we have in mind. Automation will be especially important, given our expectations that we will have a larger and more profitable organisation as we bring our American business into the fold. There are also some considerable markets in Europe, where we are yet to increase our market share, so I can definitely see a fruitful future lying ahead of the company," he concludes.
Fläkt Woods
Services: Ventilation & Fire Safety Fans