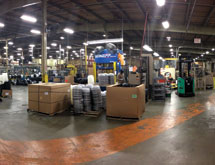 Flexcon Industries marks its 25th anniversary of manufacturing water storage tanks this year, and by implementing its proprietary tank technology, it has become one of the leading suppliers in the industry. The company strives to be the exclusive source for all of its customers' water tank needs. "Twenty-five years ago it was difficult to imagine we'd be in this market position," Vice President of Finance and Operations Mike Kennedy says. "It's impressive."
The Randolph, Mass.-based company was established in 1989 and has positioned itself as a leading manufacturer of pre-pressurized diaphragm storage tanks for water well, pressure boosting, irrigation, reverse osmosis, heating and thermal applications. The company's two divisions – Flexcon Water Systems and Flexcon Plumbing and Heating – serve markets throughout the United States, Canada and Mexico. Its products are sold under the trade names of Well-Rite, Challenger, FlexLite, Flow-Thru, Jet Rite, FLEX 2 PRO and InWell. Its sister company, Global Water Solutions Ltd., markets Flexcon tanks to the rest of the world, which are currently sold in more than 100 countries.
Flexcon was founded on a patent-protected pressure tank design that separates air and water seals and holds the water in a controlled action diaphragm system. "It's an improved water chamber that enhances the quality of the product and creates better longevity," Vice President of Sales Gerry Duggan says. "That is certainly what makes us stand apart. We believe it's the best design for the application in the tank market today."
Design Preference
Flexcon markets its product through a network of distributors that sell to contractors in the well, plumbing and heating, thermal and reverse osmosis markets. "We manufacture and sell to wholesale distributors who then sell to residential contractors," Duggan explains. "We deliver water to people who don't have city water and also provide a margin of safety in domestic hot water and forced hot water heating systems."
About eight years ago, the company began operating a new manufacturing line that took its core product, which is made of steel, and applied it to composite tanks. A composite tank is made of polypropylene wrapped in fiberglass and epoxy resin. "Today we sell tanks in both steel and composite, which is a tremendous benefit," Duggan says. "It's the same core technology, just wrapped in different shells."
Because the same technology is used in its steel and composite tanks, Duggan explains that contractors decide which one to purchase based on their preference and experience. "Both products function in the exact same way," he adds. "If a contractor tried composite in the past and it wasn't as satisfactory as steel for them, they would probably be reluctant to try composite again. With Flexcon tanks they can be assured of the same high-quality and longevity in both materials."
Fulfilling Needs
Flexcon's manufacturing lines can change about a dozen times per day depending on the diameter, height, internal components and color the customer requires of the water tank. "We have significantly improved our ability to change over efficiently and react to the customers' needs," Kennedy says.
The company prides itself on being able to react to those customers' needs quickly because it's able to convert the manufacturing line in minutes, compared to the hours it took in previous years. "We might paint eight to 10 different colors per day on the steel line and in different diameters," Kennedy adds. "Our enhanced flexibility allows us to continue to increase output in response to steady growth over the past 25 years."
Flexcon strives to be the exclusive source of water storage tanks for its customers. To achieve this goal, the company will continue to add to or modify its products to meet customer demands. Flexcon also looks to become more vertically integrated by building additional components in-house and through other opportunities that it is currently exploring. "We pride ourselves on being known as the reliable source, in fact, it is in our logo," Duggan says. "That's one thing that resonates with our customers. We deliver the product when they need it, as they need it and with the features and quality they demand."