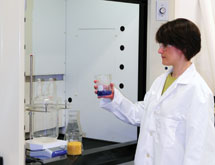 For more than 50 years, Flexfab LLC has grown and thrived by delivering high-quality, customized elastomeric solutions to meet the unique needs of a diverse clientele. But what makes the Hastings, Mich.-based manufacturer truly successful is its talented employees who continue to abide by the core values instilled in them by its founders, Chairman Douglas A. DeCamp and the late Bill Pierce, according to President and CEO Matthew DeCamp, son of Douglas.
DeCamp and Pierce were two young aspiring entrepreneurs who had worked together at a company that went bankrupt. Since they were out of a job and needed to provide for their families, they started Flexfab in 1961 with a focus on the government and aerospace markets. Today, the company's core markets are aerospace, heavy-duty truck and automotive. It operates a specialty division that Matthew DeCamp describes as a "catch-all for anything not a plane, truck or car." This includes government, marine, dairy, industrial, rail and pharmaceutical.
"We've been able to grow each one of those substantially over the years by focusing on our core competencies and serving our customers' needs," DeCamp says. "The beauty of being diversified is when one of those markets is down, the others will offset some of the weaknesses. In 2009, we saw a significant reduction in revenues, but the company weathered the storm by eliminating waste and driving costs out of processes. In 2011, we were 20 percent ahead of where we were in 2008 before we entered the downturn, which was when we were in our prime."
Providing Value
Flexfab serves its customers through two locations in Michigan and operations in Brazil, the United Kingdom and China. "We go where our customers are, and that's all over the world," DeCamp notes. "We feel we're the industry expert in what we do, which is providing engineered solutions for our customers' various needs for products that convey air, fluids or flowable solids. We have a very long product development cycle; we work with our customers for years in advance of those products being rolled out for consumption."
Although silicone rubber has been Flexfab's bread and butter since its inception, the company recently began to manufacture components out of composite material to help leading aerospace companies deliver air to passengers at a fraction of the weight. "We're constantly working with our product lines to be more innovative and bring additional value to our customers whether it's a better price or a better result on our customers' end-product," DeCamp says.
Flexfab continuously makes strategic investments in new technology and equipment to be more efficient. The company adopted the principles of lean in the mid-1990s and has a lean manufacturing staff that solely is responsible for incorporating these principles into all of its factories and hosting kaizen events. "We're always reviewing our options and challenging our employees to come up with creative ways to do things better and faster and ultimately add more value for the customer," he notes.
Flexfab Family
The No. 1 attribute that sets Flexfab apart from all of its competition is its highly experienced employee base, which includes roughly 450 people in Michigan and another 450 at other locations throughout the world. "We have the best employees on the planet," DeCamp maintains. "Our employees are second to none and very customer focused. Our goal is to not only satisfy customers' needs, but to beat their expectations. All of our employees take great pride and make great strides to deliver that to the customers so we can make their end-products better."
DeCamp maintains the same leadership philosophy as his father and Pierce, which is to always have an open door. "Anybody is able and encouraged if they have issues or questions to come into my office and speak to me about them," he remarks. "We meet with our employees regularly through various methods of communication to get input from them on how we can improve our processes as well as the quality of life at Flexfab.
"When we were a newborn company in the early 1960s and even today, we think of our employees as an extension of our family," he adds. "If I look back over the history of the company, we are a company that was built on a foundation of trust and integrity in everything we do. That's certainly the foundation that my father and his partner Bill instilled in the company, and by working together with those core values, there is nothing we can't accomplish. Fifty years later, we've stayed true to that and been successful with it. Being a part of a company that has stayed true to its core values over all these decades is something that makes me very proud."