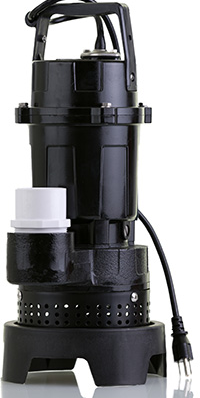 For more than 150 years, Flint & Walling (F&W) has focused on keeping water flowing. "Water is essential to life," the company declares. "We are trusted by the top industry professionals to provide the most dependable solutions for moving and supplying water throughout the nation."
The company started operations in 1866 in its home city of Kendallville, Ind. "When first established, F&W built hand-operated water pumps and the Flint & Walling windmill, a revolutionary product that quickly spanned the globe," it says.
Since then, F&W's line has grown to include submersible, centrifugal, jet and booster pumps, which it provides for homes, farms and industry users. "[Our] specialty items include city pressure booster pumps and fountain pond pumps," it adds.
F&W adds that it is the only U.S. pump firm to make its own four-inch submersible motors, jet pump motors and centrifugal pump motors. "A complete selection of controls and control packages rounds out this line of products for the water industry," the company says.
F&W also is a family owned firm that prides itself on making its products in the United States. "We will continue to insource our processes and empower the American worker," the company says. "We're here to stay."
Decision Drivers
F&W places a strong emphasis on multiple corporate principles and values, including quality. "Quality is always the most important part of the process here at F&W," it says. "Above all, quality is what has made us successful and continues to drive the decisions we make."
The firm also values its associates and strives to create an environment for their growth, stability and opportunities. "Employees and their families will always be an important part of F&W success," it says.
F&W also values integrity and honesty in all of its actions. "The true measure of integrity is what you do when no one else is watching," the company says.
F&W's work environment uses teamwork to support internal and external customers. "All employees are directly responsible for cooperating with all other company personnel and to assist them, to help them to succeed, as well as working to ensure the company's success," it says.
The Best Results
F&W's success stories include providing products to Hopkins Well Service in Mount Vernon, Ala. The company, which is a family owned and operated business, used F&W's 1 HP four-inch submersible at Mobile Forestry Products in Citronelle, Ala., to keep timber logs wet.
The pump operated 24/7 for more than seven years, which drove Hopkins to only use F&W pumps afterward. "Prior to this, they used Sta-Rite, Red Jacket and other cheaper brands, but the durability of the F&W pumps convinced them to make a permanent switch," F&W says.
Alex Hopkins Jr. of Hopkins said in a statement that his company uses F&W's products because they reflect his business and the quality assurance it provides clients.
"Customer satisfaction and word-of-mouth have helped them install more water wells," F&W says. "For best results, they highly recommend F&W, field proven for durability."
Taking Over
F&W also provided strong support to apartment buildings in San Salvador, El Salvador. Many of the country's apartment buildings, the company explains, run on a limited water supply and often shut off service during the night.
"An employee of Zoeller's local distributor put F&W products to the test in his own building with great success," the company says. "The pre-existing 5 HP pump was shut off completely, and a 1 HP Flint & Walling submersible pump was installed beside it to take over."
Today, F&W says, the system runs at the same pressure with generated by the larger pump and uses the pre-existing tanks and control panel. "The building's maintenance staff reports they have experienced 35 percent savings in energy costs as a result of this replacement," it says.
Brisas del Lago, a gated community in Panama City, Panama, also benefited from F&W products. "Since the community is responsible for its own water and waste, all wastewater from the homes is discharged to the community's wastewater treatment plant, which utilizes a Zoeller model 6295 in the first stage and a model 61 HD in the second stage of the process," F&W says.
"In addition, F&W four-inch submersible well pumps were installed to supply potable water to each home," the company adds.
Setting Standards
F&W is a division of Zoeller Co., which started operations in 1939 as a manufacturer of multiple products, including a column sump pump. "From its humble beginnings, Zoeller Co., one of the oldest, independently owned U.S. pump manufacturers, has maintained the highest of quality standards, setting the benchmark for all manufacturers of pumps," it says.
"All Zoeller pumps are time-tested and quality driven," it continues, adding that its submersible pumps are 100 percent factory tested underwater for dependability.
The company's products are sold around the world, including in the United States, Canada and Mexico. "With five distinct wholesale product lines, Zoeller has the answer to all your pumping needs," it says.
Better Places
Zoeller Co. operates with the goal of making communities better places. "As we have grown, we have looked around us to be more involved with our communities and our employees," it says. "We know each others' families, we see each other in church, at school and in other social activities, and we genuinely care how others are doing.
"Community has been an important part of what we do for more than 70 years at Zoeller," the company continues. "Our quality products, outstanding service, true innovation and integrity in all we do make us unique.
"We value our long, rich history of successful customer service as well as the personal relationships we have established," the company says. "The people at Zoeller make a difference and all the people associated with Zoeller treat those around them in a professional and courteous manner."