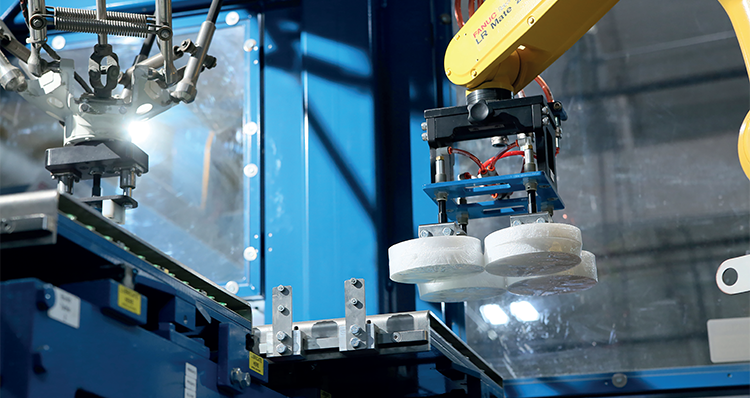 Sustainable creativity
The world's leading manufacturer of foam products for the craft and floral industries, FloraCraft Corporation, creates innovative American-made products with the help of more than 200 dedicated employees and state-of-the-art facilities
The history of FloraCraft Corporation (FloraCraft) is rich and deeply intwined with family values. As a result, this is a company that is dedicated to the cause of sustainability and the production of high-quality products. In 1946, Leonard Schoenherr and Park Allensworth launched the Foliage Company of America in Ludington, where Leonard's nephew, Lee Schoenherr, worked throughout his high school years. After serving in the army, and a stint at the Dow Chemical Company, Lee Schoenherr returned to work for the family business in 1960. Over the next decade, he acquired businesses in Ohio, Arkansas and Pennsylvania.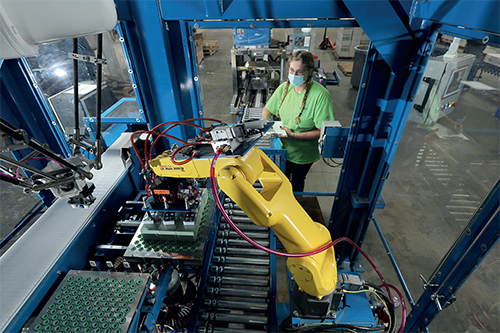 Fourteen years later, Schoenherr purchased the Foliage Company of America from his uncle, and for 40 years, worked to rebrand the company into FloraCraft. The new business continued to acquire smaller ones across the country, while securing key accounts with major national retailers, which now include Walmart, Amazon, Michaels, JOANN, Hobby Lobby and other leading retailers.
Passion for sustainability
Now, FloraCraft provides a robust line of products, including floral and craft extruded polystyrene foam, floral wet and dry foam, containers, wire, molded-urethane foam, natural straw and Spanish moss, as well as easels, saddles and huggers. On top of that, its catalog offers several craft products such as white extruded polystyrene and expanded polystyrene foams as well as tools and accessories, including ultra-fine glitter, cutters, coatings and connectors.
"In our 76 years of operations we have experienced numerous milestones, and the last 15 have been particularly exciting with regards to our developments in sustainability. One of the first major steps we took was to recycle more than 98 percent of our foam fabrication scrap. We collect the material and use it in other products or sell it," shares CEO Eric Erwin. Eric discusses with us the secrets behind FloraCraft's success, as well as its passion for sustainability.
"After nearly a decade of research and development, with a significant multi-year capital investment, we became fully vertically integrated in 2019. We now design, engineer and produce our own XPS foam in Ludington, enabling us to maintain greater control over the quality of our products, and simultaneously reduce nearly 400,000 miles of truck traffic each year from our former supplier to our headquarters."
In 2016, the company took its sustainability efforts one step further by partnering with Texas-based business, Americas Styrenics, to develop a greener foam product. Nearly two years were spent developing the product, with an extra year of consumer testing. "Finally, in September 2020, we announced our breakthrough offering, FōM with PolyRenew. This is the first craft and floral foam creation made with post-consumer plastic. In a product category not entirely notorious for its ingenuity, FōM is the first true innovation in this sector in more than 70 years," he shares.
FōM allows the company to reduce its carbon footprint by saving hard-to-recycle plastics from landfills, and using recycled garment hangers sourced from retailers across the country. "By utilizing recycled materials, we can still make the same amount of product we normally do, but take out the equivalent of nearly 1000 miles of plastic per year, or the distance between New York and St. Louis. The product is still the lightweight material crafters and florists love, only smoother and less brittle than the company's legacy foam," Eric expresses.
So, how does FloraCraft achieve and maintain innovation of this standard? According to Eric, the company believes that improving its products and processes is an organic consequence of refining its sustainability efforts. "By producing our own environmentally-conscious foam products and investing years of research and development to streamline our operation, we've been able to make tremendous strides in reducing our carbon footprint. We have a strong desire to continue to improve the ways we do business, and eventually reach our goal of using 100 percent recycled materials."
To facilitate the creation of FōM, the business needed to expand its infrastructure, and has achieved an impressive rate of growth in terms of its operational footprint since the start of this venture. "We needed to improve our supply chain efficiencies, workflow management and packaging capabilities. So, we added a 27,000-square-foot shipping and distribution center to our 138,000-square-foot manufacturing facility, which was also renovated in 2020. The new space features a modern distribution center, eight shipping bays, state-of-the-art equipment and expanded packaging lines, as well as storage space for more than 1350 pallets.
"We have also expanded our automation capabilities by partnering with Brenton Engineering to add robotic case packers and other equipment that helps move products through the manufacturing process and onto pallets. We are working with Orka Automation on an automated cutting machine that would increase output for our four-inch foam balls, which are in high demand," he says.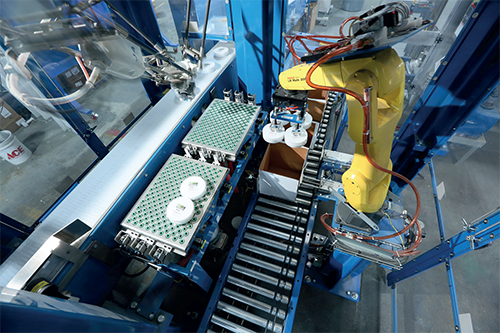 Eric continues to acknowledge that, most importantly, the installation of new robotic equipment has not had a negative impact on jobs. In fact, it offers expanded learning opportunities for the FloraCraft team, and has increased work efficiency. "As we expand our automation efforts, we also continue our partnership with the area's local community college to offer our team training to improve their automation skills and ensure the team grows its skillsets, too. Additionally, we have created more efficient, high-value permanent jobs and reduced our reliance on temporary labor."
This is an excellent complement to the company's efforts to create a united and highly motivated company culture. "There was arguably no better moment that speaks to our culture than in 2018, when Lee Schoenherr announced plans to share nearly $4 million with full-time members of our team through cash bonuses and 401(k) retirement accounts as recognition of the role they played in building a world-class company. Our team stays motivated because they know they work for an organization that cares about their well-being, their family and is committed to doing business the right way. Whether it is developing financial wellness programs for our employees or investing in their education and professional development, we are always looking for ways to improve our impact on the people around us."
Tying together leading facilities, unparalleled innovation, and a passionate team behind the FloraCraft name, the business was recently nominated for the Beyond Plastics Award, an achievement of which Eric is incredibly proud. "This nomination was special for us because the Beyond Plastics team looks for truly innovative products in the international market. We were honored to have FōM included among other forward-thinking and creative organizations, and the acknowledgement speaks to just how special our team is and the hard work we've done," he shares.
"In addition to the nomination, we have won national awards for sustainability and innovation at the National Association of Manufacturers and American Business Awards. Our work to create FōM was selected as an outstanding example of embracing manufacturing processes that are innovative, non-polluting, conserve energy and natural resources, and are economically sound and safe for employees, communities and consumers."
New automation
Regardless of its long-standing history, the industrious work and innovation required to become vertically integrated and produce FōM is just the beginning for FloraCraft. Eric divulges that his company will continue to rethink the green strategies implemented to create its products. "Right now, we're making FōM with approximately 20 percent recycled material. We are hoping this will be a catalyst to reach our goal of using 100 percent recycled materials in our products as we continue our commitment to environmental sustainability. We're also investing in new automation this year that will collect the foam left over from our extrusion process, allowing us to go from recycling 98, to 100 percent of our foam scrap," he says.
For 2022, the company will be focused on expanding its manufacturing capabilities beyond XPS foam and bringing more manufacturing processes to Ludington. "We are fully committed to finding more products to produce in-house, which will alleviate some of the supply chain pains everyone is going through. Additionally, we are working on plans to honor and celebrate our 75th anniversary, which was put on hold last year due to the pandemic."
FloraCraft's top focus in the coming years is to drive innovation that makes the entire process of DIY craft and floral activities convenient and easy for professionals and home creators. In conclusion, Eric and his team plan to find ways to continue to increase the company's productivity by adding more automation and training for team members. "We will strive to continue to lead the industry in sustainability, by refining our manufacturing process to reduce our carbon footprint and create additional environmentally conscious products for other creatives."
FloraCraft Corporation
www.floracraft.com
Services: Foam products manufacturer