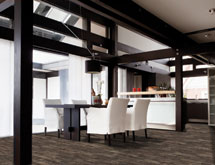 The Florim Group has brought Italian style to the United States with its porcelain tile products. Whether indoor, outdoor, commercial or residential, building owners can have European designs fashioned by American hands integrated into their homes and facilities.
Florim USA, a subsidiary of the Sassuolo, Italy-based Florim Group, operates an ISO 9001-certified facility in Clarksville, Tenn., where it manufactures and stores high-quality porcelain tile designed by its parent company. The strategic location is located within 500 miles of 75 percent of the U.S. population with five major interstates converging near its plant. "Our factory is about 45 miles northwest of Nashville [Tenn.] where we make porcelain tiles using Italian machinery," Vice President Stefano Rabaioli says. "The process, the selection lines and all the equipment are Italian. Because we are centrally located in the U.S., we can ship Italian-designed products by truck or rail to customers in the U.S. at a fraction of the time if it were shipped from overseas."
Florim manufactures more than 30 lines of tile that are installed on the walls and floors of bathrooms, kitchens, living rooms, bedrooms, patios, lobbies, restaurants, retailers, offices and more. The company is launching several new products that offer design versatility combined with porcelain tile's strength and resiliency.
One of the new products, available in a 6-by-24-inch rectified size with either a grip or natural finish, is called Urban Wood. The product is also available in a 4-by-24-inch and 6-by-36-inch rectified size with a natural finish. Using inkjet machines, the glazed porcelain tiles are overlaid with high-definition graphics that look like natural wood.  The natural finish is made specifically for residential clients while the grip finish is suitable for residential and commercial. The grip finish offers superior traction for commercial areas where rain our other elements make the floor slippery, it is also a color-body product, which means that the tiles' color is consistent beyond the surface, so if the tile chips it won't be as noticeable.
Florim is also introducing an entirely new line called Jewel. Like Urban Wood, the new line will use high-definition graphics, but these tiles will replicate the look of fractured stone rather than natural wood. Rabaioli says fractured stone is a new look for the residential sector.
Rabaioli notes that the residential sector is switching from a traditional to a more contemporary aesthetic, especially in coastal states. He says the transition is closing the gap between what architects recommend and what building owners actually choose.
Company Renovation
Now that the gap between architect and owner aesthetic is shrinking, Florim is investing in a $60 million renovation that will occur over the next three years. The company is updating portions of its facility to bring in new processes, selection lines and machinery designed by its Italian parent company. This will allow it to increase capacity and efficiency and begin producing larger format tiles and more color-body and glazed products used in the commercial and high-end residential industries.
"We are definitely positioning ourselves for the future right now," Rabaioli says, adding that those who do join the company will find themselves at a stable organization that has carved out a unique place. "The fact that we've been working in the tile business in Italy for over 50 years is definitely a strength," he says.