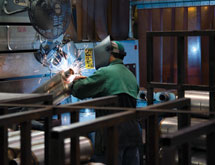 Flowmaster Mufflers Inc. has been pushing the boundaries of automotive exhaust technology for 30 years, ever since founder Ray Flugger came up with a solution to address noise issues at racetracks in California. Initially called Hush Power, the company was reborn as Flowmaster in 1983 and successfully introduced an exhaust system that quieted racecars without reducing their performance.
Flowmaster's continuous product innovation and development made it among the first companies to make it into the Hot Rod Speed Parts Hall of Fame launched by Hot Rod Magazine in 2007.
Today, Flowmaster, headquartered in Sacramento, Calif., has 200 employees and hundreds of products, many of them patented, from exhaust systems to street and race mufflers to catalytic converters. All of its products and components are engineered and sourced in the United States.
Under new ownership since 2011, Flowmaster is now part of the B&M Automotive Group, led by Brian Appelgate. But while its ownership is relatively new, Flowmaster employs an experienced workforce with much industry know-how. "Most of our lead supervisors and managers have been with us for more than 20 years, and a lot of our welders are 18- to 20-year veterans." explains John Sharp, a 27-year Flowmaster veteran and vice president of manufacturing.
B&M Automotive supports Flowmaster's focus on technology R&D. "The new owner was able to bring new resources to us; he has quadrupled the resources in our research and development department," Sharp explains. "We got new bending equipment to upgrade our bending operations and he also turned the facility into a very employee-friendly environment."
The new ownership also has broadened the company's scope of clients. "Applegate brought in more business," Sharp reports. "We were very successful before, but we were set up almost like a mom-and-pop store. Applegate brought in new accounting practices, new tracking software practices."
Automation Accuracy
Under Sharp's direction, Flowmaster expanded the automation in its manufacturing facilities. "The Flowmaster management team brought in automation 15 years ago to the Santa Rosa plant and brought it to Sacramento 13 years ago," he says. Sharp was running the welding division before he got into automation.
"Our automation was never done to get the product done faster; it was done for ergonomics and quality control," Sharp says. "Every robot has an operator in front of it; we haven't taken away any jobs by adding automation."
Ergonomics and safety are important issues for the Flowmaster team. "One of my beliefs as a VP of manufacturing is that I want people to have careers like what my staff has had: long-term careers," Sharp explains. "That is why we've tried to implement a process that will allow [the workers'] bodies to last and stay strong. That is one of the main factors of automation. I am not here just to make my numbers; I am here to build careers."
In addition to creating a safer, healthier work environment, robotic welding has improved accuracy and speed in the Flowmaster manufacturing process. "It has brought consistent, higher-quality products," Sharps acknowledges. "It also makes scheduling more accurate – when you set production to 200 mufflers, you get 200 mufflers."
The machinery's ease of use has also given the plant some flexibility with scheduling and absent workers. "The machinery is easy to operate, so it gives us the flexibility to adjust our manpower," he says.
Flowmaster's manufacturing facility has 24 welding robots and it maintains more than 50 manual welding shacks for detailed or custom work. The company also has multiple benders, high-speed cutting operations and three complete painting operations. It applies high-heat, water-based paint with low VOC content to its products, and it also offers powder coating as an option.
Engineering Power
At the core of Flowmaster's growth is an engineering department capable of developing manufacturing improvements. "Our engineers are home-grown," Sharp says. "They have been with the company since the beginning, so all our equipment that is custom made was designed and made in-house."
Sharp notes that the trust Flowmaster puts in its employees results in myriad benefits. "We have some equipment that is phenomenal that has come from our engineer's ideas," he says. "In the last five years, we have made 20 pieces of equipment in-house that, if we had bought them from somewhere else, they would have been $50,000 to $100,000," Sharp says. "Most of our ideas are about ergonomics and about consistent output and we build the equipment completely from scratch. We design it, build the frame, do the electrical, etc."
One recent Flowmaster-engineered product enabled the company to double the output of mufflers while being more ergonomically friendly for the user. "We had one piece of equipment where an operator would weld 200 pieces a day," Sharp explains. "We have been able to merge two pieces of that equipment and now one operator can produce four to five hundred pieces a day, but with less effort and less abuse to its body."
Flowmaster's ultimate goal is to stay ahead of the competition. "We have never implemented a piece of equipment to downsize," Sharp says. "We've implemented to go forward and prepare ourselves for the growth ahead of us instead of trying to keep up with that growth."
With a strong following in the automotive industry, Flowmaster plans to continue to manufacture in the United States and grow at its own pace. "We're not one of the biggest manufacturers out there, but we're one of the biggest names," he notes. "Our name is strong and we are American made."