Flowplant's management buyout fuels unprecedented growth, anchored by core value reforms 
UK-based Flowplant Ltd has proven itself as a global leader in the field of high-pressure jetting and pumping solutions and today provides extensive UK and export business across this industry. The company has earned a reputation as a trusted provider of various cutting edge high-pressure pumps and systems including flushing units, duct desilting units and HPUs just to name a few, and prides itself on engineering bespoke solutions that meet global standards, including those set by the Water Jetting Association. In addition, the company effectively addresses the demanding testing requirements of offshore rigs and diverse industrial applications. Group Managing Director, Steve Smith, retraces Flowplant's remarkable growth journey.
"Harben Systems Ltd, predecessor of Flowplant, was founded in 1971. This is also the year we manufactured our key offering, a radial diaphragm pump. This pump offers diverse advantages for various industries, including the ability to run-dry, chemical compatibility, and the capacity to function with subpar fluids containing small solid particles. The unit has remained a cornerstone of our business and is reputed in the drain cleaning sector, marking our initial entry into this market. We were one of the first companies that started using high-pressure water to clean drains and ducts. This breakthrough led us to expand our operations into the industrial sector, with a specific focus on jetting, cleaning and other industrial applications. While we have diversified our offerings, the use of high-pressure water remains our key area of expertise and our primary focus. Consequently, we moved our factory from a little village in Wilton to Salisbury in 1975. In 1980, we released the Harben Century pump, a larger, more powerful, radial diaphragm pump. A new business was born a year later in America: Harben Inc. Harben Inc was formed in Cumming, Atlanta and continues to be successful over 40 years later. That pump as well as our other products still sell very well to this day and Harben is prospering."
Commitment to culture
A major milestone for the company occurred in June 2023 when the current management team, composed of Steve himself, as well as Edward Miles and Barry Pidgeon finalized the acquisition of the entire share capital of the Flowplant Group. "The plan evolved over the last two to three years and we were able to form the current management buyout team. I became the new Group Managing Director and offered substantial roles to Edward and Barry. Thus, we started the buyout process and previous directors Alistair Hiscock and Mark Bastable resigned from their positions. Mark and Alistair have formed a formidable business here, and in the US, and it is a pleasure to continue this success and hopefully grow the company.
"Transitioning from an engineer to a director role has required a significant level of adaptability on my part. Shifting my focus from primarily technical aspects of design to now being involved in productivity figures, expenses, and profits has been a notable change. However, I am dedicated to my new role, and I am currently trying to improve our work culture. Over the last three months, we have worked on re-evaluating our departmental goals and our core values. To navigate this transition effectively, I sought feedback from the management team and spoke with individual departments to align our goals. This step was essential to understand their perspectives and gather insights on the targets they believe are necessary to enhance our business. While financial growth and increased turnover are crucial objectives, we have also placed significant emphasis on sustainability, community engagement, and social awareness. I want to ensure our team is thriving in the workplace by creating a family feeling. Every Monday, we have a meeting with the entire company to review our core values, which are accountability, customer focus, fun, respect and delivering on promises. I want to create a family feel to the business where we can learn to rely on one another," he explains. These values are deeply embedded within Flowplant's culture and empower its existing team but also set a solid standard for new members.
Industry leader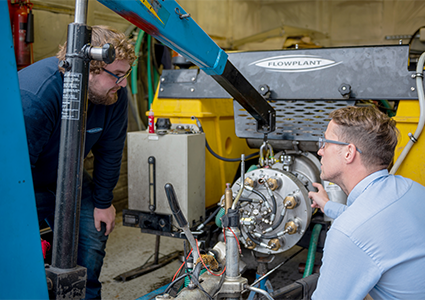 Amongst all these new changes and developments, Flowplant has also experienced tremendous success, by working with some of the biggest engineering companies around the world. Steve describes the company's selling point as being the unmatched reliability of the Harben pump, which remains fully operational for an astonishing 30-to-40 years. "As the exclusive manufacturer of this pump, we hold a prominent position in the market, which gives us a competitive advantage. While the market size may not be substantial enough for potential replication by others, our unique position allows us to be recognized worldwide. Thus, we have been actively quoting for projects in Norway, Egypt, and various other offshore locations, where there is a significant demand for our products – and especially for our Harben pump. In addition, we take pride in our status as a bespoke engineering company, capable of crafting solutions tailored to precise customer requirements. Our flexible design approach accommodates last-minute changes, ensuring our products align with the evolving needs of our clients. While our expertise lies in high-pressure water applications, we pride ourselves on our ability to accommodate our customers' specific requirements to the best of our abilities. For instance, we have successfully developed flushing units for BAE Systems, specifically designed for low-pressure flushing of nuclear reactors on submarines. Our versatility in catering to diverse fluid movement needs is not limited to water alone. In fact, we can pressurize fluids such as diesel, expanding our range of services beyond water-related applications," he concludes.
A global pioneer of pumping solutions including the renowned Harben pump, Flowplant is poised for success – even more so following its recent management buyout. The company's commitments to sustainability, community engagement, and social awareness further strengthen its position as an industry leader. With a dedicated management team at the helm, Flowplant is well-positioned for exponential growth in the future.