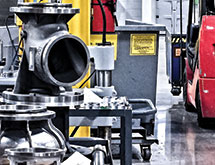 Fluid Equipment Development Co.
Fluid Equipment Development Co. (FEDCO) recently built an expansion that more than doubled the size of its manufacturing facility to accommodate further growth and make room for its new Advanced Pumps International division.
The Monroe, Mich.-based company built its first 20,000-square-foot manufacturing facility in 2006 and President Eli Oklejas recalls saying at the time that he was concerned FEDCO would never fill the space. "By 2009 we were overflowing and built an additional 35,000 square feet," he says. "I thought again we would never fill that space and now here we are building a 72,000-square-foot addition for our growing needs."
Prior to the expansion, FEDCO's facility was 55,000 square feet and today the plant totals 127,000 square feet. The $5 million expansion was needed to meet future demands for FEDCO products, as well as establish a head office and production facility for its new division. The Advanced Pumps International division will focus on manufacturing products for the oil and gas industry, including API 610 standard centrifugal pumps, energy recovery turbochargers and power generation turbines.
The addition has allowed FEDCO to double its manufacturing and inventory capacity, add a pump and turbine oil and gas product test system, and enlarge its quality control lab, as well as add three pump and turbine water products test loops and crane bays through the main manufacturing area. New machinery was added, including a 20-ton crane, a large multifunction five-axis CNC machine and a horizontal mill CNC machine.
Green design features include geothermal heating and cooling, an energy-saving elevator, a white roof, LED lighting and extra insulation. "We built a state-of-the-art, green manufacturing facility from the ground up," Oklejas says. "When people come here they are amazed by how clean and neat it is, yet we are doing heavy manufacturing."
Reliable Systems
FEDCO has been in the business of designing, manufacturing, selling and servicing high-pressure feed pumps and brine energy recovery turbines for brackish water reverse osmosis and seawater reverse osmosis systems since the late 1990s. "Manufacturing innovative products and solutions is our business objective, but there is a deeper social value in that we are trying to help people around the world by making pure water more available," Oklejas says.
The company's fluid machinery helps reduce the cost of reverse osmosis desalination, which converts saltwater to fresh water. FEDCO offers energy-efficient components that are manufactured with duplex and super-duplex stainless steel, which Oklejas explains is difficult to machine efficiently and its ability to do so is one area that sets the company apart. "Our equipment is a critical component in our customers' systems," he adds. "Customers look to, among other things, our use of these stainless steel alloys in the equipment we offer."
FEDCO's customers include reverse osmosis system builders, end users and engineering, procurement and construction companies. About 60 percent of the products the company manufactures are exported and about 40 percent are sold domestically.
Customized Components
FEDCO began as a research and development company and because of that, it remains passionate about developing new products. The company's greatest strength has been in developing and improving its energy-recovery turbines, Oklejas says. "Our products are of the highest efficiency," he adds. "We do customization and can deliver products faster than the competition. We don't offer off-the-shelf, but built-to-suit."
The company has a number of standard models it starts with and customizes internal components based on the customer's need. As part of the process to prepare quotes, the company runs its proprietary software to select a model and predicts its performance based on customized internal parts.
If the customer approves the proposal, other proprietary software creates the order in the company's computer system and develops the exact internal designs. Other proprietary software generates computer code, which is downloaded to FEDCO's CNC machines for the machining of castings and bar stock to the customized shapes. The time from order to entry to the machining of customized parts can be less than one day.
Always Improving
FEDCO implemented its enterprise resource planning (ERP) system about one year ago, and at first, Oklejas remembers it seemed this technology was going to be a loss for the company based on the work it needed to put into it. Today, however, the company has begun to see the benefits and believes those will soon outweigh the cost.
"We can better assess the manufacturing operations and which processes are taking longer than others, which results in bottlenecking, and we can focus on improving those areas," he explains. "The ERP system will also help us select the best machines to use and improve productivity. We are pushing the envelope and committing to improve processes knowing that there will be occasional setbacks."
The company encourages ideas and getting its personnel involved in continuous improvement. One way FEDCO will continue to ensure it is producing high-quality components as fast as possible is by keeping its engineering department deeply embedded in every other department. "It's very important to have the engineers, manufacturing and sales employees over-communicate than under-communicate," Oklejas notes. "Because of that deep relationship, close communication and cooperation, we can focus on new product development."