When medical professionals provide care, they need products they can rely on to operate without problems. They often turn to Fluid Metering Inc. (FMI) for that reason, since the company utilizes the best manufacturers it can find for its product components, President Harry Pinkerton says.
"We try to work directly with suppliers without going through distributors for engineered parts," he says. "We use the best vendors from around the world for critical components, strong vendor qualification standards, and we continually audit and work with vendors to assure quality."
Based in Syosset, N.Y., FMI provides metering pumps and dispensers for an array of markets. Pinkerton's father started the company in 1959 as a hydraulically actuated diaphragm pump business.
The company ultimately became the first to win a patent for its valve-less, rotating and reciprocating piston metering pump concept. The idea for a valve-less product, Pinkerton notes, originated from the low-pressure valve problems customers had with diaphragm pumps.
"In 1964, the first production of valve-less piston pump went into manufacture as a catalog product that shipped from stock," he recalls. Since then, FMI's valve-less CeramPump design has proved valuable to the medical diagnostics market, where repeat accuracy for test kits is critical.
"Medical diagnostic fluid control is our largest segment of business, followed by kidney dialysis machines and a broad range of laboratory, food, pharmaceutical, industrial and environmental applications," Pinkerton adds. "Potential applications include any place [where] long-term, drift-free pumping or dispensing is required."
Staying Ahead
Pinkerton has been involved with FMI since its start. "I took over as president in 1986, which remains my position today," he says, noting that he credits the company's success to its people.
"Over 50 percent of our employees [have] 10 years or more [with us]," he says. "It's a very dedicated crew. We've never had a down sales year and never had an employee layoff."
The company also keeps focused on what it does best. "We have stayed away from being involved in all kinds of pumps with our technology," he says.
"Our competition is involved in technologies for different kinds of pumps," Pinkerton continues. "In my view, all of them do OK, but not great."
But competition is increasing, he admits. "The Chinese and Japanese [companies] spend a lot of time and money trying to break into the field," he says. "They're making little in-roads, [but] we're staying far ahead of them."
Keeping Busy
FMI expects to grow its sales five to 10 percent in 2016 over last year, Pinkerton says. He credits this growth to the many programs that the company has under way.
However, these can have long production periods. "From the inception of the OEM order that we receive to the actual delivery of production units, it can take anywhere from three to five years," he notes.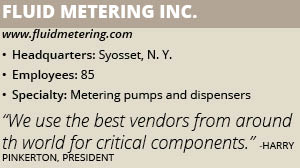 This is common for projects in the medical field, Pinkerton says. "Once it's locked [into production], there can be no changes of any kind whatsoever," he says.
"We've been very fortunate," he continues. "We've got many programs that we're on and we're continuing to add new programs all the time. I expect two of them to break loose in production quantities this year."
Quality Controlled
FMI outsources its manufacturing, but it designs all of its products on its own and completes all assembly, testing and shipping from its location in Syosset. "[We have] very strong quality assurance throughout the company, custom automatic test stations for data acquisition of each pump and excellent materials traceability," Pinkerton says.
"[We also perform] continual updates of assembly tools and fixtures with more in-process checks and audits," he says, adding that its facility is ISO 9001: 2008 certified. That status "assures continual audits of training through manufacturing build instructions and all ISO systems," Pinkerton continues. "[Our] quality manuals and SOPs are continually reviewed and revised when necessary."
FMI can perform a quick turnaround when it receives an order for a standard catalog product, he adds. "It normally ships the same day an order is placed," he says.
But when the company gets a request for a special project, the process is more intricate. "The customer service rep gets all applications info, then reviews that info with engineering to establish exactly what to provide the customer," he explains.
"At that time, the engineering and production manager also review the pump requirements and how [to] choose the pump per spec, create work instructions and any specialty test protocol, and test [the] pump before shipping," he states.
Finding Opportunities
Pinkerton predicts continued success for FMI. "Our future is in doing what we do better and more efficiently than anyone else," he says, noting that the company plans to stay "sharp, control costs and keep ahead of the competition in product design."
He also sees growth for FMI, both in terms of its footprint and business. "We've got a lot of capability," he says. "There's a lot of good opportunity out there for us involved in synthetic manufacturing for the photocell industry."
Working Better
FMI's unique CeramPump design features only one moving part in the fluid path, which helps distinguish it from other products, President Harry Pinkerton says. "Valve-less pumps work better at low pressure than valved-type pumps, which have accuracy and reliability problems because valves wear, leak, fail and require continued maintenance," he says.
The FMI CeramPump with ceramic internals also eliminates valve problems created by suspended solids, salts and other crystalizing fluids, he adds.
Creating Value
FMI is a wholly owned subsidiary of Roper Technologies Inc., a technology company. "We provide engineered products and solutions for global niche markets, including software information networks, medical, water, energy and transportation," Roper says.
"Our strong operating capabilities enable us to convert end-market potential into profitable growth and cash flow in order to create value for our investors," it says. Roper's businesses include industrial technology, energy systems and controls, medical and scientific imaging, and RF technology.