Strong performance
Fluorocarbon was a pioneer in the moulding of PTFE polymers in the UK and today remains dedicated to innovation
A pioneer in the moulding of PTFE polymers in the UK since its foundation in 1962, Hertfordshire based Fluorocarbon has grown through experience, innovation, expansion and strategic acquisitions to become one of the UK's largest fluoropolymer processors and global suppliers of PTFE and fluoropolymer materials, components and coatings. Indeed, following five decades of strategic growth, the company has established five manufacturing sites, four in the UK and one in Romania. Complementing these sites are the firm's sales offices, which are strategically located across Europe and the USA. Relied upon by many blue chip organisations to deliver high quality solutions for use in extremely hazardous and challenging projects, Fluorocarbon is committed to continuous product and service improvement to ensure its solutions meet and or exceed ever-increasing demands from a wide range of industries.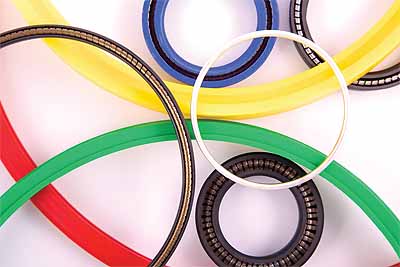 "Fluorocarbon sell into some very hazardous and safety critical markets and complying to legislative requirements is not sufficient, which is why we put so much emphasis on controlling our processes from material blending through manufacture to dispatch. Fluorocarbon invests heavily in quality control including people, laboratory test equipment and measurement systems. Our commitment to quality is total and demonstrated through our BS EN ISO 9001:2008 certification and conformance to AS9100," says Ralph Cash, Commercial Director at Fluorocarbon Company Ltd.
Alongside these credentials, the company has also received the ISO 14001:2004 certification following a three-year energy efficiency plan to reduce energy costs and increase efficiency. In line with these efforts, Fluorocarbon was awarded the EEF/ENER-G Environmental Efficiency Award for the second year running in November 2014. This award was given in recognition of green business excellence and Fluorocarbon's ability to exceed targets and make good use of technology.
Discussing the award, Ralph states: "This project radically changed the way we used and distributed compressed air on site. The team connected three buildings onto one efficient air main and reduced our four compressors to two economical machines, freeing up valuable space while reducing annual running costs by 42 per cent and CO2 by 20 per cent."
These improvements, alongside the company's commitment to HSEQ, are well appreciated by the company's core markets, which includes oil and gas and petrochemical, medical and pharmaceutical, aerospace, automotive, food and beverage and water and environmental. Although the falling oil price has had a negative affect on a number of organisations, Ralph notes that there has been a maintained level of strong growth in the oil and gas industry: "As oil producers strive for HPHT sealing solutions our performance materials and design knowledge is in high demand. Also in a falling market customers are more receptive to invite our technical team to review existing sealing solutions and we have a good track record of taking cost out by reviewing not just the physical sealing elements but the ease of assembly and fitting." Examples of products designed and manufactured for the oil and gas industry include slide bearings and pipe supports, skidways, seals, seats and valves, sub-sea connector seals and high pressure backup rings. Many of which are designed to withstand extreme pressures and temperatures; the components can be used for operations involving sub-sea, construction, platforms and processing plants.
Although Fluorocarbon is currently working within a number of industries, Ralph highlights a particularly challenging project: "A major multi national valve company charged our Seals team with replacing a stem seal assembly into an existing gate valve. The brief we had was to manufacture from our NORSOK range of materials, use the same groove dimensions, double the sealing pressure to 20,000 PSI, incorporate a back up seal, and design to accommodate fitting in the field. The seal exceeded the operating parameters on the first test. However with clever design and material selection the team also managed to reduce the operating torque enabling the customer to fit a smaller actuator saving them serious money."
Alongside its well established portfolio of Fluoropolymer materials, the company also boasts a comprehensive range of machine tools, from sliding head autos for the small diameters to CNC lathes with 1500 mm+ capacity and CNC milling capability for most jobs. "We operate our machine shops on three shifts and recent reorganisation of the plant has improved our flexibility and reduced lead times which is an increasing priority for our customers," says Ralph. "Fluorocarbon operates two sodium ammonia etching plants which are kept busy despite the availability of 'do it yourself' etching products on the market, as there is nothing close to the bond strength achievable when using sodium ammonia etching. We conduct Lap shear tests to confirm the efficiency of our Fluoroetch, as major structures (up to 30,000 tons) have been moved on our Fluoroglide skidways so bond failure is not an option."
Committed to continuous improvement, the company has coupled the manufacture of Fluoropolymer materials with extensive CNC machining capabilities from small diameters to 1500 mm+, which has resulted in a one-stop-shop approach to operations. To further shorten its customer supply chains, Fluorocarbon also works closely with clients throughout the whole process to find savings in the handling, storage and transportation of products.
Having invested in the company and its people, Fluorocarbon is now looking to expand its customer base through strategic expansion, as Ralph concludes: "Achieving profitable growth and strategically managing costs while intelligently navigating current and future opportunities and risks seems like an impossible task. However, we have invested in the company and our people so we are now looking to expand our global reach across different products, services, routes to market and customers."
Fluorocarbon Company Ltd
Products: PTFE and fluoropolymer materials
Sites: Four in UK and one in Europe