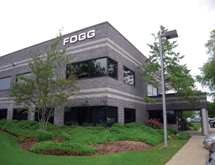 Fogg Filler owner and President Ben Fogg's grandfather founded the company in 1956 after he recognized an opportunity to serve the dairy market with rebuilding and retooling services for bottle-filling equipment. Over time, however, the company evolved into one of the leading manufacturers of extended shelf life (ESL) bottling equipment for the dairy industry and other market segments, and Fogg says it has accomplished that feat through continuous improvement and a focus on building equipment that serves all of its customers' needs.
The company designs and manufactures equipment used in filling glass and plastic bottles with non-carbonated beverages from dairy to explosion-proof machines for alcohol. The equipment produced by Fogg Filler includes automated fillers, capping machines, sorters, rinsing and sterilization equipment. Fogg says the company's customers are relatively diverse in terms of what they produce, but all have the same goals in common. "Our primary customer base would be a group of corporations that are trying to set themselves apart through having high-quality products throughout their organizations," Fogg says.
Helping customers succeed in their goals is Fogg Filler's primary objective, Fogg says, and that's evident in the fact that more than 70 percent of its customers are repeat customers. Fogg Filler is devoted to developing relationships that last for the long haul, Fogg adds. "My goal as the owner is to have you the customer be the most profitable customer in the area that you compete in."
Customer Friendly
Fogg says Fogg Filler's equipment has the technology to help its customers achieve their goals, but the company faces some stiff competition in the marketplace. Fogg's foreign competition for the most part builds aseptic fillers and runs them in a non-validated ESL manner.  These machines often are too complicated for most customers' needs. Fogg Filler, on the other hand, builds equipment that meets all customers' needs for high-performance ESL production but without a high level of  operator involvement.
"Fogg builds equipment that is a perfect fit for that gap," Fogg says.
The equipment built by Fogg Filler tries to take as much responsibility out of the operator's hands as possible, with a simplified design that nevertheless is capable of performing some very complicated operations. "Our goal internally here is to have a machine that is simple," Fogg says. "It's a bulletproof, rugged, simple machine, but one that can tackle a complex task."
Fogg Filler's approach flies in the face of the conventional wisdom of many of its competitors, which favor complexity. "[We have] a very different culture than most of the market," Fogg says. "We've tried to take – where practical – the operator out of every step of the operation."
Even though operators have the luxury of taking a hands-off approach to their production thanks to Fogg Filler's machines, the company doesn't follow that same principle when it comes to customer service. Fogg says Fogg Filler prides itself on its technical support, with technicians available 24/7 and a well-stocked inventory of parts ready to go out to customers at a moment's notice.
Staying Ahead
According to Fogg, Fogg Filler has experienced a substantial amount of growth over the last several years, making keeping up with that growth one of the company's biggest challenges at the moment. Fogg says finding the right talent and then training them in the company's distinct culture has been a primary focus for Fogg Filler for the last few years, and one that the company has been largely successful in doing.
The other challenge faced by the company is that the market has a tendency to shift back and forth between European-style equipment and the type of filling equipment manufactured by Fogg Filler. Fogg says customers sometimes make the switch to the European-style machines before encountering the same problems with certification and maintenance that led them to purchase from Fogg Filler in the first place. Educating customers about the benefits of the company's equipment has become a bigger part of its operations lately.
Aggressive Growth
Despite the challenges, Fogg Filler is well-positioned to continue on its path of sustained growth in the near future. The company just doubled their manufacturing facility in Holland, Mich. Fogg Filler also is aggressively developing new proprietary technologies that should give it a greater edge in the marketplace, including new dry sterilization equipment that uses UV light.
"I feel that in the next 10 years, we can reduce or eliminate the chemical use of sanitizing or sterilizing [agents] where the design will allow us to based on package design on [manufacturing] bottles and caps," Fogg says.