Forged through innovation
With over six decades of demonstrated industry expertise, Fonderie Cervati Srl. represents an ever-present force in the field of specialised die casting and the mechanical processing of aluminium alloys
Situated within the historic Italian city of Brescia, Fonderie Cervati Srl. was originally established during 1953 to manage the production of brass castings that were subsequently used in the fabrication of robust construction equipment. As the business has grown it has continued to evolve and today remains proud of its strong manufacturing heritage and proven engineering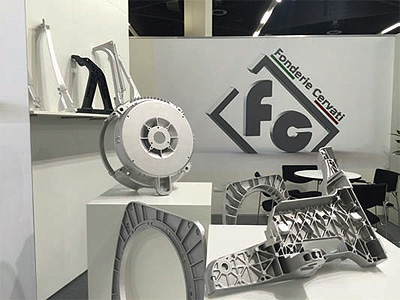 know-how. As of 2017 Fonderie Cervati represents a specialist market leader in the fields of die casting and the mechanical processing of aluminium alloys – particularly Magsimal-59 (AlMg5Si2Mn). These alloys comprise primary materials that are widely used within some of the world's most buoyant and demanding markets, including the automotive and electrical components industries.
Fonderie Cervati is presently in its third generation of family ownership and enjoys a healthy turnover that is generated across several industry sectors. Indeed, around 55 per cent of the company's business is based within the automotive market, while a further 25 per cent of its overall turnover is derived from clients operating in the construction industry. The remainder of the company's sales are to customers within the markets for electrical components, textile machine equipment and other specialised niche machine parts.
By operating within a broad base of industry sectors, Fonderie Cervati is able to navigate the volatile manufacturing industry and react appropriately to both geographic and marketspecific trends. This has further enabled the business to survive the challenges that have existed within the manufacturing sector in recent years, while growing to achieve an annual turnover that is today valued at circa €14.5 million. "Fonderie Cervati encountered a difficult trading period during 2010, which was an experience shared by a vast majority of the metallurgical companies operating within Europe at the time. As a response to this we essentially re-established the company with a sharp focus on technological content and innovation during 2014," reveals CEO Stefano Cervati. "The business today represents a leading mid-sized industrial concern with over 60 employees that machines around 3500 tonnes of aluminium alloy each year. We are also able to further differentiate Fonderie Cervati within a complex and demanding market through the provision of highquality die cast aluminium structural components for the automotive and transportation sectors."
To ensure that the company remains at the forefront in terms of offering the highest standards of machining quality and maintaining the most efficient manufacturing practices, Fonderie Cervati continually works to promote and enhance the capabilities of its multi-disciplined personnel. This is further supported by full ISO 9001: 2008 and ISO TS16949: 2008 accreditation and an ongoing programme of training across the business. Indeed, by maintaining a rigid adherence to both strict internal and external quality standards and investing in the development of the company's workforce, Fonderie Cervati is able to offer the best technical competence and dynamic flexibility to meet even the most demanding requests of its clients. In this respect the company also works in close collaboration with its customers at every stage of project progression, ranging from initial projection phases through to the final delivery of finished products. This allows it to offer complete technical support and comprehensive expert advice throughout the entire production process.
On the technical side of the business, Fonderie Cervati continues to invest into improving its production technology by introducing new and modern manufacturing equipment. The company moved into its current 14,000m2 premises during the 1970s, while the site today incorporates 8000m2 of covered production space and 6000m2 of open ground. The main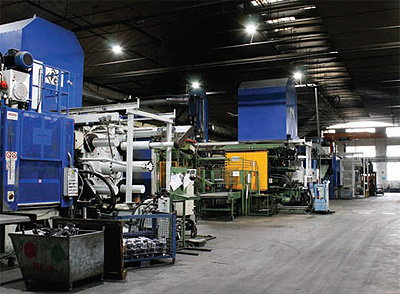 Fonderie Cervati factory also includes extensive foundry and finishing capabilities, warehousing space, efficient maintenance services and dedicated office buildings. These expansive facilities are backed by modern manufacturing and inspection techniques, which enable the company to deliver world-class products to its clients globally.
"We develop innovative concepts that are both revolutionary and employed across the entire company from design and manufacture to testing and checking. These include advanced control techniques such as X-ray tomography, which is used undertake continuous inspections that provide clients with a guarantee of traceability from production to shipment," Stefano says. "In recent years we have also introduced two high-performance foundry ovens and two new degassers provided by Foundry Ecocer. These allow Fonderie Cervati to utilise state-of-the-art foundry techniques, while further focusing our attention on greater industrial automation, which will allow the company to commit its full resources on delivering the highest levels of quality for structural casts."
As Fonderie Cervati continues to develop through the introduction of new technology and the on-going development of its high-quality manufacturing techniques, the business will seek to expand its presence within the market with both existing and brand new clients. "The automotive market continues to account for least 55 per cent of our total business and we think this value is destined to grow both in absolute terms and as a percentage of total output. Ninety-five per cent of the company's overall production is destined for markets abroad, mostly to clients within Europe, but also in China and other emerging countries in the Far East," Stefano concludes. "I believe that we will be able to achieve interesting new developments in these areas over the coming years. Indeed, through the introduction of new technologies we maintain a harmonic and integrated projection for growth, which offers the best possible opportunity for Fonderie Cervati to expand in both Italy and abroad."
Fonderie Cervati Srl
Services: Specialist die casting and aluminium alloy machining solutions