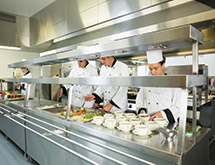 In 2006, Madhu Natarajan founded Food Service Warehouse (FSW) with one idea in mind: to make it easier for foodservice providers to purchase supplies and equipment by making equipment available to purchase online. "Beginning with just 12 employees and faced with an industry steeped in brick-and-mortar storefronts, [Natarajan] paved the path to create a thriving and disruptive presence in the foodservice equipment and supplies market," the company says.
With four locations in the United States and more than 450 team members, the company today is a leading, game-changing player in the equipment sales market. "We're focused on providing our customers with the best experience and the best product selection in our industry," the company says. "At FSW, we're not seeking to push the status quo; we're working each day to constantly reinvent it."
The company offers a wide array of foodservice supplies and equipment, ranging from flatware and cookware to commercial ovens and dishwashers. FSW stocks products from most major manufacturers and brands. The company prides itself on its "one-stop-shop" model. "From fine dining restaurants to quick-serve counters and right down to specialty needs such as Asian cookware, catering supplies and bar equipment, we cover every product detail to assure our customers' business is set up for success," FSW says.
More than Equipment
FSW offers more to its foodservice and restaurant customers than just equipment. The company provides a number of other services to its national accounts, including distribution, shipping, value-engineering, installation and menu development. Clients also have access to an online ordering portal, where they can manage the ordering process for individual stores, the company says.
"Choosing foodservice supplies and equipment does not have to be a chore," the company says. "We strive to simplify the process by providing a variety of products, easy-to-use search tools and unparalleled customer service to help customers find the restaurant equipment they need with ease."
The company offers resources beyond products and equipment to its customers. "A lot of restaurant equipment and supplies stores are the same; we like to be different," it says. The company's online education center offers hundreds of articles covering foodservice topics including starting a restaurant, restaurant management and operations, restaurant marketing, product safety and public health, and equipment care and repair.
One component of the education center, titled "Understanding Restaurant Equipment and Supplies," walks users through the process of finding the right unit for their commercial kitchens. "Our educational resources are available to improve your knowledge and understanding of commercial kitchen supplies, restaurant equipment and general foodservice topics," the company says.
'A Better Experience'
FSW prides itself on customer service. "We offer more than just a place to shop; we offer a better experience," the company says.
The company employs many product experts who "know our catalog inside and out," it says. "From utensils to freezers, we've done the work to find the right products for your kitchen."
Product experts train personal account managers, who assist each customer with every step of the shopping experience. "From product selection to tracking orders and beyond, we provide an unrivaled level of service for every customer," the company says. "We understand it's important for customers to find the right restaurant equipment and supplies for your business. At FoodServiceWarehouse.com, we truly believe that your success is our success and we strive to provide the professional shopping experience that meets and exceeds your expectations."