For more than a century, Schnitzer has developed robust networks to collect, process and deliver recycled metals to meet the needs of virtually all economic sectors
Schnitzer Steel is one of North America's largest manufacturers and exporters of recycled metals with operating facilities located in 25 states, Puerto Rico, and Western Canada.
The Company began operations in 1906 in Portland, Oregon, and although the size, scale, and global reach of Schnitzer's business is very different than it was more than a century ago, the Company's core mission remains the same: recycling and resource conservation.
Schnitzer operates regionally based hub and spoke models throughout its North American footprint which enable efficient logistics and materials management of ferrous and nonferrous metals via totes, containers, trucks, railcars, barges and ships. The Company's operations advance regional circular economies by ensuring valuable materials are kept out of the landfill and are redesigned into new products.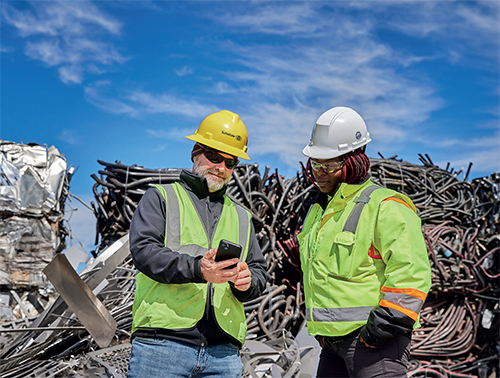 "We've been in the recycling business a long time; way before it was fashionable," explains Jim Devine, Schnitzer's Vice President of Nonferrous Purchases and Sales. Devine leads the Company's team responsible for engaging directly with customers and suppliers to purchase, process, and recycle nonferrous metals. "Early on we recognized the enormous potential to add value to the economy by retrieving materials set for landfill and innovating ways to ensure they are used again," he added. "Our regional operations support the supply chain and reduce the carbon footprint of manufacturing activity."
Schnitzer's integrated operating model encompasses 54 metals recycling facilities, including seven metal shredders, 51 Pick-n- Pull auto parts recycling and retail stores, and a state-of-the-art electric arc furnace steel manufacturing operation in McMinnville, OR which sources much of its recycled ferrous metal feedstock from the Company's own operations to produce finished steel products like rebar, wire rod and other specialty items. Through Schnitzer's growing recycling services portfolio, the Company also provides important sustainability and materials management to national manufacturing and retail customers in nearly every state in the US
"The beauty of having a broad but regionally focused footprint is that it allows us the unique ability to provide door-to-door service for our customers wherever they are," explains Devine. "Our fleet includes everything from 4×4 containers to barges and rail cars, and we can offer a variety of pricing options to our suppliers. We aim to be the recycler of choice by handling all of our customers' material and ensuring it's recycled in accordance with environmental and regulatory requirements."
A Responsible Partner
Schnitzer's history of success in the industry is evidenced by numerous awards and accolades collected over the course of decades for leading performance in sustainability, ethics, transparency, responsible operations, and employee engagement. In fiscal 2022, Ethisphere® Institute recognized Schnitzer as one of 2022 World's Most Ethical Companies® for the eighth consecutive year, Newsweek recognized Schnitzer as one of America's Most Responsible Companies of 2022 for the third consecutive year, Schnitzer was re-certified as a Great Place to Work® for the second consecutive year. The Company received the Sustainable Markets Initiative's Terra Carta Seal, was recognized by the CDP for performance on climate and water and rated by EcoVadis for performance in sustainable procurement.
"We pride ourselves on our reputation for ethical business practices as we partner with customers in 25 countries on five continents," said Devine. "It's an integral part of our culture and our customers as well as suppliers appreciate these awards and recognitions as representative of our Company values."
Most recently in January 2023, Schnitzer was named the most sustainable company in the world by Corporate Knights, a leading media and research organization focused on corporate sustainability performance, as part of their Global 100 List. This important recognition reveals a growing spotlight on Schnitzer's products and services as strategic solutions for companies, industries, and governments focused on carbon reduction. It also highlights the Company's role in advancing metal-intensive technologies such as electric vehicles, wind and solar technology, and battery storage systems.
Meeting the Demand for Recycled Metals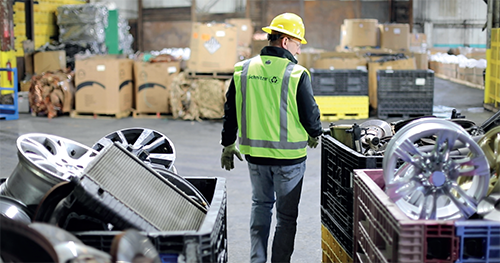 Schnitzer's longstanding relationships with customers and suppliers across the world reflect the Company's strong service culture. Its product offerings, logistics solutions, and pricing strategies meet the needs of the Company's diverse customer base, which ranges from the general public to contractors and national account holders. In the commercial sense, Schnitzer takes a partnership approach by assessing a company's supply chain.
"Customers are increasingly focused on the environmental impact of their supply chains and are looking to companies like Schnitzer to both shorten the supply chain and help lower the carbon intensity of finished products and technologies," explained Devine.
Using one ton of recycled metals as compared to corresponding virgin material in the manufacturing process can result in up to 58 percent less CO2 emissions for steel, 65 percent less CO2 emissions for copper, and 92 percent less CO2 emissions for aluminum, highlighting the inherent value in Schnitzer's recycled products and offerings. In fiscal year 2022, Schnitzer sold 4.6 million tons of recycled ferrous metals, 687 million pounds of recycled nonferrous metals, and 465,000 short tons of finished steel products made from recycled ferrous metals.
Increased demand for the products Schnitzer offers is connected to the growth in manufacturing in the US and globally, among other drivers, to produce technologies associated with decarbonization like electric vehicles and renewable energy infrastructure. In the spring of 2022, the Company acquired Encore Recycling and Columbus Recycling in the US southeast, bringing its regional footprint to 24 recycling facilities, including its first metal shredder in the region.
"These acquisitions support a growth strategy to increase our ferrous and nonferrous volumes and provide recycled metals to manufacturers," said Devine.
In support of the Company's growing recycling services offerings, in November 2022 Schnitzer acquired ScrapSource LLC, a materials management company based in Dallas, Texas which focused on providing metals recycling management services and solutions to manufacturers, fabrication facilities, and service centers across North America. The addition of ScrapSource offers opportunities to scale Schnitzer's national sourcing platform, enhance and expand the Company's services to national manufacturing and retail customers and increase supply flows within the Company's operating regions.
Looking to the Future
When looking to the future for Schnitzer, Devine sees the Company building on recent growth to attract new customers. He points to continued investments in Schnitzer's advanced metals recovery technologies, which enable the Company to diversify its product offerings and enhance the ability to competitively meet the needs of domestic and international customers.
"I'd like to see Schnitzer continue to expand our footprint into new regions and become the one-stop solution for manufacturers," explains Devine. "From a technology perspective, our advanced metals recovery systems allow us to extract more nonferrous metals like copper and aluminum from metal shredding activities, meet global metal content and quality requirements, and create product optionality for our customers. On the services side of our offerings, we bring transparency to the process of collection and management. We also offer enhanced data and reporting options for our customers on the environmental benefit of introducing these recycled materials back into the marketplace as raw materials to produce new products. Together this is a powerful combination with direct connection to the circular economy and a more sustainable future."
Jim Devine is Schnitzer's Vice President of Nonferrous Purchases and Sales. Contact Jim directly by emailing jdevine@schn.com
www.schnitzersteel.com