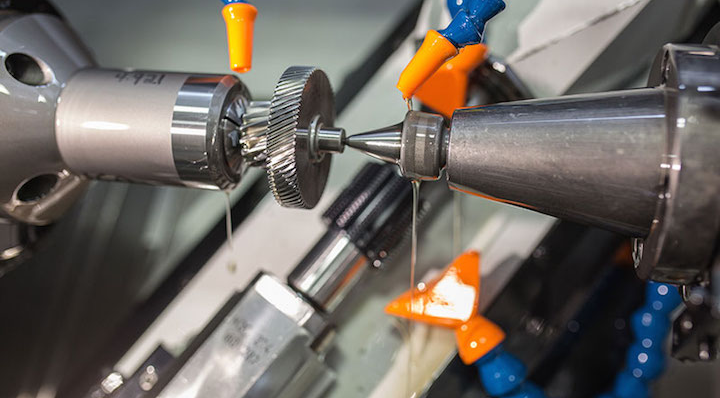 For more than 50 years, customers in a broad spectrum of industries have counted on Forest City Gear to provide them with the custom gears their equipment need to do their jobs properly. Chairman Fred Young says the company's high-precision custom gear manufacturing capabilities are so extensive that it can serve industries ranging from aerospace to general industrial equipment with unparalleled quality and responsiveness. No matter who its customer are, Young says, Forest City Gear brings the same high level of quality service to their custom gear needs, and the company's commitment to investing in its equipment and its people allows it to continue that tradition.
The company was founded by Young's father, who was a veteran of the gear business for many years before going into business for himself at the behest of some former customers in 1955. Those customers called on Young's father to produce some custom gears after their own vendor wasn't able to produce an order on time. After borrowing money from friends and family, Young's father produced a $17,000 order for gears in less than two months even though he had no production facility at the time. From there, Forest City Gear started to build its customer base.
Based in Roscoe, Ill., Forest City Gear continues to specialize in manufacturing custom gears for a wide assortment of customers. According to Young, the aerospace sector makes up the largest segment of its customer base, but it only accounts for about a third of the company's business. The rest is made up of industries including medical, military and defense, racing vehicles, motorcycles, material handling, recreational, and heavy construction equipment. Young says the diversity of Forest City Gear's customer base is a testament to the strength and capabilities of the company, and its never-ending commitment to improvement is how it will maintain that diversity into the future.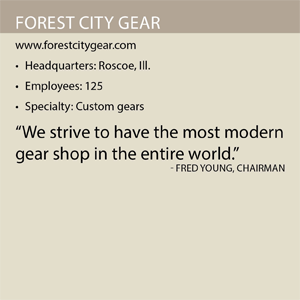 Strong Technology
Forest City Gear's technical capabilities make up one of the company's single greatest competitive advantage, and Young says the company does everything it can to keep it that way. "For over 35 years, we have been reinvesting 25 to 40 percent of our gross sales into new equipment," he says. "We strive to have the most modern gear shop in the entire world."
The technical superiority Forest City Gear brings to the table allows it to do things most other custom gear manufacturers can't. For example, the company has pioneered a unique technology for fine pitch gearing called fine pitch crown hobbing, which gives the flank of the gear tooth a barrel-like shape that helps reduce misalignment and noise. The company also utilizes a carbide re-hobbing process to produce high-quality gears at a lower cost than grinding processes.
The company's commitment to technological superiority also applies to the inspection equipment Forest City Gear utilizes. With one of the most advanced inspection equipment lines in the industry, Forest City Gear not only can ensure that the gears it produces are made with the highest quality, but also can provide customers with full documentation to illustrate how its gears meet their specifications. All of these capabilities add up to making Forest City Gear a trusted partner for manufacturers all over the world, including Great Britain, the Philippines, Australia, Japan, Switzerland and the Netherlands.
"The reason for that is when we buy gear equipment, we buy all the bells and whistles and we get a lot of training at the same time, plus we're heavily invested in the best inspection equipment in the world," Young says.
People Power
As important as the company's equipment is to its success, Forest City Gear also understands that the people operating that equipment are equally important. Young says the company invests heavily in in-house training programs, including programs from leading gear manufacturers such as the Gleason Gear School and the Koepfer Gear School.
Forest City Gear's in-house training programs also include an 8,000-hour apprenticeship program recently developed and utilized by more than 2,000 gear companies across the country. Young says training up a new generation of skilled workers is important due to the shrinking talent pool in the industry today. "There is a dearth of people with the kind of gear experience that we would like to have," he says. "We'd rather have a cadre of people we can call upon with some training rather than recruit employees from other gear companies."
President Wendy Young says the company's investment in internal training also serves to help retain the best and brightest employees because of the commitment it shows. "The advantages of in-house training are that at the end of the day, [employees] feel valued and important to us because we've made the choice to invest in their future.
As a result, Fred Young adds, Forest City Gear has had very low turnover among its key people over the years. That has become even more important in recent years, as sectors such as mining and agriculture have suffered losses. Thanks to the diversity of its customer base and the company's strong commitment to quality, however, Forest City Gear expects to enjoy continued success in the future.