On fine form
Following recent investments in facilities and achieving three major certifications, tooling and lightweight component manufacturer Formaplex is certain to continue meeting the high standards of its customers
A leading manufacturer for tooling and lightweight component solutions since 2001, Formaplex Ltd has built a reputation for excellence over the last 15 years thanks to a strong dedication to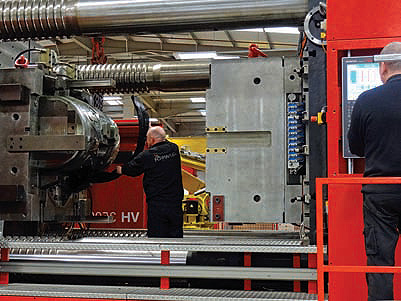 dynamic working practices and the delivery of innovative, unrivalled service. Working with blue chip customers at the top of their respective fields, the company operates in an environment where exceptional performance is standard; this continued focus on superior service and quality, as well as high speed machining technology and tooling expertise, has ensured Formaplex truly stands out in the market.
"We were established in July 2001 as an F1 supplier," begins Russ Hammacott, Director at Formaplex Ltd. "We became renowned for carbon composite chassis/composite machining for most of the Formula One and Le Mans teams. Using the latest technologies, we manufactured their patterns and tooling for testing the aerodynamics of car components in wind tunnels in a fraction of the time of traditional engineers. The culture instilled at this time also included meeting clients' demand for rapid project delivery and offering round-the-clock support. These values have underpinned the growth of Formaplex over the last 15 years."
He continues: "The ethos at the heart of our company is built on being trusted, dynamic and exceptional. It is these qualities that our customers, suppliers and employees recognise and have complete confidence in us – to always be honest, diligent and unyielding in our attention to detail. Our dynamism is based on being responsive, agile and energised. Our commitment to high standards, technical expertise and investment in people is paramount."
Today a world class manufacturer of tooling and lightweight component solutions, specialising in five axis CNC machining and injection mould tooling to a global market, Formaplex has become the preferred supplier for the delivery of tooling solutions to OEMs and tier one companies supporting both the high end automotive and prestigious, low-volume automotive industries. "We have proudly developed a market-leading position in the UK premium automotive, F1 and motorsport sectors, with a rapidly growing share of the UK and European high-volume automotive, defence, aerospace, marine and industrial markets," says Russ. "We have also been supplying to the defence sector since 2010 and were proudly involved in the Ocelot programme, a protected patrol vehicle that provides unprecedented levels of survivability for troops facing IEDs and other threats. We lead the supply and post machining for blast proof pods, which was a milestone in our development for defence applications."
To remain at the forefront of innovation, quality and expertise, the company recently completed a major expansion of its manufacturing facilities; this strategic development was also in response to therapid and steady growth that Formaplex has witnessed over the last five years. "With our market share steadily rising, we have grown from strength-to-strength, achieving a record turnover of £48.4 million for 2016. Due to this growth, our current sites are working at full capacity, often with 24/7 operations; as such, we have put an expansion programme in place to support our future growth, which has been positively impacted by confidence in the automotive sector and an increased international demand for UK premium car brands," says Russ.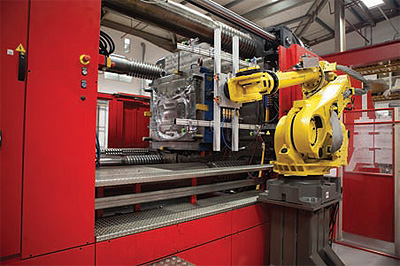 Operational since Autumn 2016, the new purpose built premises have provided Formaplex with an additional 120,000 square feet on a 7.25 acre site, which is in close proximity of its three other manufacturing sites. "The new technical centre 'Voyager Park' will increase production space by 80 per cent, collectively, which means our total footprint now spans 270,000 square feet across four sites," highlights Russ.
"Our new facility accommodates a total of 15 injection mould presses, to support the increased demands of lightweight moulded components, together with in-house finishing, assembly and metrology departments. A £6 million investment in our manufacturing capabilities at Voyager Park includes the acquisition of five additional injection mould presses, ranging from 2000 tonnes to 70 tonnes, and new finishing operations to include semiautomated paint lines and some robotics.
"The new premises will ensure we have the additional capacity to continue toprovide our services and world-class products. Approximately 100 new job opportunities will be made available at Voyager Park. With these developments in place, we are currently producing 600 injection mould tools and moulding approximately three million thermoplastic components per year, predominantly for the automotive industry," he adds.
Strengthening these developments is the company recently gaining accreditation in TS 16949, the most prestigious award within the automotive industry and a testament of the company's commitment to supplying quality assured products. Moreover, Formaplex achieved an outstanding Grade A status, VW Formel Q certification, thus satisfying the most stringent conditions, and also achieved AS9100C certification for manufacturing and machining composite components for aerospace, defence and space industries.
Having achieved these accreditations and expanded operations, the future looks positive for Formaplex as it seeks to provide the best quality and service to both long-term customers and new clients. "The expansion into Voyager Park has given us the additional space and capacity we need to support our future growth for the next three years, while our strong financial position allows us to continually invest in our operational facilities to ensure we stay at the forefront of our industry. Furthermore, our recent achievements demonstrate we have the systems and processes in place to meet or exceed the high standards demanded by our customers," Russ concludes.
Formaplex Ltd.
Products: Manufacturer for tooling and lightweight component solutions