The best of lightweight engineering
Formaplex's composites division has doubled in the last three years, as the cost-effective and energy-efficient solutions developed by the manufacturer continue to be in strong demand within aerospace, high-end automotive and beyond
Nowadays, there is much more to Formaplex's offering than toolmaking and injection moulding. Such is the message that Matt Sellens – Sales Director at the manufacturer of lightweight component solutions – wants to send, as the Hampshire business continues to grow its capabilities. Established as a tooling business in 2001 to supply the Formula One sector, Formaplex has since evolved first to add injection mould tooling and moulding to its skillset and then, to develop an expertise in the manufacture of composite components.
"I believe that our USP lies in our ability to invest in opportunities when we spot them. This way, we have rapidly built up a proposition for our customers, which covers the entire supply chain for them – from engineering consultancy, design, and manufacture, all the way through to assembly, paint, and delivery," Matt explains. "Fundamentally, we try to minimise the amount of processes that we have to outsource by bringing these capabilities in-house, instead. As a result, we can be very reactive and offer engineering solutions our customers may not have thought of."
The willingness to provide an all-encompassing service has led to Formaplex's entry into the composite manufacturing space seven years ago. The company has since made a number of investments, in order to be able to execute multiple production processes. Matt discusses: "We have introduced five autoclaves to the shop floor for prepreg curing, as well as infusion and high-speed pressing processes. For example, we now have a 600-tonne vertical press, which enables us to produce composite parts in higher volumes. Moreover, a year and a half ago, we invested and moved into a new composites R&D facility on our Horndean campus."
The vertical press Matt refers to, first demonstrated its value when Formaplex was tasked to produce a lightweight roof panel made from recycled carbon fibre for a supercar company. "We wet-press these parts, taking us around eight minutes to press each of them," he details. "As the growth in high-volume composites comes about, we have drawn upon our existing in-house injection mould tooling capabilities to produce this carbon fibre roof panel as a cost-competitive solution against more traditional metallic alternatives. The project has been a real success story for the company and is opening up opportunities across market sectors."
In fact, the last three years have seen Formaplex more than double its composites division. Benefitting from the growing aerospace, hypercar, and luxury vehicles sectors, the manufacturer has successfully employed its flexibility to serve its well-performing customer base. "We position ourselves as a lightweight engineering solutions provider, because all markets are looking for lightweight components as they strive to reduce their CO2 emissions and move towards electrification. Lightweight measures can help reduce emissions by 0.1g/km, while electric supercars, in particular, can be faster if they are lighter. The components we make are designed to achieve that and offset the additional weight of the batteries that are put in the vehicle," Matt points out.
"Our key customers are increasingly interested in developing carbon fibre-intensive vehicles and as the UK has some of the best supercar companies in the world, we see fantastic opportunities in the sector," he adds. "We can also take advantage of the reshoring activities that are taking place at the moment, as these businesses are moving their supply chain from the Far East back to the UK. This gives us a chance to serve them at very short notice and come up with competitive solutions. Not only do we speak the same language literally, but with our sales team composed of experienced engineers, we also speak the same technical language, which allows us to cater for our clients' needs effectively."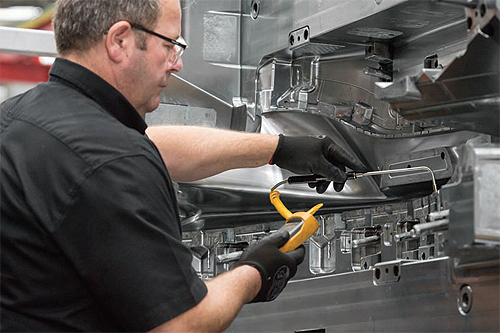 Going forward, Matt reveals that Formaplex is set to place further investments to capitalise on the ever-growing demand for composite components in aerospace and the high-end automotive industry. "We are planning to expand our vertical pressing capacity to increase our high-volume production capability. This applies to aerospace radomes as much as land based transportation. Furthermore, with 3D-printed parts also being highly sought-after, we invested in a new Stratasys F900 3D printer last year to bring this kind of capability in-house and we are now actively exploring our possibilities to introduce more 3D printing technologies in our factory.
"In terms of projects that we are currently involved in, we are supplying the complete interior for the Porsche 911 Singer DLS restoration, and, starting from now, we will also commence our work as Gordon Murray Automotive's composite technical partner for their T50 supercar; a collaboration that will keep us busy for the next five years."
While it will continue to make strides in the automotive market, Formaplex is also keen on remaining a diversified business that pursues the emerging opportunities in other sectors, too. Matt clarifies: "We have some great customers in aerospace and we have also seen gains in the submarine mast business. Then, the medical sector is another area where we want to grow our presence. Last but not least, the space market has an excellent growth potential for the UK, as a whole, as the country is presently investing in the development of the satellite industry.
"With all these avenues open to us, what we want to communicate to our existing and future customers, is that we have wide-ranging capabilities. These go beyond tooling and injection moulding which, having built a fantastic reputation, is still what we are best known for in some sectors. To this end, we have set out to refresh our website to ensure that the information on it is an accurate representation of what we can do as a company. The front-end is already live and the back-end is to be rolled out within the next month or so. Once this is done, we will have a platform that sends the right message that will hopefully attract more clients from across market sectors to our business," Matt concludes.
Formaplex
Services: End-to-end lightweight engineering solutions