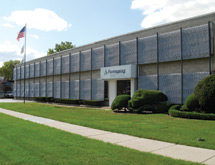 For more than 50 years, Formsprag Clutch has been a leader in the design, manufacture and delivery of reliable precision power transmission products to a variety of industries. The Warren, Mich.-based manufacturer prides itself on providing one of the broadest lines of overrunning clutches and backstops, and for maintaining the highest standards of quality – ISO 9001  – for more than 18 years, says Mike Travis, manager of sales and marketing.
Formsprag Clutch was established in 1943 as Formgrind, a subsidiary to the Gear Grinding Machine Co. In partnership with Ohio State Uni­ver­sity, Gear Grinding Machine de­vel­oped the first sprag clutch for use on a supercharger for aircraft engines in World War II. Its plans to develop overrunning sprag clutches for commercial applications in a post-war economy were realized when it formed Formsprag as a separate corporation.
Decades of innovation combined with a number of ownership changes enabled Formsprag to pursue and excel in several different markets ranging from oil and gas drilling, steel manufacturing, mining, petrochemical and food processing to transportation, military and aerospace.
In 2004, it was acquired by Altra Industrial Motion, based in Braintree, Mass. Altra's products are sold in more than 70 countries to a variety of major industrial markets.
Formsprag and Stieber – headquartered in Germany – were joined together in 1976 and when Formsprag was united under the Altra umbrella with its former competitor, Marland Clutch – which has been producing overrunning clutches since 1931 – the expanded capabilities. Today, Formsprag offers un­ique solutions worldwide with re­gard to backstopping, overrunning and in­dexing clutches. It shares a sales force with the other Altra companies. "The intent is to offer a full line of ind­us­trial power transmission components," Travis explains.
Market Diversification
Backstops are necessary for any ind­ustry that utilizes inclined conveyors, or bucket elevators. Inclined conveyors are used in mining to bring product up from open pits or underground mines.
Overrunning clutches are used to provide simple and effective instantaneous clutching in material-handling applications that have high down-time costs such as automotive final assembly lines. In deep well oil drilling, the overrunning clutch is the drawworks clutch that is used to provide the extra drag automatically when lowering drill pipe after replacing the cutting head.
Formsprag's diversity and capability to serve a variety of different industrial sectors benefits the company when the market fluctuates, Travis explains, but only to a certain degree. This was evident during the recent economic down­turn. "We are involved in everything from steel mills to potato chip factories to enormous mining facilities, so the diversity of our application is fascinating and has helped to minimize the impact from economic fluctuations," he states.
"Even though we are diversified, our sales in 2009 were down in excess of 20 percent from the previous year, which had been a record year for us," Travis continues. "We saw all of our industries – even aerospace – impacted by the downturn. Most of the markets have recovered – not quite to previous [boom] years, but we see steady and significant incoming orders since the beginning of the fourth quarter of last year."
Customer Oriented
Part of Formsprag's long-term success is attributed to its willingness to go above and beyond customer expectations, Travis adds.
"Formsprag products are in many 24/7 applications and, as a result, we will get emergency breakdown phone calls at the wee hours of the morning, so we offer a 24-hour emergency program," he says. "Not all of our competitors have that capability."
Also, Formsprag strives to extend the wear life of its products through innovative, patented designs.
"These can be fairly expensive capital items that will eventually wear out, so we do deep-case carburizing that allows for [certain items to be] reused depending on the amount of damage we see when they are return­ed back here," he explains. "The Formsprag and Marland Rebuild program offers a 30 percent savings as compared to buying a new clutch, and quite often, it can be repaired much quicker.
"We developed a formchrome surface process, chromium – a carbon diffusion process of the surface of a sprag – which is made of 52100 ball-bearing steel," Travis continues. "This gives the sprag a surface hardness increase of 10 points on the Rockwell C scale. We developed it for one of our aerospace customers, but we are now using this process to extend the life of our clutches for industrial clients."
Whether it is to start up a new facility, improving the production on an existing one, or simply replace certain components, Formsprag enjoys long-term relationships with its customers, Travis notes. "Customers want to continue to use the same brand as they did yesterday on tomorrow's new project," he states.
As a result, Formsprag plans to con­tinue to innovate and look for ways to offer cost savings and turnkey solutions to its broad customer base, Travis explains. The company is performing a significant amount of re­search and development for long-term custom­ers that call for bi-directional clutches and even larger, more sophisticated backstops.