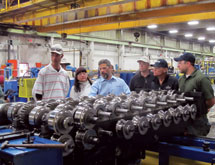 Darren Muchnicki believes reports of the demise of manufacturing in the United States are greatly exaggerated. "Manufacturing is alive and well in this country," says Muchnicki, president of Formtek Group's Cleveland operation. "We've seen, with our customers who have taken their sourcing outside of the United States previously, that they're now coming back.
"We've seen more and more customers who started operations in China or Taiwan see the shipping costs and quality aspect hurt them to the point where it's no longer justifiable for them to source from overseas," Muchnicki adds. "Everyone thought that you could just make everything overseas, but are now realizing that there's something to our capabilities here."
For Muchnicki, the key to keeping the United States viable as a manufacturing power is a skilled workforce. "As long as we continue to advance our workers, we'll be able to produce as much here as anywhere else in the world," he adds.
Training and skill development is a central component to Formtek Group's operations. "Everyone at our facility is cross-trained; if a person is absent, someone else can step up to operate a machine," Muchnicki says. "Pretty much everyone has the attitude that they will do whatever it takes to get the job done."
Formtek Group formed in 1996 after parent company Mestek purchased 11 established and capital equipment brands – Dahlstrom, B&K, Engel Industries, Hill Engineering, Iowa Precision, Lockformer, Rowe, Tishken, Winpro, Yoder and Cooper-Weymouth Peterson (CWP). Formtek operates divisions in Cleveland as well as Clinton, Maine; Cedar Rapids, Iowa; and Beijing.  The purchase of the companies took place over nine years.
The Cleveland operation manufactures roll-forming and tube-forming machines under the B&K, Yoder, Tishken, and Dahlstrom brands. The machines Formtek produces are used in applications for shale oil/gas, automotive, metal construction, fenestration, office furniture as well as many other applications.
The Clinton facility manufactures metal stamping and coil metal processing equipment under the CWP and Rowe brands, and the Cedar Rapids location produces HVAC equipment under the Iowa Precision, Lockformer and Engel brands. The Beijing location manufactures HVAC equipment licensed for sale in Asia and Europe. Each division operates independently, with its own management and staff.
Range of Capabilities
Formtek Group's variety of brands serving different industries helped the company manage through the recession. "Our diversification was a saving grace for us," Muchnicki says. "Today, all of our divisions are extremely busy and we're seeing a nice manufacturing resurgence coming through."
Formtek Group's different brands also give it the ability to meet different customer needs. "When customers come to us with an application, we have several different brands of products, all with expertise in various industries, that we can apply to come up with solutions for a customer," he adds. "Many of these applications could be outside of the range of our competitors' capabilities, but for us they're things we would do every day."
The company manufactures equipment based on the individual needs of its customers and based on client drawings. "They provide a drawing and we apply the appropriate application to it," Muchnicki says. "In addition, many of our customers rely heavily on us for service, training and after-market support."
The Cleveland facility's operations include turning machines as well as horizontal and vertical milling and boring machines. The company has added six new pieces of equipment that feature high cutting speeds and automation.
Formtek Group uses Mazak multi-axis machines, allowing it to perform milling, drilling and turning functions on the same machine. "We can manufacture one part complete, instead of taking the part to three different machines," he adds.
Built-in Quality
Quality and efficiency are high priorities for Formtek Group. The company's newest machines all feature extensive automation features and controls, allowing operators to run several machines all at once.
Formtek also stresses efficiency in its internal operations through a company-wide initiative to reduce its inventory. The company works with suppliers to source components on a just-in-time basis and uses common parts in its machines.
Quality is built into Formtek Group's machines and preserved through in-line checks. "If a part isn't made correctly, it won't fit into one of our machines," he adds.
Two of Formtek's brands have recently celebrated their 100 year anniversary with machines still in service that are over 40 years old.  "Every employee is proud of their craftsmanship."