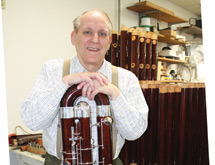 For Fox Products Corp., the use of modern manufacturing machinery and traditional hand-crafting methods are not mutually exclusive. The South Whitley, Ind., musical instrument maker applies modern concepts including value stream mapping to its operations while still relying on hand assembly and other time-tested techniques.
"We're different from a lot of places because there's still a craft level in­volved in our manufacturing process," Plant Manager Phil Wade says.
The company manufactures musical instruments including bassoons, contrabassoons, oboes and English horns as well as reed making tools, bocals (mouthpieces) and instrument accessories. Fox's main focus is to manufacture bassoons and oboes geared toward different types of musicians – junior high and high school band members, college students, advanced high school players and professional musicians.
Products are sold and distributed through a worldwide dealer network. The company promotes its products through the educational and professional markets, targeting college professors and symphony members.
"We're the largest bassoon manufacturer in the world," Wade says. "The things that really set us apart are the attention we pay to customer demands and the services we provide even after the purchase, as well as the quality level and value our customers get for their dollar."
Founder Hugo Fox conceived the idea of the company while playing as the principal bassoonist of the Chi­cago Symphony Orchestra between 1922 and 1949. He founded the company in 1949, and it completed its first bassoon in November 1951.
Crafty Assembly
Fox produces an average of 130 bassoons, 75 oboes, 12 English horns and two contrabassoons a month in its 40,000-square-foot facility. All bassoons are manufactured from a wood or resin base. Wood is aged for up to 10 years before it's used in an instrument; the aging helps give the instrument its proper tone, Wade says. Bassoons are crafted from domestic maple and European mountain maple. Wood oboes and English horns are made from Grenadilla wood imported from Africa.
Each bassoon has four distinct portions – two of these are turned into shapes on a four-axis mill, while CNC lathes are used for the others. Once formed, brass bands and nickel pieces – which are formed on-site – are fitted to the instrument.
After the four pieces of each bassoon are joined and fitted with brass and nickel, the instrument's body is stained and finished. From there, individual tone holes are drilled into the body, and two of the joints are fitted with a rubber liner that prevents moisture from warping the wood.
Threaded posts, hinge tubes, rods and mouthpieces are fitted at the end of the process. All assembly is done by hand. "Since the assembly process really can't be mechanized, we've added tools to take out any operator fatigue such as ergonomic tools and workbenches," Wade says.
While the company has made minor physical and material changes that have made significant acoustic im­prove­ments to its bassoons over the years, the basic model types have not changed because of the traditional design and nature of the instrument.
The nature of the assembly process also ensures the quality of the instrument. "Our products go through so many hands and processes, that if there's an issue, it's caught along the line," Wade says. The average length of tenure for a Fox employee is 20 years. Several employees have more than 30 years of service. Employees are given hands-on training and mentoring with experienced coworkers.
"What am I most proud of at Fox Products?  Two things – our employees who have quality as their number one focus and knowing that we are producing some of the best instruments available."