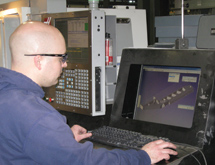 Fox Valley Metal-Tech Inc.
For Fox Valley Metal-Tech Inc., there's more to being a successful company than just making quality products or the financial bottom line. "I believe if you want to get something out of our industry you have to give something back," says John West, president of the Green Bay, Wis.-based custom metal fabrication company.  "Staying involved in our industry and community is very important to us."
For the company as a whole and West personally, getting involved means participating in local charities and professional organizations as well as building strong connections with both business partners and employees. FVMT donates money and time to a number of causes including community centers, rehabilitation centers, pediatric and breast cancer research organizations, the Shriners Club, Special Olympics and the Boys and Girls Club. West serves on the board of ASPIRO Inc., a non-profit organization that provides assistance to the developmentally disabled by training them to perform contract manufacturing and assembly services.
FVMT's professional affiliations include the Northeast Wisconsin Manufacturing Alliance, a group of manufacturers, workforce development boards, chambers of commerce and state organizations that works with technical and high schools to promote manufacturing in the region. The alliance's activities include a recent manufacturing conference attended by students and more than 130 area companies, as well as an "All-Star" recognition award program that has noted the work of several FVMT employees.
The company also works closely with suppliers and other business partners. These include Nicolet National Bank, who handles FVMT's line of credit and finances, and financial advising firm Wipfli LLP. In addition to regularly auditing FVMT, Wipfli also helped the company develop its human resources department and training program. The advisor also played an important role in helping FVMT plan for a building expansion in 2009 by conducting a cost segregation analysis that helped the company take full advantage of tax laws and optimize its cash flow, West notes.
"Having local partners who really look out for us financially has helped this company to grow," he adds. "I'm proud of the quality of not just our workmanship, but all the relationships we have."
A Collaborative Culture
The company's receipt of the Northeast Wisconsin Manufacturing Alliance's "All-Star" award, as well as other honors including the 2010 Federal Supplier of the Year award, are a testament to FVMT's employee development efforts. "I'm proud of the skillset that our people have and the pride they take in the work that we do," West says. "That's what really makes the company what it is."
FVMT employees are involved in more than manufacturing operations, as company management regularly conducts what it calls "fast break" meetings with six employees at a time to exchange ideas and address concerns in its manufacturing plant. As a result of these meetings, FVMT has made changes to shop floor scheduling reports that are displayed in real time on computer screens in its inspection and shipping department. This has helped it improve its overall operations and attain a 98 percent on-time completion rate on its projects, he adds.
A Reputation for Quality
Founded in 1989, FVMT specializes in fabricating stainless, steel and aluminum fabrications and parts for customers in a variety of industries including defense contractors, equipment manufacturers and capital goods suppliers. "Our niche is lower-volume, more difficult types of custom parts that require the type of precision you might not find in a typical sheet metal fabrication business," West says.
The company's projects include fabrications used in shipbuilding, printing and publishing equipment, car wash equipment, beverage equipment, paper and packaging machinery, power generation and utilities. All of FVMT's projects are made to client specifications.
Many of the fabrications produced by FVMT are given prominent placement in their customers' facilities. "On the commercial side of our business, we have customers who are looking for parts that really set the appearance of their machine, such as guards, large stainless steel hoppers or weigh buckets on scales," West says.The quality and high tolerances of the company's projects have helped it build a base of repeat clients. "We have not been much of a marketing company; customers have tended to come to us," West adds. "It's really only been in the last few years that we've hired business development staff."
All of the company's projects are performed in its manufacturing facility in Green Bay. FVMT's 2009 expansion added 40,000 square feet to the company's facility, bringing it to a total 110,000 square feet. FVMT's staff are trained in the use of a variety of equipment including:
CNC Lasers
CNC water jets
Saws
Shears
CNC punch presses
Press brakes
A CNC pem inserter
Machining centers
Robotic and manual welding cells
Inspection equipment
In addition to expanding its facility, FVMT has also in recent years invested extensively in new equipment and systems including a large automation system in its laser cutting area, an automatic storage and retrieval system used to load and unload sheet metal, a boring bar machine, several new press brakes with 3-D visualization software. This software will allow operators to clearly see how a part should be placed into a press brake and will enable them to see each part of the brake process on a monitor, giving them tighter control over quality.
These investments reflect the company's overall commitment to quality and continuous improvement. The company is ISO 9001 certified and incorporates a number of lean manufacturing practices into its operations. Lean practices include reorganizing work areas, eliminating waste and integrating project scheduling into its corporate ERP system. "Our facility is set up in a way that will produce 1,200 to 2,000 different parts a month, which could be 90 different parts a day," West says. "We are regularly complimented by people who come through our facility on how we are able to monitor our jobs."
Safety First
Safety is also an important component of FVMT's operations. The company has an internal incentive program in place that rewards employees with a free lunch if there are no lost time injuries over a six-month period and an additional vacation day if there are no injuries for 12 months.
The company also performs internal safety audits monthly. Shop supervisors are trained by the FVMT's safety engineer and safety coordinator on all aspects of workplace safety and health, and they in turn hold employee training sessions, the company says.
As a result of these efforts, FVMT has had success with its safety program and has had periods of no lost time accidents lasting longer than four years. "Fox Valley Metal Tech recognizes that employee cooperation is necessary to help ensure a safe working environment, and it is the employees' responsibility to know and utilize existing safety policies and guidelines," the company adds.