Handling the market
With over five decades of industry experience, FPE Global is an industry leader in supplying material handling and process solutions
Founded in 1965 and operating out of its headquarters located in Manchester, FPE Global is a highly respected UK manufacturer that delivers material handling and process solutions to clients both domestically and around the world. Its material handling solutions have applications within the food and beverage; chemical and detergent; pet food; and renewable sectors for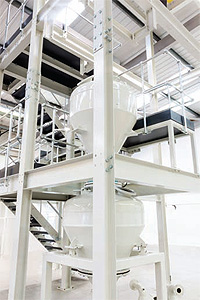 clients operating within key markets in regions including the UK and Europe, the US, Southeast Asian (SEA) countries, China and India. The company's impressive global reputation has allowed it to work with some of the most well known producers from around the world, including Nestle, Weetabix, Procter & Gamble (P&G), Unilever and Mars, as well as a host of privately owned firms.
FPE Global is backed by the private equity firm, NorthEdge Capital and has developed an unrivalled range of solutions to help its customers meet the ever-increasing demands of modern production. The company employs around 65 members of staff throughout the business and prides itself on being a global platform of 'best in class' materials handling and processing technologies that deliver significant value to both its customers and shareholders. The FPE Global range of products is comprised of a comprehensive suite of machines including pneumatic conveying systems, mechanical handling equipment, FIBC filling and discharging units as well as a comprehensive range of mixing solutions.
Throughout its history, FPE Global has continued to invest in the development of new equipment as well as in the on-going improvement of its facilities to enable the business to remain at the forefront of the manufacturing industry. During May 2016, the company announced that it had secured additional funding from NorthEdge Capital. The significant investment into the business was agreed to help fund the relocation of the company's manufacturing facilities to a modern plant that also includes a stateof- the-art test facility. The aim of this enhancement of the business was to allow FPE Global to build on its strategy of providing end-to-end solutions to the bulk materials handling industry through the delivery of both standard and bespoke products, as well as a host of after-market capabilities.
In the wake of this significant boost to the company's investment capital, FPE Global announced in September 2016 that it had finally launched its advanced new test facility and manufacturing operation to strengthen its services to a growing international customer base. Located at the company's UK headquarters close to Manchester Airport, the 30,000 sq ft facility is one of the largest and most advanced in the country, while the test facility covers 3500 sq ft and offers a full spectrum of materials handling technology, including a multi-phase 500m pneumatic conveying system that represents the only full scale test system of this kind in the UK.
The company's new facilities have been built with the sole purpose of allowing FPE Global to help customers to reduce risk with capital investments associated with materials handling infrastructure. Unlike other test facilities that offer only pilot or lab scale capability, the array of materials handling technology on offer at FPE Global allows customers to conduct full-scale material handling trials prior to final specification and purchase order placement. "The launch of the new manufacturing and test facility is another key step on our growth journeyas we enhance our services to clients around theworld," says David Cooper, Chief Executive at FPE Global. "With one of the largest and most advanced facilities in the country, we are now able to provide a world-class service to our customers from initial concept through to on-site delivery, startup and throughout the life of the installation. This full scope capability is what sets us apart from our competition and enables FPE Global to guarantee maximum efficiency and return on investment for our customers."
Further to the continued development of the company's manufacturing and testing facilities, FPE global announced during November 2016 that it had significantly expanded with the acquisition of mixing technology specialists, JW Process Equipment (JWP). Based in Surrey, the company has a team of highly skilled industry experts, all of which have been transferred to FPE Global as part of the deal. The acquisition will extend the portfolio of products offered by FPE Global to include a variety of mixing solutions, enabling the firm to offer true turnkey, value-added solutions to its target markets and customers. It will also provide JWP with full access to FPE Global's leading application specialists. This will add great strength to the company as it enters 2017 with an ambition to further develop its product range, expand further into export markets and focus on key account development. "The addition of mixing technology to our business will significantly enhance our portfolio of products. Operationally, there are excellent synergistic opportunities to support JWP in further expanding its customer base and volume," David concludes. "From a customer perspective, the acquisition allows FPE Global to provide a compelling alternative to UK and overseas customers through the design, supply and servicing of turnkey materials handling and processing solutions."
FPE Global Ltd.
Services: Material handling and process solutions