Full of beans
The UK's only manufacturer of cappuccino and espresso machines, Fracino's reputation for innovation and world class manufacturing standards has resulted in the brand gaining an increased presence on the global stage
For Adrian Maxwell, Managing Director of Fracino, a brand leading, multi award winning manufacturer of coffee machines, a lot has happened since he last spoke to Manufacturing Today Europe in October 2016. "Things have evolved substantially over the course of the last year," he states, "during which time business has improved dramatically and we have been working hard to transform our operations to reflect our new brand identity."
The phase 'if you don't put anything in, you won't get anything out' has arguably never rang so true as it has done for the company over the last 12 months, what with considerable investment being made across the board, resulting in sales increasing by 15 per cent across 2016, and a further ten per cent increase anticipated for 2017. "Since the end of last year, we have added a third production line to our factory, increasing our production capacity to almost 5000 machines per year," Adrian explains. "We have also recently installed a third CNC sliding head lathe, having reached capacity last year by producing approximately 750,000 parts with our two existing machines, as well as three new vertical storage systems for component storage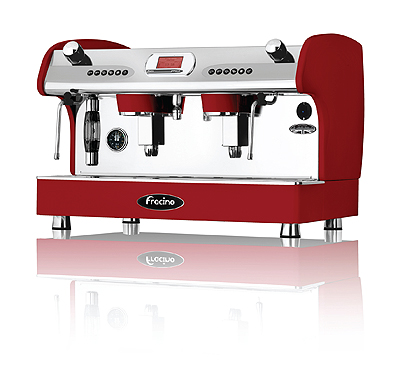 and finished part production."
Further recent investments also include the ordering of a new welding machine, which was due for imminent delivery at the time of writing, and a £250,000 extension of its front of house, its showroom and its staff facilities. "Anything that helps us increase production capacity will incur investment costs, but we are happy to facilitate this and to continue reinvesting in the business as we believe it is the only way we can expand," Adrian continues. "The same approach applies to the way we are now marketing the brand, spending more on promoting ourselves at exhibitions and conferences."
The results of these efforts are already reaping rewards for Fracino, with the brand beginning to establish itself across key global markets, which is a feat in itself considering that the company only began exporting its machines six years ago. "In addition to our strong standing in the UK and Ireland, the promoting of our strong, reliable, high quality and competitively priced machines has allowed us to establish a foothold in a number of important regions," Adrian enthuses. "Australia continues to be a very good market for us, with a container being sent there every six weeks on a rolling schedule, as has New Zealand, Dubai and Germany to name a few others. Meanwhile, we also have a slowly growing presence in South America and Korea.
"Now we are turning our attention to the United States and Canada, actively pursuing UL certification in order to begin marketing our products there. We already have a significant level of interest coming from the United States and we see this as being a huge untapped opportunity for the Fracino brand. We are special in that we face hardly any competition in the marketplace when it comes to the gas fired coffee machines we manufacture, so in many ways we are only just beginning to scratch the surface of what is possible in the future."
Fracino specialises in building products that meet the unique needs of its customers. A perfect example of this was the creation of the SUB1, a bespoke, state-of-the-art espresso machine for SUBWAY® franchisee outlets. Designed to meet the changing needs of said franchisees, the SUB1 has since been installed in over 600 sites across the UK, Ireland and Poland. Following on from this success, the company was invited to build upon this with the production of a new machine suitable for higher volume SUBWAY® sites. The solution comes in the form of the SUB2, a machine that delivers the convenience of a 'bean-to-cup' fully automated machine and has the capacity to produce two drinks simultaneously. In 2016, SUBWAY® named Fracino as its innovation partner.
"Having manufactured the first prototype of the SUB2 we placed it into a store in Nottingham in close proximity to the University," Adrian reveals. "Needless to say, it was inundated with users at peak time, yet it proved its capabilities ten times over with drink consistency and quality exceeding expectations. Initially we anticipated demand for around 30 of these machines per year, but its exceptional performance means we are manufacturing double that amount at present, which is brilliant news for both ourselves and SUBWAY®."
Other recent product innovations include the development of a new gas fired hot water boiler, a one-of-a-kind system that runs off a gas burner and comes with automatic water filling and temperature control functions. Previously available examples of such solutions tend to be characterised by their large, cumbersome size and their need to be refilled manually. Fracino's response to this has been to design a compact, 200-millimetre-wide water boiler that, when connected to the same water line as the coffee machine itself, provides the user with around 35 litres of boiling water per hour. Further introductions to market are likely to include a new high-end domestic lever machine for the homeware market and a brand new 'bean-to-cup' machine, complete with touchscreen technology, which is being designed for use in office blocks.
With the UK pound remaining weak against the Euro, Fracino is enjoying the competitive edge this gives its machines over those made on the continent, which have become more expensive to export. "One of the things we will continue to do is to forge relationships with more big brand names and chains, such as the likes of Brewers, Enterprise Inns and Pizza Express, as we look to build on the success we have had with SUBWAY®. At the same time, we will ramp up our international presence, which we see as being our biggest source of growth going forward. This will be a steady process, but with our existing capacity allowing for an estimated 20 per cent increase in production, together with our willingness to invest, we are in a healthy position to move into the next phase of the development of the Fracino brand," Adrian concludes.
Fracino
Products: Cappuccino and espresso coffee machines