Full steam ahead
For 55 years and counting, coffee machine manufacturer Fracino has been a brand leader with a flair for innovation, and with continued investment in its manufacturing capabilities it is set to further expand its global reach in the years ahead
In business, one of the lessons you are taught is that if you stand still for too long the industry and your competitors will inevitably pass you by. This is one of the common reasons why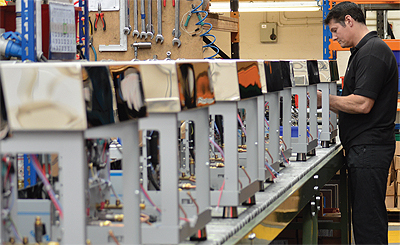 successful companies prosper – they are constantly pushing things forward. This is certainly an ethos to which multi-award winning, family-owned business Fracino subscribes.
"I think it is fair to say that the UK market has been struggling for growth in the last 12-18 months, much of which is due to the uncertainty surrounding Brexit and what the outcome of negotiations with the European Union will be," explains Fracino's Managing Director, Adrian Maxwell. "Despite this, we have been working extremely hard and holding our own in the face of challenging conditions domestically, while also making positive efforts to increase our export business in some exciting new locations."
A recognised champion of British manufacturing, Fracino is the UK's only manufacturer of traditional espresso machines and operates one of the world's most advanced and efficient equipment manufacturing facilities of its kind. Singled out in the past by former Prime Minister David Cameron for its success in selling coffee machines to Italian customers, when Manufacturing Today Europe spoke with Adrian from Fracino's Birmingham facility it was days away from welcoming BBC Breakfast News for a piece on increasing the public's perception of British manufacturing and its place in the world.
"Contrary to some belief's, the UK's manufacturing sector is comfortably ranked within the top ten biggest in the world, and the government's message today is all about the importance of our export market, which is what we want to push home ourselves," Adrian states. "The Chinese bubble appears to have burst and the value of Sterling is making the UK a cheaper Fracinoplace to do business than much of Europe at present, and that gives us a big competitive advantage. We recognise that much of our growth over the next 12 months will come from exports and that is why we are putting a lot of resources into our sales department as we aim to reach a target of achieving 50 per cent of our total turnover from exports by 2020."
If you consider that prior to 2009, Fracino was exporting very little, if anything, in the way of products, this target appears highly ambitious. However, in less than a decade the company now derives almost 30 per cent of its income from outside the UK and it is this success that it now plans to replicate elsewhere. "In certain markets such as Dubai and Australia we have a strong group of distributors that help to secure regular large orders of our machines and we want to establish similar networks in other regions," Adrian continues. "One of these is North America, where we have various machines now entering their final testing phase. This will open up a wealth of opportunities across the United States, Canada and possibly Mexico, and will mean that Fracino will cement itself as the Mobile coffee machine manufacturer to possess Gas Certification all over the world over."
With a product portfolio of more than 60 different solutions and production capacity of over 5000 machines per year, Fracino's easy to operate, strong, stylish and fully serviced machines have been commissioned by a host of global brands, from Subway® and Patisserie Valerie to the Living Ventures Restaurant Group and the Pathfinder chain of pubs. A recent development has also seen it secure a contract with PizzaExpress, following successful trials of its 2 group Contempo and 3 group Romano machines at the restaurant's Bluewater Shopping Complex and London's Southbank chains, respectively.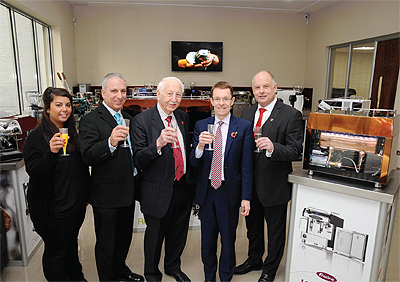 "Brand awareness is hugely important and our customers are universal in their love of the Fracino name," Adrian adds. "We are often recognised for not only our machine sales but also the level of customer service we provide. What our customers also quickly find out about us is that while we are manufacturers of coffee machines, we are also a factory of engineers and that means that we can create some special products. For instance, we have just created a new waffle grill for a customer in Germany and a new gas water boiler, and we have several major projects to announce in the next year which we are excited about too."
Returning to the theme of refusing to stand still, the company's 45,000 sq ft production floor in Birmingham has been revolutionised through a multi-million-pound investment programme. "We have always taken the approach of reinvesting the majority of what we earn back into the business and this has continued with kitting out our production floor with state-of-the-art equipment and bespoke CAD technology," Adrian enthuses. "Not only do we continue to regularly update our machinery, we also remain the only company in the UK to operate a fibre laser robot welder, the use of which has even been requested by several companies that work in the automotive sector under subcontracting terms.
"In the last year, we have also opened a 43brand new 2500 sq ft extension to our facility, comprising of a contemporary showroom and a visitor lounge. This new addition to our premises looks fantastic and makes an immediate impression upon those visiting our facilities."
With its new infrastructure up and running, and its manufacturing space operating with a full range of the latest technology and machinery, Fracino is moving forward with a number of key projects that will take it through 2019 and beyond. "These new products will be used to bring Fracino into new markets, giving us room to grow," Adrian adds. "By 2020, we have a goal of achieving a turnover of between £10 million and £12 million, 50 per cent of which we believe will come from exports. That is the plan and as we have shown countless times before we will ensure that we never stop working towards getting there!"
Fracino
Products: Cappuccino and espresso coffee machines