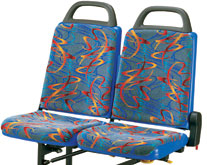 What began 120 years ago as a company that manufactured seat cushions for horse-drawn carriages remains a family owned and operated business that is among the largest specialty seating manufacturers in the United States. The horse-drawn carriage is no longer Freedman Seating Company's customer base, of course. Instead, the company is a leading supplier to the U.S. domestic bus and transportation industry, making bus, rail, truck, specialty and commercial vehicle seating.
The bus market makes up a large portion of Freedman Seating's business. The company supplies major OEMs, more than 250 bus distributors, the federal government and many states and municipalities. Small and mid-size coaches, paratransit vans and buses, public transit buses and private bus operators use the company's products. The company says it has stood the test of time thanks to a history of design innovation and a focus on customer service, quality products and on-time delivery.
"Our products have always been seating, and today we focus on transit buses, airport shuttles and vans," Operations Manager Robert Anoff says. "We manufacture products to order. We ship no products from stock. Our turnaround time is quick; we can manufacture most products in less than two weeks."
Lean Approach
The company has become a well-integrated manufacturer at its Chicago headquarters. All of its key functions are performed in the facility, and only painting, molding and fabrication of foam are outsourced. The business has grown on a steady path for the last few decades; over the last 20 years, Freedman Seating has seen upper single to double-digit growth in most years.
"We were not hit too hard by the recession, and we've grown despite the economic conditions," Anoff says. "The market we are in is fairly mature, so a lot of our growth comes from being an industry leader and on the cutting-edge. We are always looking for what the market needs next to help us outperform our competitors."
Part of the reason the company has done well despite the economy is thanks to its efforts in lean manufacturing. Anoff says Freedman Seating has been very aggressive during the last few years in bringing lean ideas into the factory, restructuring its manufacturing operations and seeing improved cash flow as a result.
"We went from large batch manufacturing and got down to the cellular level, and functions needed to complete seats are now located next to each other," Anoff says. "Moving to more of a small batch operation allows us to move faster now. We interpret lean manufacturing to mean eliminating waste, and the customer doesn't want to pay for the product to move all over the building during manufacturing."
The company has about a half-dozen families of products, and the new manufacturing structure means products are completed in the same area of the facility before being moved for shipping.
Engaged in Quality
Freedman Seating has also gained some efficiency through equipment investments, such as introducing sheet and tube lasers. But Anoff says the biggest factor in enhancing quality comes from getting the worker engaged in the process. Freedman Seating has a quality control department, but it is too large for quality control to touch every single product in a batch prior to shipping.
Anoff says the company has also contracted with some universities and technical schools that help manufacturers with root cause analysis, lean training and equipment operations. In fact, when it comes to equipment operations, the company has standard operating procedures for all equipment so all workers understand their role. The procedures are bilingual, as the company has some Spanish-speaking employees.
Freedman Seating will continue to emphasize product specifications on bid work while working closely with dealers through its direct sales force. The company has always been competitive price-wise and in ensuring a quick turnaround on core business orders, and neither of those things will change. With more than 100 different fabrics in stock, the company has the largest and broadest offering of product in the industry, and that is another operational aspect Freedman Seating intends to maintain.
At the same time, the company knows its longevity has been a result of continuous improvement and an ability to adapt. In the next few months, Freedman Seating will launch the next generation of its core product, which has been two years in development. The company also recently launched what Anoff calls the newest and greatest seating product on the heavy-duty transit market.
"We feel they are winners, and while they may take time to gain acceptance, they will replace some of our existing product sales and cut into our competitors' volume," Anoff says. "Overall, we remain committed to meeting the highest standards in the industry."