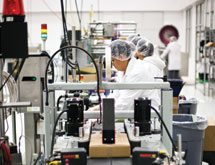 Fresca Foods has changed greatly since it was founded in the early 1990s. Back then, it served retail and wholesale foodservice clients by providing packaged pasta, sauces and soups. Today, the company provides manufacturing, marketing and financial investment to second-stage natural and organic food brands.
"We help brands rapidly grow their businesses through our manufacturing and brand management platforms," Executive Vice President Liz Myslik says. "Our main focus is in the healthy snack category. That is an area where we've had a lot of success, and it is where we see the market going."
The company works with partners on much more than just snacks, but Myslik says that trends indicate that consumers increasingly are getting their nutrition from snack foods and using meals for indulgences. Because the modern lifestyle is busy and fast-paced, a gap in the market has risen that Fresca Foods believes can be filled with healthy snack products.
The Four P's
Fresca Foods looks to work with partners that are in what Myslik called the company's "four P's:" people, product, proof of concept and profit. Business-savvy people must lead Fresca Foods' partners, and they must be focused on products that are in large, established categories. They must also have a validated proof of concept in terms of being able to get into an established retail channel, have a good velocity of sales and generate loyal consumers. Lastly, there needs to be a high profit potential so self-sustaining businesses can be created.
Once these partners are discovered, Fresca Foods' contract manufacturing and brand-acceleration services kick in. On the contract manufacturing side, Fresca Foods has developed processes for managing all aspects of manufacturing for its partners. The company has created a turnkey approach to supply chain management, with the idea being that partners can then better focus on growing their brands.
In fact, the company specializes on everything from product development, materials sourcing, materials holding and production to warehousing, shipping and quality assurance. Fresca Foods has teams of people who help partners develop commercially viable products and source high-quality natural, organic and raw ingredients, as well as packaging materials.
"We have complete transparency with partners so they know all of the costs involved in manufacturing their products and controlling the supply chain," Myslik says. "As we grow together and add capacity, we look to add efficiency so we can reduce the cost of the product over time. As we find those efficiencies, we share them so we can drive more margin back to our partners. That motivates us to be more efficient and gives them more cash flow to invest and grow."
The company also understands product demand and consumption, ensuring the optimization of the time and cost of holding materials. It is then through what Myslik called a "plant within a plant" operational structure that production occurs. Each client the company serves has its own dedicated facilities within Fresca Foods' plant. As the client grows, Fresca Foods can scale up and expand capacity.
"Our plant within a plant orientation allows us to offer each individual partner with unique and differentiated product and packaging solutions," Myslik says.
Product quality is assured by a food safety and quality program that is Siliker audited. Products are kosher, organic and gluten-free, and the Fresca Foods plant is FDA and USDA inspected and certified. In addition, the company has tracking systems to measure efficiency and implement continuous process improvement.
From there, the company works to ensure that its partners' products are delivered on time and in full, supported by an array of global distribution and shipping solutions, as well as a frozen, refrigerated and dry freight forwarding network, and custom pack-out and pallet configurations. "What we have found is that showing up counts for a lot," Myslik said. "Being on shelf when the other guy isn't can make the difference for a high-growth brand."
Brand Building
Fresca is evolving its business model from focusing only on supply chain management to being a full business acceleration partner. With the addition of Myslik and her team, the company now has a deep bench strength and track record for building brands on the marketing and sales side.
Fresca's marketing and sales expertise includes brand development, field marketing, social media, trade marketing, product innovation, sales planning and broker management. Fresca developed this new business offering in response to what Myslik sees as a need in the market.
"Many entrepreneurs we work with are doing this for the first time, and our team has done it over and over across a lot of categories," she says.
Keeping Up
"We are seeing rapid growth alongside many of our partners, and we need to be sure we have a stable base and are properly scaling to support that growth," Myslik says. "This year, we have expanded our employee base, manufacturing space, systems and processes to support the growth. To maintain a high level of service and key capabilities, we are adding resources continuously and in a thoughtful way."
Fresca Foods understands that part of its success is due to finding the right partners. Over the next year, the company plans to continue to focus on finding the right partners, ensuring that it works with the best.
"We are fortunate that we have a lot of great brands that are interested in working with us," Myslik says. "We want to partner with those that have big growth potential and can benefit from our model. They can then retain more equity of what they've built and capitalize on many opportunities down the road as their business grows and goes national."