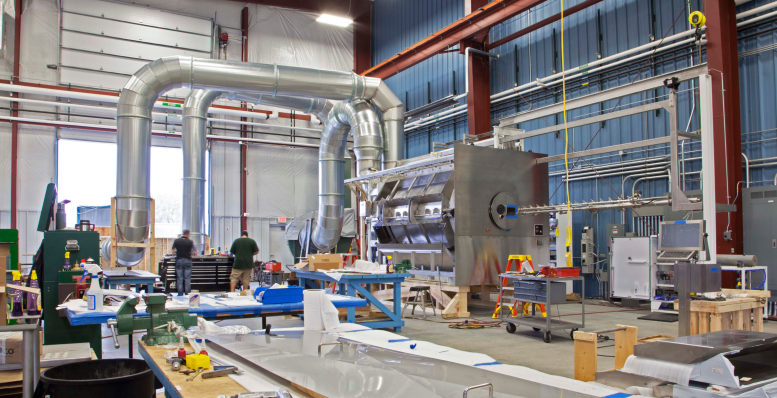 After nearly 50 years, Freund-Vector Corp. has built a legacy as a leading provider of processing equipment and services to the pharmaceutical, chemical, food and other related industries. But the company did not get to where it is today by resting on its laurels, President and COO Masaaki Kubota says.
As customers have asked for new products, Freund-Vector has evolved to meet their needs. "We are always listening to customers' requests or trends and try to [go in] that direction," he asserts. "Our primary focus is providing customer-focused solutions to overcome today's challenges."
Marion, Iowa-based Freund-Vector designs, manufactures and markets equipment for the processing of powders, particles, beads, pellets, tablets, and other solid materials and forms. Kubota explains that Vector Corporation was originally formed in 1972. Freund Corporation of Tokyo, Japan, a business partner since 1974, purchased controlling interest of Vector Corporation in 1997. The company was renamed to Freund-Vector in 2012.
Today, Freund-Vector offers four main product lines, which consist of its coating pan systems for applying an aqueous, solvent or sugar film coating to tablets, fluid bed systems for granulating, coating and drying of powders, high-shear granulator mixers for wet granulation, and roll compactors for material densification and granulation of powders. These cover the majority of the needs of the solid dosage pharmaceutical industry, which comprises 80 percent of the company's business, he notes.
The firm customizes its equipment to meet the customers' specific processing and installation requirements. "Every customer has different requests," Kubota says, noting that Freund-Vector also offers its clients the help of its Global Service, Parts, Sales and Laboratory teams.
A Way to Grow
Freund-Vector's offering of four major equipment lines has set the company apart, but it has no plans to limit itself. "We are now working on a few new product lines," Kubota says, noting that it is currently remodeling its laboratory space facility so it can offer these products and continue meeting clients' demands.
"That is a way we can grow," he says. "Our facility must be prepared for those new products and new services that we are planning to [offer]." One area that Freund-Vector is concentrating on is a new innovative continuous manufacturing system that utilizes PAT (Process Analytical Technology).
Freund-Vector is adding 2,000 square feet to the lab, as well as remodeling existing space. This additional space will accommodate multiple lab-to-pilot scale programs concurrently in a team environment.
It also is adding new equipment to the lab, where clients can observe and test the equipment they are interested in acquiring. "They can see variations on processes before they buy."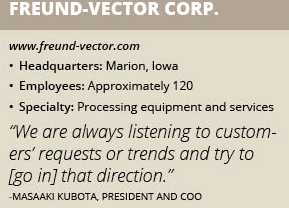 Ensuring Quality
Freund-Vector strongly values its relationships with its suppliers. Although the company does perform design and assembly, "We outsource fabrication," Kubota says, noting that the company works closely with these vendors.
Once Freund-Vector receives the components, the company makes sure they are up to its standards. "We have a dedicated team that checks [their] quality," he says.
Wouldn't it be nice to have some reassurances prior to your custom equipment being delivered? That's what Factory Acceptance Tests (FAT) are for. Freund-Vector's FAT demonstrates the system design and manufacturing specifications set forth in the functional requirements document. A thorough mechanical, electrical and software test is performed on both the individual components and overall system. Customers get "hands-on" experience with the equipment and verify compliance with the purchase agreement prior to shipment.
Good Assets
A longtime veteran of Freund Corp., Kubota came to Iowa to manage Freund-Vector in 2012. He credits its success to its ability to produce quality products and the combination of the two companies.
"Freund and Vector are a good match," he says, noting that Vector Corp. provides Freund Corp. a strong staff for manufacturing and selling equipment in North and South America and Europe.
This includes employees who have more than 30 to 40 years with the companies. "That is a good asset for us to have," he says. "[We] have the know-how, experience and knowledge to support customers."
Although some assemblers are now retiring from the company, "We are hiring more," Kubota says, noting that it makes sure to provide them with extensive training. "It takes time to learn the skills."
Senior assemblers at the company often will show new employees the ropes. "That is the way we teach – [with] hands-on training and mentoring," he says.
Branching Out
Freund-Vector is seeing changes in its industry, including an increase in competition from China and India. "They are setting very, very low prices," Kubota says, noting that clients sometimes find these prices agreeable.
Its pharmaceutical clients also are exploring new technologies, including continuous production. But Freund-Vector will be able to meet this interest with its new equipment. "We are trying to follow wherever the industry [goes]," he says.
Kubota sees growth ahead for Freund-Vector, which will look at new opportunities in other industries, as well as parts of the pharmaceutical sector it has not touched yet. "Currently, our main focus is solid dosage, but we are now trying to expand into Active Pharmaceutical Ingredients (API) using spray drying processing and technologies," he says.