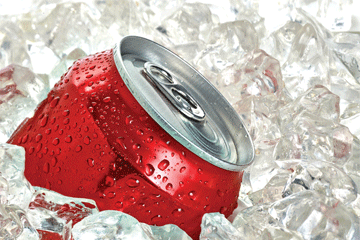 Cool runnings
Frigoglass is a leading player in the ice-cold merchandisers market and is also the most geographically diverse company within this sector, with operations spanning across 19 countries in five continents
A strategic partner to beverage brands throughout the world, Frigoglass has developed long-standing relationships with blue-chip customers in the soft drinks and beverage industries thanks to its bespoke beverage coolers, which enhance its customers beverage branding and trigger beverage consumption. Today the global leader in the Ice Cold Merchandisers (ICM) market, and the principal supplier of glass packaging in West Africa, a high growth market, Frigoglass is also well-established in more mature European markets while it evolves into a burgeoning market champion.
Throughout its operations across the globe, the company maintains its market leading position thanks to its strong corporate values; these include integrity when conducting business, adherence to the most stringent quality standards and a commitment to the delivery of innovative and bespoke products that maximise cost-effectiveness. In addition, Frigoglass selects and develops its employees to ensure loyalty, commitment, professionalism and optimum performance when responding to and effectively solving customer requirements.
A firm believer that its people are behind its success as a business, Frigoglass strives to foster an environment in which people are empowered to take ownership for outcomes while also working as a team. To help achieve targets, the company has five key principles for its employees: customer focus, quality, efficiency and competitiveness, innovation and a global yet local approach to projects.
In addition, Frigoglass' competitive advantage stems from its broad geographic reach, its accumulation of blue-chip companies, its competitive cost structure and its after sales service; the latter of which includes maintenance, refurbishment and spare parts for all cold drink equipment. The company delivers its value-added service solutions to beverage companies in 48 countries; a feat that is managed through more than 200 service partners, one-to-one placement services in 12 countries and six refurbishment centres.
Also key to this coveted position in the ICM market is the company's high quality products, which includes counter-tops and back of bar ICMs, open front and open top ICMs, single door ICMs and double door ICMs for Coca-Cola. The counter tops and back-of-bar ICMs offer a wide product display area with the product at eye level for the consumer, while open ICMs offer easy accessibility and flexible merchandising, making them ideal for high traffic areas. Moreover, single door ICMs have an ideal footprint-to-volume ratio and provide strong product visibility; they are also considered a durable solution for all trade channels. Double door ICMS, meanwhile, are the ultimate solution for high consumption locations such as supermarkets as they offer increased capacity and impressive product visibility thanks to multiple facings; they also boast easy reloading solutions.
Within the latter's product range is the Super 88 HC, which offers environmentally conscious customers an eco-friendly cooling solution thanks to its energy consumption of 7.4 kWh/day. The Super 88 HC also has an EasyFill sliding shelving system, a turnloader shelving system, visi-shelves and a door lock, while the branding includes an oversized canopy, price profiles with branded strips and a Coca-Cola contour bottle handle.
As the preferred supplier to Coca Cola, a massive 50 per cent of Frigoglass' total revenue comes from this global leader in the beverage industry. With innovation an integral part of both organisations' success, Frigoglass and Coca Cola worked on developing a unique drink cooler, which has resulted in the Coca Cola portfolio including ICOOL, a lower noise, low energy and super efficient range of single door and double door ICMs.
Created in response to changing market dynamics, ICOOL offers energy efficiency, new aesthetics, lower total cost of ownership and WiFi connectivity. In more detail, this includes a premium three-dimensional look, increased capacity and product visibility and strong brand identity; products within the ICOOL range are also easy to rebrand and upbrand. Products are also best-in-class when it comes to energy consumption, are maintenance free and easily serviceable, are relatively quiet and are connected and interactive.
The counter-top ICOOL range is comprised of ICOOL 40, ICOOL 150 and ICOOL 250, while the single door range comes in ICOOL 300, ICOOL 500 and ICOOL 800; Frigoglass features the ICOOL 1300. The ICOOL 300 offers energy savings of 57 per cent and a noise ratio of 55 dBA, while the ICOOL 800 offers energy savings of 19 per cent and has a noise ratio of 59 dBA and the ICOOL 1300 offers energy savings of 35 per cent and has a noise ratio of 61 dBA. Viewed as the next generation cool platform, the ICOOL range has been well received by Frigoglass' customers across the globe and has cemented Frigoglass' position as a leader in innovation.
Another major customer of Frigoglass is Pepsi, for which the company offers a range of counter top and back of bar ICMs, open front and open top ICMS, single door ICMs and double door ICMS; the majority of which are eco-friendly cooling solutions.
As Frigoglass gains a new CEO in Nikos Mamoulis and celebrates its 20th anniversary of operations in Romania, its biggest production site, in 2015, the future looks positive for the company as it continues its focus on sustainable and profitable growth by capitalising on long-term market opportunities through innovation.
Frigoglass
Products: Commercial refrigeration and bottles
Sites:Eight