From apprentices to owners: the inspirational story behind Blackrow Group's management buyout
For over 40 years, Blackrow Group (Blackrow) has been delivering high-quality engineering and fabrication services across the globe. Based on a philosophy of collaboration and value, the company provides a range of products and services across various key sectors, such as food, petrochemical, and pharmaceutical.
Having undergone a management buyout (MBO) earlier in 2023, the business has provided much more than engineering services for five individuals, three of which started out in the industry as apprentices. For Tony Booker, Managing Director; Gary Pexman, Sales Director; Nick Rands, Operations Director; Luke O'Brien, Structural and Piping Director; and Callum Day, Electrical Director, Blackrow has provided the opportunity to join the board as majority shareholders.
Gary and Nick join us to reflect on the MBO, as well as the history of the business and its current operations. "We started off 43 years ago as a small engineering company in Grimsby," Gary opens. "We've evolved a lot since then and now employ over 300 people across a wide range of fabrication, assembly, and installation services.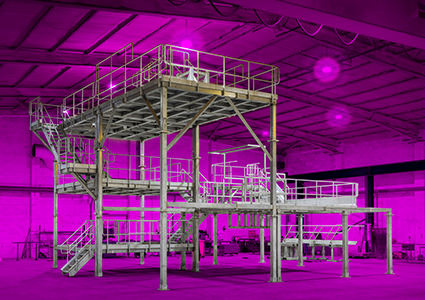 "We moved to our current location at the South Humberside Industrial Estate in 2000, and it continues to serve us well. It's a 150,000-square-foot facility with seven manufacturing workshops. It has great domestic and international links; we're able to reach an international airport in 20 minutes and the UK's largest port in around ten minutes.
"Our recent MBO has seen Nick, Callum, and Luke join Tony and I on the board, but it still hasn't really sunk in for me yet," Gary laughs. "It's incredible to be given the opportunity to take on the running of the business and ensure job security for our people."
Nick agrees: "Our previous shareholders remain on the board too, but they had been looking at an exit strategy for several years before the MBO. They considered a trade sale, but unfortunately – or perhaps fortunately for us – the Covid-19 pandemic came along and completely quashed those plans.
"That opened the door for a potential MBO. With Gary and Tony already on the board, they were approached to coordinate an internal management team. So, the five of us sat down and proposed our leadership plan in January 2022, and after months of contact with various investors and lenders, we finally took over earlier this year.
"It's been a roller coaster to say the least," Nick reflects. "There's been inevitable difficulties and we've had to navigate changes in the market. However, we've managed to increase our existing revenue, as well as attract a lot of new business, so I'd like to think we've already proven ourselves as leaders of a company that has potential to grow and unlock new opportunities."
Growing partnerships
It is clear that Blackrow's commitment to quality and value has remained at the core of its operations throughout the MBO process. "Between the five of us, we have a diverse skill set that covers all the areas of the business," Gary says. "Each of us has different skills and attributes that we feel results in a recipe of success. We were all colleagues at first, but we've grown a great working relationship and feel more like family now."
Turning to the company's operations, Nick explains: "In terms of our offering, we're a turnkey engineering function. Our services include mechanical and electrical, designing and manufacturing conveyor systems, engineering design, electrical engineering, installations, and planned maintenance support packages.
"We can do any type of engineering within any kind of sector. Our sheet metal department works mainly on the stainless-steel fabrication of food grade machinery, equipment, mezzanines, and platforms. We work with some major players in the food industry, such as PepsiCo, Grupo Bimbo, and KP Snacks.
"We also do work for heavier industries, most of which is local to us," he continues. "This includes pipe fitting, welding, machining, laser cutting, and mechanical fitting, and again, we have some great longstanding relationships with local manufacturing companies."
Gary adds: "We've invested in various machinery and equipment over the last few years. Our facility boasts ten-ton and 20-ton overhead cranes, for example, as well as press brakes, cutters, lasers, and CNC machines. We've also recently invested in a new blasting and painting facility at the site, which has boosted our capabilities to meet client demand."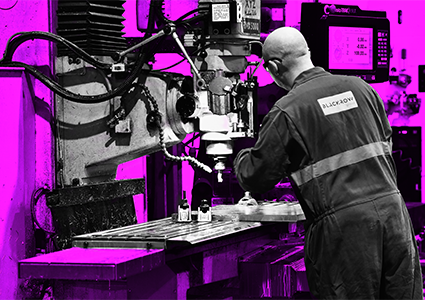 Both Gary and Nick are keen to tell us about a new contract that has seen the company invest over £1 million in vital equipment; although a Non-Disclosure Agreement (NDA) restricts the details they provide. "We're continuing to grow partnerships with our key customers, and we've recently won a contract to manufacture a machine component," Nick explains.
"It's something we've never done before, and we have monthly targets to hit in terms of volume. We have a team of 26 people dedicated to this contract, as we're responsible for the entire process of laser cutting, manufacturing, painting, assembly, and shipping.
"We built almost an entire production line in our factory," Nick recalls. "We've invested in a lot of equipment like overhead cranes and jigs, as well as setup costs and a new shotblast painting facility, to adapt our plant to a new-to-the-industry process. We're experiencing success so far and there's potentially exceptional work to come from our partnerships."
Inspirational story
The company not only invests in its plant and equipment, but also in its employees. "We're like a family-run business, but still growing to a sizeable position," he states. "I am personally an example of the company's continuous investment, having started at Blackrow on the shop floor and sitting here today as one of the owners.
"I keep working as normal, as it was before the buyout that is, and I'm waiting for it all to sink in," he continues. "It's not just me that's grown with the company though; many of our staff started as apprentices and are now in leading roles. We currently have around 30 apprentices in the business and a high portion of our staff live in the local area."
The personal story behind Blackrow's MBO is truly inspirational. From our conversation, it is clear to see that the company's working relationships, whether with suppliers, customers, or internally, will continue to flourish under its new leadership.
"We're passionate about growing the brand; we want to maintain our positive reputation and continue to grow in our existing industries, but also invest in new markets as the opportunities arise," Gary proposes. "Over the last two years, we've grown from a turnover of £26 million, to one of £50 million. While it's not sustainable to see that kind of growth year-on-year, we're consolidating our strategy for how to continuously grow the brand.
"Further afield, I'd like to see the MBO process happen again in 15-to-20 years' time. We want to be able to give people just like us, working on the shop floor, the opportunity to become an owner. It's an unexplainable feeling of excitement, nerves, and gratitude all rolled into one, and it would be amazing to pass that on to someone else."