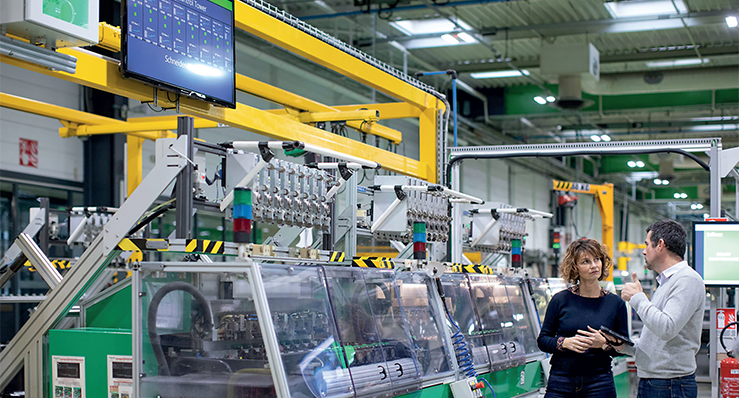 From climate ambition to action
Manufacturing and supply chains have played a key role during the pandemic and will continue being the foundation of the modern economy. However, the need to adjust operations quickly over the past 18 months has highlighted glaring vulnerabilities. FMCG manufacturers and Life Sciences suppliers have struggled to ramp up production to meet rapidly changing demand while dealing with supply chain gridlock. At the same time, factory downtime for operational improvements has been hard to justify, making aggressive targets to increase energy efficiency and achieve net zero while maintaining production seem even further away.
Yet, on the surface, many large industrial companies seem fairly upbeat about their ability to decarbonize. Around 64 percent of large industrial companies in the UK and Ireland say that reducing their carbon footprint is a top three top priority for this year. A further 68.2 percent are 80 percent+ certain that their carbon reduction goals will be achieved.
So, is this optimism farfetched or can industrial organizations turn their climate ambitions into reality?
Breaking down barriers
It's true that industrial organizations are optimistic about reaching their climate targets, but they are also aware there is a long road ahead to achieving them. This comes as four in ten (44 percent) have set a goal to become carbon neutral before 2030, yet only six in ten (61 percent) believe they are on track to meet carbon reduction targets and, a huge 72 percent said they need to act more quickly to reduce their footprint.
Making net zero a reality is imperative for businesses, which is why it's important to put the groundwork in place. However, only a third (33 percent) have mapped their entire carbon footprint and one in six (17 percent) businesses are yet to map their carbon emissions at all. It's time to focus on sustainability and climate change objectives and be able to measure progress against those goals, to ensure the business becomes carbon neutral in time.
While businesses have the appetite and enthusiasm, many may not even know what assets they have or what to measure. Tellingly, 62 percent of the large industrial companies surveyed don't consider Scope 3 emissions – created up and down their supply chain and outside of their direct control – to be the single most significant cause of their greenhouse gas emissions. Only seven percent believe that their supply chain is one of the biggest contributors to the total carbon emissions from their business. In reality, supply chain emissions are likely to account for 70 percent of an organisation's carbon footprint (according to Deloitte).
Building the factory of the future
Furthermore, a key challenge for large industrial companies is their ageing infrastructure. Factory infrastructure is increasingly complex and like in many organizations, responsibility for sustainability is unclear or siloed in a specific department. When we talk about smart factories, we're talking about operational effectiveness and sustainability in the same breath. Energy is more than a commodity or a utility. It's a vital ingredient for achieving net zero. Our climate action needs a smarter approach, tackling how to make industrial operations faster, better, and at the same time, save energy.
Technology will be a key enabler for a sustainable business, and nine in ten (88 percent) agree digitizing the business can increase efficiency to reduce energy usage and carbon emissions that they produce. For the UK and Irish industry to thrive, organizations must embrace new, ultra-high-performance motion and robotic controllers and IIoT technologies including Augmented Reality (AR), as well as the software needed to manage industrial operations efficiency. Only then will businesses be able to realize the long-term benefits Industry 4.0 can bring to business.
Bridging the gap to net zero
The industrial world has been hard hit by one of the most challenging years to date. From supply chains, right down to the factory floor, the industry has had to adapt to stay on top and meet customer needs and government regulations while keeping costs under control. However, this year has also proven just how agile and fast-paced industry could be.
As the industry looks to rebuild and grow after the pandemic, there is an opportunity for the industrial world to change its outlook and focus on a sustainable, resilient, and people-centric green recovery. Safeguarding the environment through new policies and solutions and investing in technology will be key to ensuring we remain on track to achieving ambitious net zero goals.
Sustainability has now penetrated every industry, and every C-suite in every business. The accelerated adoption of digital technologies will ensure industry can spearhead a green recovery, business profitability and productivity in the future.

Mark Yeeles
Mark Yeeles is VP Industrial Automation at Schneider Electric UK & Ireland. Schneider's purpose is to empower all to make the most of its energy and resources, bridging progress and sustainability for all. It calls this 'Life Is On'.
The business' mission is to be your digital partner for Sustainability and Efficiency. It drives digital transformation by integrating world-leading process and energy technologies, endpoint to cloud connecting products, controls, software and services, across the entire lifecycle, enabling integrated company management, for homes, buildings, data centers, infrastructure and industries.
www.se.com/uk/en/