From humble beginnings to global distribution: MT unveils Miller UK's story of perseverance and ambition 
Through established partnerships with prominent OEMs like CAT, Komatsu, Hitachi, JCB and Volvo to name a few, Miller UK Ltd (Miller) has ascended as a premier global manufacturer of excavator attachments. Specializing in the design and manufacture of buckets and quick couplers, the Northumberland based company provides equipment solutions to a wide range of leading earthmoving manufacturers, independent distributors and direct to end users. With a proven track record spanning 45 years, Miller has solidified its position as a trusted partner in the industry, thanks to its commitment to quality, safety, and innovation to meet its global customer needs. Founder and Chairman, Keith Miller, reflects on the journey of the brand.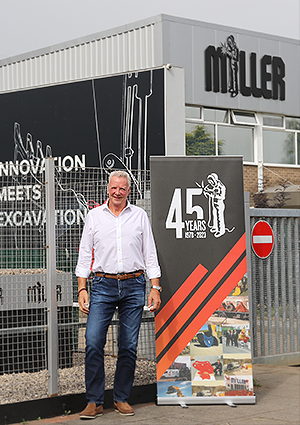 "I founded the company in 1978, at 21 years old. At the beginning, I operated as a one-man mobile welding service across the northeast of England, primarily focusing on repairing plant equipment and machinery. I underwent apprenticeship training as an engineer, gaining valuable experience in various areas such as welding, fabrication, and metalwork. My brother Gary, an engineer specializing in R&D joined the business 18 months after it was formed and my sister Jacqui joined when she turned 17 years old in 1991 stepping into a sales and marketing role.
"The company initially focused on bucket repairs. The process of repairing equipment provided valuable insights into identifying flaws and faults in the design of buckets available on the market at the time. This experience sparked the realization that by altering designs and repositioning certain components, we could enhance the durability and longevity of the buckets.
"Drawing from my extensive repair expertise, we decided to develop our own line of buckets. Thus, in 1986, we embarked on a journey of designing and manufacturing our own products, driven by the vision of creating superior solutions. We began supplying these innovative buckets to machinery distributors, and their success exceeded our expectations. Our buckets' strength and durability provided enhanced value to our customers' machines, and we slowly but steadily built our reputation from there," he begins.
Revolutionary technology
The company even pioneered the very first universal pin grabber, comprising hydraulic technology, never seen before in the industry. This revolutionized quick couplers, as well as the operation of hydraulic excavators by significantly increasing safety, productivity, and versatility through enabling operators to pick up multiple attachments all from the safety of their own cab.
It is this commitment to being at the forefront of innovation that has seen Miller launch its latest coupler range over the last few years, known as the GT series. Consisting of a range of couplers including GTS, designed for 1-6T excavators, GTX ideal for 8-50T and GTT, a tilt compact coupler for 1-6T machines, the couplers have been designed from the inside out – an engineering first – by the team at Miller's headquarters. The couplers are built of only four components, whereas many couplers on the market can have up to 15 components. As such, this effective and streamlined design reduces any repairs and maintenance thus increases productivity and machine working time.
Supplying its products in over 50 countries, to cater to its growing demand, the company is very much focused on LEAN manufacturing to give the business a competitive advantage. This has seen Miller invest in equipment at every level of its factory, including a series of state-of-the-art welding robots to significantly expand its manufacturing capabilities and upskill its staff with new collaborative ways of working with the equipment. Earlier this year, the company invested in its largest robot to date, which has the capability of handling attachments for up to 100T machines.
"At the heart of our ethos lies a focus on safety, productivity, and versatility and this is something that we strive to achieve in every part of our business and what we offer our customers. Not only do robots increase the safety for our workforce, but they also increase our productivity, whilst giving us the versatility to manufacture larger attachments with a new way of working.
"The new robot really does step our production capabilities up to the next level. The weld finish achieved from this machine is exceptional – and like nothing else you will see on the market – as we continue to drive our quality standards, which is what we are known for.
"It is an exciting time at Miller for our staff on the shop floor to work with the new machinery and learn the next generation of pre-programming welding automation techniques to operate the equipment, whilst continually developing their manual skills. We have significantly invested in upskilling our workforce with complex technical knowhow to operate our suite of robots and have a dedicated team for collaborative automated production," he enlightens.
Unique solutions
The company's determination to lead the market translates into its significant expansion with manufacturing facilities across the globe. "Besides our manufacturing
plant located in the UK, we established a joint venture in China back in 2000 with a major foundry, and more recently, we have expanded our presence with another joint venture based in India. The reason we have these facilities is to support the headquarters in terms of logistics, supply and manufacturing.
"We also have manufacturing capabilities in Australia since we recently acquired a company in 2022. Now known as Miller I NGDF, one of the firm's commitments is to grow in this market – which has been facilitated through the acquisition – and have strong aftermarket support, with increased stock availability in new geographic territories."
In addition to the manufacture of couplers and buckets, the company also has a site solutions division located in both the UK and Australia which focuses on repairs and maintenance of any earthmoving equipment, field services and custom design and build projects. The division caters to customers operating in demanding environments such as hot slag steelworks, highly abrasive rock quarries, and challenging digging conditions where unique solutions are required.
Investing in people
To continue producing these quality products and deliver the very best repairs and maintenance service, the company is actively seeking to cultivate a new generation of engineers through apprenticeship programs. "At Miller, we value our apprentices as some of our most precious assets. We have established a fruitful partnership with TDR Training, a local engineering training provider in the UK, enabling us to welcome a significant number of new apprentices each year. Through this collaboration, we prioritize the education and training of our apprentices, ensuring they receive comprehensive guidance and expertise. The advancement of several of our apprentices to senior positions within the company is a clear demonstration of the effectiveness of our training programs. While fostering opportunities for ongoing development and entrepreneurship is important, our overarching priority lies in promoting a supportive environment where individuals feel empowered in their roles. Some apprentices may choose to embark on their own ventures upon completion of our program, but the vast majority opt for extended tenure within our company. This outcome stems directly from our success in building a work culture defined by mutual respect and care for all employees. Insight and opinions are welcomed from all levels, allowing for open and constructive dialogue across departments. Upholding these values is essential to retain top talent.
"As we continue to grow, it is important that we invest in the business, and most importantly our people, to ensure we continue to be an attractive company to work for. We will also ensure that our employee engagement initiatives continue to remain an integral part of the business as we expand, as it is the people that make Miller the great company that it is," he adds.
Established in 1978, Miller Groundbreaking is recognized as a world leader in manufacturing groundbreaking attachments. Recently named as the North East's Manufacturer of the Year at Inside Media's Made in the UK awards, the company has significantly grown its presence in new markets across the world.
www.millergroundbreaking.com