From materials to machinery; for the last 50 years, Amelco Industries Ltd has steadily grown outwards and upwards
Founded in 1972, Amelco Industries Ltd (Amelco), was one of the first companies to provide the southeast Mediterranean and Middle East regions with the means to produce innerspring mattresses. The following 30 years, into the early noughties, saw a steady stream of organic expansion and innovation, which has aided the business in climbing to its position today, as a regional industry leader. It's based in Nicosia, Cyprus, but its technologies are utilized by more than 60 companies across five continents.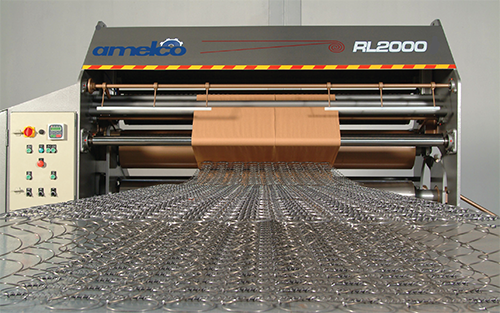 Materials to machines
In the early days, Amelco specialized in producing the raw materials required for the manufacture of innerspring mattresses. These mostly consisted of bonnell spring units, coir (otherwise known as coconut fiber) pads and cotton press felt. In 1984, the company moved into its own 5500-square-meter production facility, enabling expansion of its product range. Amelco rose to leading-supplier status within Cyprus and the local region, as it released its line of polyurethane foam, pillows, needled felt and polyester and cotton wadding. Parallel to a growing reputation, as a result of its high-quality products and services, the company's export market steadily increased to make up 70 percent of its overall output – mostly to customers in the Middle East.
In 1990, Amelco broke into a new market sector by launching its machinery range. This included a number of new machines, which were solely produced on the company's premises, along with secondhand options. Its first Rollpack machine was designed and built five years later, with the initial intention of being restricted to site use. This was swiftly followed by a number of other technologies for pillow filling, mattress sealing and flat spring baling.
True diversification
There was another key development that year, which Andreas Georgallis, Director, discusses further: "The true diversification of the company came in 1995, with the introduction of our trading department. This was created to manage dealing with both local and international trading, supplies and tendering, but, although it was initially aimed at fulfilling the needs of the bedding industry, its focus soon shifted across from consumer products to military accessories. We have since grown to be one of the leading suppliers to the Cypriot government, offering a range of hardware through to textiles, military wear and equipment. The strength of our tendering, established in 1998, and trading divisions is sourced from our global network of contacts and suppliers, technical knowledge, and hard work."
The best possible product
By 2003, Amelco had established its international reputation. The release of its first frame forming machine, for strip-flat steel, led to its first invitation to the Interzum Exhibition in Cologne, an event that has been an annual mainstay of the company's diary ever since. The event, at which guests display their latest machinery and innovations, facilitates interactions with both existing and prospective customers from all over the world. When it comes to innovation, the company puts a great deal of emphasis on automation and operator-usability.
With regard to Amelco's approach to manufacturing, today, Andreas states: "We are always analyzing market trends. Whenever we see scope for future growth through a particular product, we proceed to invest the requisite capital in the necessary machinery and equipment. In recent years, we invested in a new production line for the manufacture of pillows filled with polyester ball fibers, along with additional automatic lines for the production of pocketed inner spring units, with the option to include different zones. There has long since been a clear trend for pocketed units replacing bonnell units. Since the aforementioned investment, we now have four, fully automated lines that require very little input from our operators.
"Our facility, overall, covers over 7000 square meters, including our warehouses and offices," he continues. "We basically manufacture everything that goes inside a mattress, in addition to the waddings and fillings used to line duvets and a wide range of pillows. We have a select number of raw material suppliers, with whom we have been working for decades, and opt for the highest quality available – regardless of the price. Each of our final products undergoes our stringent quality control process, to ensure that our customers are receiving the best possible product, at our highly competitive prices. We're obviously doing things right, as we rarely receive customer complaints or requests for the replacement of defective products. On top of all of this, our delivery service is second to none – we can often guarantee next day delivery, which only serves to heighten the reputation for reliability that we work hard to maintain."
Prepared for upheaval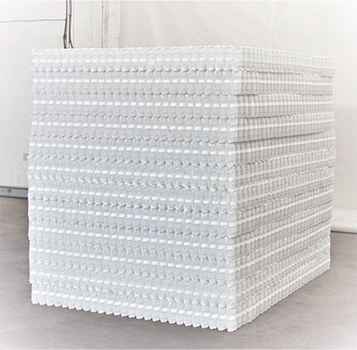 Andreas cites one of the company's focal points to be the acceleration of its customers' plant efficiencies. Amelco aims to achieve this through constant innovation and market research, which also helps it to maintain its position on the global platform, regardless of the tough competition. Since the pandemic, and now the war in Ukraine, the company has made some adjustments to its procurement of raw materials, as he explains: "The recent geopolitical events have heightened the challenges that were created by the pandemic, but luckily, we learned from the latter and were prepared for the upheaval. We have seen the prices for our raw materials and general commodities rise astronomically, as well as the cost of our site's utilities. Besides these issues, we have also been facing longer delivery times on shipments coming in, which has put a strain on our targets for short-delivery windows. To counter this, we have broadened our supplier bases for certain items and extended our inventory levels, to ensure that we never run out of stock. With regard to the cost of electricity, we are in the process of installing photovoltaic panels on our factory roof – which also ties in with our green initiatives."
With further regard to its Environmental, Social and Governance (ESG) policies, Amelco fosters a number of sustainability practices. Other than its movement towards renewable energy, the company has also significantly reduced its paper-usage and been implementing a new waste management system. Within this, it collects, stores, and arranges for the collection of manufacturing waste materials that cannot be recycled inhouse, and sends them out to a nearby processing plant.
Recognizing achievements
From planet to people, Amelco holds both in equal regard, and details a simple, holistic approach to maintaining the wellbeing of team members: "To get your employees to engage positively, you must create a workplace they feel passionately about attending every day. To this end, we have created a friendly work environment: one in which we encourage our staff to share their ideas. We regularly ask for their input, when we are making operations-related decisions. We have an annual bonus scheme in place for rewarding our employees and make a big point of recognizing and celebrating their achievements."
Within these uncertain times, Amelco is restricting its future plans to focus entirely on the present; to maintain its leading positions in both the bedding supplies and machinery sectors. By satisfying its customers' demands for quality, prompt delivery, and competitive pricing, it is remaining true to its mission and the mainstay approach that got it to where it is today.
www.amelco.com.cy