Excellence as standard
Serving at least nine tenths of the UK market for tipping Bathtub and Smooth side tipping trailers, Fruehauf also now applies its legendary quality and design excellence to the rigid market body, crane grab, moving floorbodies and trailers and most recently platform 'Flat Bed' trailers
While Fruehauf may today be the UK's leading manufacturer of tipping trailers – and speeding towards being the number one name in the rigid body and crane grab market too – its roots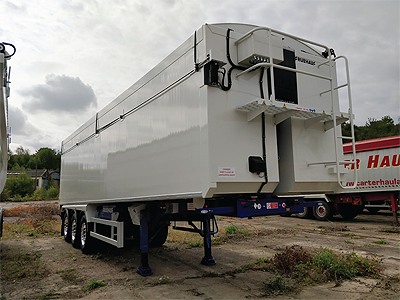 can actually be traced back to the 'Motor City' of Detroit, USA. It was here, in the birthplace of Motown and the centre of the US automobile industry, that August Fruehauf opened his blacksmiths shop back in 1908. Six years later, August designed and built the world's first semi-trailer for his customer Sibley Timber, and with that a solution and market segment was born!
"In the 1960s, under the leadership of August's son, Roy, Fruehauf amalgamated with Crane Trailers of Dereham, Norfolk, and Crane Fruehauf was formed," explains Fruehauf's Sales Manager, Karl Spooner. "The 'Crane' name would go on to be dropped in the late 1980s, while manufacturing continued across the company's facilities, which included two sites in Norfolk and 12 branches spread across the width and breadth of the UK. Then, in 2004, production was moved to our current 64-acre site in Grantham, where it has since peaked at 114 tipping trailers per month, which we supply to a number of sectors including the agriculture, aggregate, rendering and recycling markets."
The above has contributed to giving Fruehauf a share of the market in the UK that averages between 90 and 95 per cent.
"Quality and attention to detail have been key attributes in not just achieving, but also maintaining, our market share," Karl continues. "Other factors that have led to the company's success over the decades include, best-in-class customer service, innovation, strong brand residual values and, of course, our dedicated staff who are passionate about not only Fruehauf, but also the customers they work for."
Fruehauf's range of tipper trailers, moving floors, ejectors, steel bunkers and Platform Trailers are produced via an automated manufacturing process that has become renowned for its precision engineering, fabrication facilities and quality control.
Today, the company has the capability to increase production through further streamlining, part of which has seen the creation of a component database to ensure repeatability, automation, and industry-leading turnaround times.
"Fruehauf has invested heavily in recent times in state-of-the-art plant and machinery at our Grantham factory," Karl states. "All components are CNC laser cut to provide a high degree of accuracy, and we also boast the largest press brake in the UK, which allows us to bend up to a 12m length of Hardox Steel with a thickness of 10mm. The latest edition to our factory has been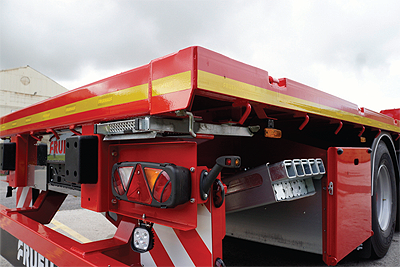 the addition of another new Hot Bake computer controlled paint booth, taking our total to four booths on site, each of which is capable of housing a complete trailer for painting. This new booth helps to eliminate a pre-existing bottleneck within the factory, and while it is state-of-the-art, it still allows us to spray by hand to ensure that Fruehauf products leave our building with not only a second-to-none aesthetic appearance, but also the best corrosion protection to assist in longevity of life."
The company prides itself on the fact that its trailers are hand built. Other than a small amount of automated welding in the chassis beams, all other welding is completed manually by its highly skilled welders, and this is a process that Fruehauf has no intention of changing. "Where we have streamlined our manufacturing is in the production of our components, 95 per cent of which are made on site," Karl reveals. "Having invested huge sums in this area of the factory in recent years, the shop floor is a much quieter place these days. Gone are the loud crashes and bangs coming from the shearing machine and mechanical punch, and in its place is the gentle buzz of the laser cutter."
Over the years, the company has weathered many market peaks and troughs, a by-product of the fact that the haulage industry never stands still. What it does that again sets it apart from its competitors, is utilise periods of lower demand to introduce its innovative designs to the market. Recent examples of this strategy have seen Fruehauf unveil its Agri-Roll conveyor discharge trailer, which comes in both trailer and rigid body variants and possesses unrivalled health and safety levels, and the Fruehauf edurus platform trailer. The latter is the first platform product to be built by the company for more than 15 years. "The introduction of the edurus platform trailer has seen the construction of a completely new, bespoke production line within the factory, including adjustable jigs and an automated rotator to assist with the welding process," Karl adds.
Despite being a company that solely manufactures within the UK, some of Fruehauf's component suppliers are based in Europe, therefore it is not immune from the potential effects of the UK's – eventual – withdrawal from the European Union. It has, however, done all that it can to ensure that it suffers the lease amount of exposure as possible by preparing itself for all eventualities.
As for what that means for the immediate future of the company, it is best left to Karl to share. "All I can say is, watch this space for more exciting product news that we will be bringing to our customers in 2020," he enthuses. Given Fruehauf's track record whatever innovations are forthcoming, they are bound to capture the market's attention!
Fruehauf
Products: Tipping trailers and plankers