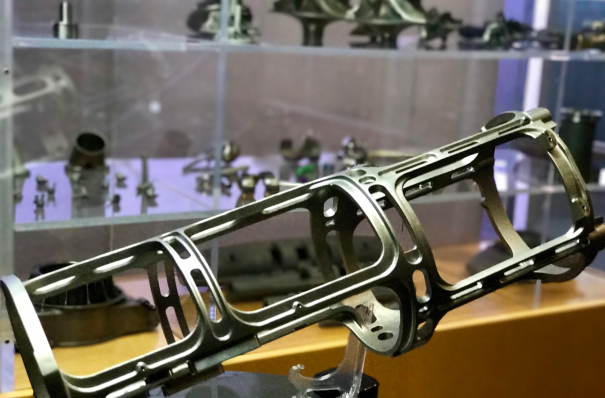 FS Precision Tech may only have a few direct competitors that can do what it does, but that doesn't mean the company is going to relax its standards or any part of its operation. In fact, FS Precision Tech continues to ramp up its focus on quality to ensure it remains the leading independent titanium investment casting operation.
"We are AS9100D and NADCAP certified, FFL and DDTC registered for ITAR, and our products are produced in accordance with strict industry standards, such as AMS4991 and ASTM B367," says Scott Trunkett, marketing and business development director. Trunkett is a Certified Sales Executive and has a bachelor's degree in physics and a masters in mechanical engineering from Rensselaer Polytechnic Institute. His experience includes extensive business strategy and business process design at Accenture. "We have a robust quality management system and utilize lean, Six Sigma and continuous improvement processes. These are not just buzzwords to us – many of our clients tell us that they wish their other titanium casting suppliers did things the way we do."
Based in Compton, Calif., FS Precision Tech brings more than 30 years of experience to its supply of precision titanium investment castings for aerospace, defense, chemical, oil and gas, automotive and heavy equipment applications. The company is a wholly owned subsidiary of Fusheng Precision Company Ltd., which is privately owned by a family in Taiwan, making it one of the last remaining independent companies of its kind. FS Precision Tech is solely focused on titanium investment castings because it wants to be the global leader. It works with global technology leaders such as Blue Origin, Raytheon, Honeywell, Lockheed Martin, UTC and BAE Systems to deliver some of the most advanced titanium casting solutions used in aviation and aerospace.
"We are dedicated to process controls and cleanliness," Trunkett stresses. "Clients regularly tell us our foundry is cleaner than others they visit, and that our process control methodology is much more sophisticated."
Responsive Culture
FS Precision Tech wasn't using any lean manufacturing processes aboutContCont five years ago, but it marks 2013 as a milestone because that is when it decided to go after the aerospace and defense markets. That is when it stepped up its processes and has evolved since then to the Six Sigma level while remaining dedicated to continuous improvement.
It also demonstrates its focus on quality by committing its operation to titanium investment casting. Trunkett notes there are "only a handful" of AS9100-certified companies in the world that can do titanium well because of its challenging and capital-intensive nature. However, FS Precision Tech is dedicated to being the best for its customers, so it made the investments necessary to meet and exceed industry standards.
"Continuous improvement is everything – we're always improving every step of our process," Trunkett says. "Our attention to process control, Six Sigma methodology, lean manufacturing and cleanliness with vacuum casting – all of that is part of our continuous improvement efforts. We remain responsive because of our culture – we are independent, not public, and are dedicated to our customers. As a result, we deliver shorter lead times, and collaborative and responsive customer interfaces."
FS Precision Tech's efforts allow it to excel in the design, development and creation of lightweight solutions for customers' mission-critical applications. The company works closely with customers to optimize their application specifications, including geometry and interface tolerances. Additionally, FS Precision Tech's on-time delivery percentage is above 97 percent, ensuring clients' projects are not delayed. Even when there is an issue, FS Precision's engineers have the skills to modify a process and get a program back on schedule.
The company has created solutions such as:
Lightweight titanium castings for aerospace Ti6-4 (Grade 5) and Ti6-2-4-2;
The proprietary FS2S titanium alloy for high-stress and high-cycle aerospace applications;
Cost-effective titanium castings to prevent seawater corrosion for the subsea oil and gas industry;
Precise and exceptionally strong titanium castings for the stringent performance requirements of the defense industry;
Precision titanium near-net castings to prevent corrosion in chemical processing; and
Castings for lightweight hand and power tools for the construction and industrial markets.
"Fundamentally, the process doesn't change much," Trunkett says. "Titanium casting is such an established process, but you have to keep up with the standards customers require. Part of what sets us apart is that some of the key areas we support are low-volume programs. When an important client needs five or 10 of something, we can do it with cost-effective and quality results. Other companies would rather only do runs of 1,000 pieces or more."
Team Approach
As part of its dedication to continuous improvement, FS Precision Tech is developing new capabilities for its customers. For example, the company is increasing its casting size to increase both its capabilities and its production capacity. At the same time, the company is growing its engineering team and expanding its staff as a whole to best serve its aerospace and defense customers.
Trunkett describes titanium as "extremely reactive and violently unstable," and FS Precision Tech relies on its team to ensure quality in all aspects of its operation. This is especially critical in investment castings and pouring molten titanium into molds, which requires an oxygen-free vacuum chamber. It is this dedication to managing the complex casting processes that has made the company a leader. Additionally, the team is excited to always take on new challenges.
"The team approach that our organization takes with our customers – that is important," Trunkett says. "We are the most collaborative, flexible and responsive company in our market."