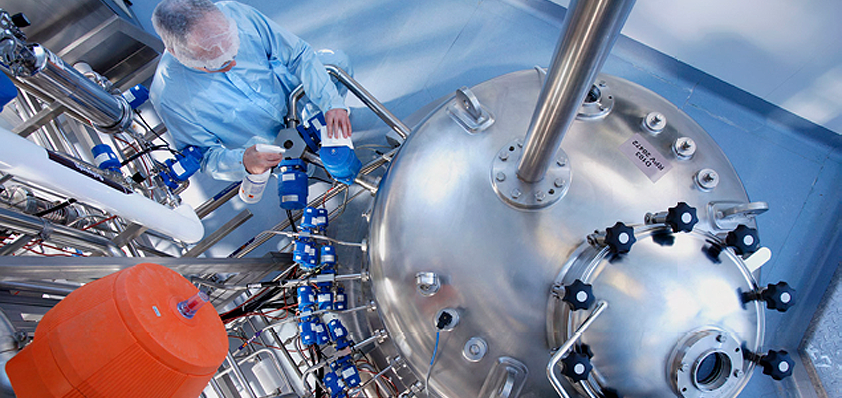 FUJIFILM Diosynth Biotechnologies
Advancing tomorrow's medicines
FUJIFILM Diosynth Biotechnologies is a leading contract development and manufacturing organization (CDMO), providing process development and manufacturing of biologics. Partnering with both large and small pharma and biotech companies around the world, its focus is to combine technical leadership in cell culture, microbial fermentation and gene therapies with world
class cGMP manufacturing facilities to advance tomorrow's medicines.
From its four locations – in College Station, Texas; Research Triangle Park, North Carolina; Hillerod, Denmark; and Teesside, UK – FUJIFILM Diosynth Biotechnologies supports its clients with the development and manufacture of recombinant proteins, viral vaccines and gene therapies. "Said clients have products that they need developing and due to particular circumstances – whether it be that they lack the manufacturing capabilities or the capacity to produce on a large scale – they entrust us at FUJIFILM Diosynth Biotechnologies to make said product, more often than not ahead of clinical trials," explains the company's CEO, Martin Meeson. "We have an enviable, broad level of experience when it comes to not only developing and manufacturing, but also commercializing these products, which has resulted in having several approved products of our own available today."
According to Martin, at any one-time FUJIFILM Diosynth Biotechnologies can be found to be involved in the development of around 150 different products. "While many of these are not as yet known in the public domain, we are starting to see more of these ground-breaking products coming to market. These include rare disease and cancer treatments, Covid-19 vaccines and therapeutics, among many others."
So, what is it that sets the company apart from its peers when it comes to its ability to secure contracts such as those mentioned above? "I think the main factor is the way that we value and respect the idea of partnership, approaching each relationship with a very collaborative mind-set," Martin continues. "We are also a very technical organization by nature, meaning that as well as carrying out the development and manufacture of products, we are also constantly working on new areas of innovation, with the end goal being to deliver our services to an even higher level. To this end, we have made advances such as developing our own cell line and new techniques to increase product yields, and these are just a couple of examples of what I like to think of as the ongoing heritage of innovation within FUJIFILM. I know it may also sound a little cliché, but what also gives FUJIFILM Diosynth Biotechnologies its strength is the fact that it is made up of nearly 3000 employees who collectively embrace the aforementioned values."
Each of FUJIFILM Diosynth Biotechnologies' four existing locations share the fact that they have been very strategically positioned within what are historically strong areas for biotech manufacturing. The company is far from content to rest on its laurels, however, and in recent months it has announced a series of planned investments to expand its operations in different fields. For instance, in January 2021, it announced that it would invest $40 million to establish a state-of-the-art viral vector and advanced therapy process development and manufacturing facility in the greater-Boston, Massachusetts area. This new facility is scheduled to begin process development operations in the fall of 2021, and will expand the company's manufacturing capacity to support the growing viral vector sector, which is focused on using genes to treat or prevent disease. As well as housing experimental and analytical equipment for viral vector and advanced therapy process development, the facility will also eventually offer contract manufacturing services for early phase clinical trials from the fall of 2023.
A matter of days following the above news was made public, FUJIFILM Diosynth Biotechnologies announced a further $2 billion would be used to establish a new large-scale cell culture production site in the United States. This new facility will offer large-scale cell culture manufacturing of bulk drug substance with 8 x 20,000L bioreactors (physical volume), with the potential to expand and add a further 24 x 20,000L bioreactors based on market demand. In addition to drug substance manufacture, the facility will also provide commercial scale, automated fill-finish and assembly, packaging and labeling (also known as finished goods) services. The new facility will be built within the vicinity of an existing site, and is scheduled to begin operations in the spring of 2025.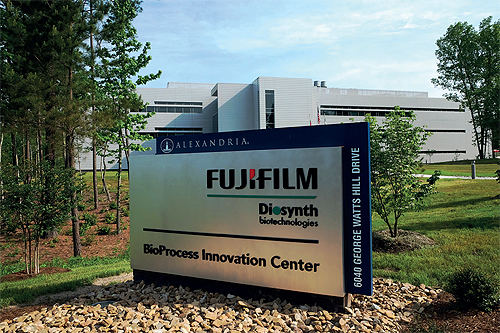 Meanwhile, the company's operations in Europe have also received significant capital investment, with March 2021 seeing an official ground-breaking ceremony held to celebrate the start of a large-scale cell culture expansion project at its Denmark facility. The expansion in question will double the existing bulk drug substance production capacity, with the addition of six 20,000L bioreactors, bringing the total to 12. The new construction will also include a fully automated, cutting-edge fill/finish capability to support large-scale production of up to approximately 35 million units per annum. To support the expanded operations, FUJIFILM Diosynth Biotechnologies will add 300 positions in Denmark by the end of 2023.
The expansion investment also includes a new packaging line designed to assemble multiple types of auto-injectors and automatic labelling, capabilities that will be operational in spring 2022. The fill/finish production line is expected to be operational by summer 2023, and – in a final step in the construction – the large-scale cell bulk drug substance expansion is expected to be operational by the end of 2023.
"As we look to the next few years, we will continue our push towards ensuring that we remain the leading CDMO in our field, boasting a growing array of development and manufacturing capabilities with which to support our clients," Martin declares. "With our combination of world class assets and world class people, I believe we can also take and embrace some of the learnings that we have acquired over the last year or more to become an ever-more flexible organization, able to react quickly to the needs of our partners and supply medicines, vaccines and therapies that the world will need in the years to come."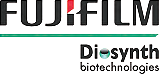 FUJIFILM Diosynth Biotechnologies
Services: Contract development and manufacturing organization (CDMO)
www.fujifilmdiosynth.com