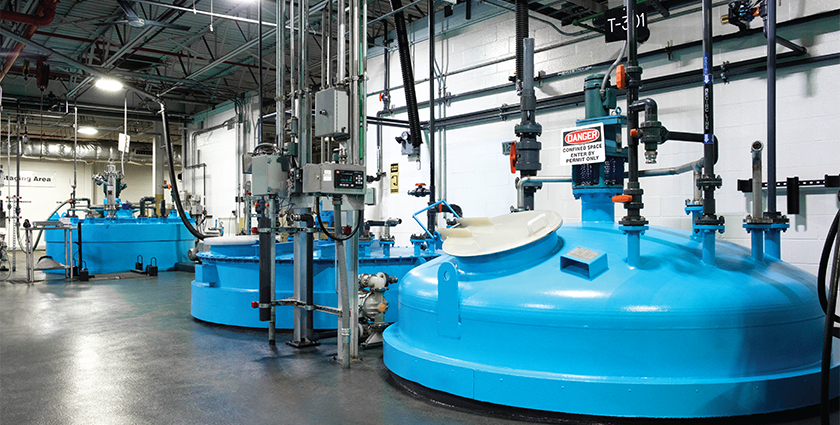 FUJIFILM Ink Solutions Group
Picture perfect solutions
As it continues to pioneer its cutting-edge RxD® inkjet dispersion technology, FUJIFILM Ink Solutions Group sees ongoing success on a global scale
As a key component of the FUJIFILM Corporation, FUJIFILM Ink Solutions Group is known for its world-class capabilities in inkjet ink and dispersion development and manufacturing. Through a collaborative, customer-focused approach, the company offers a depth of expert knowledge, bespoke product designs, and unparalleled levels of quality. Today, the Group prepares for major expansion across its US facilities, as it continues to facilitate the sustainable digitization of printing processes.
With the support of its parent company, Fujifilm, the Ink Group has become an international leader in inkjet ink and dispersions. The company is the product of a major acquisition and merger, as Chief Operating Officer, Ian Wilkinson, discusses: "Around 2006, Fujifilm acquired various manufacturing companies who were producing core components for inkjet printing, including four ink technology businesses and a printhead business. To begin with, each of the companies continued to run independently, and it took several years before they were brought together under a single entity. In 2017, Fujifilm officially formed its Inkjet Business Division, to align the activities of these companies.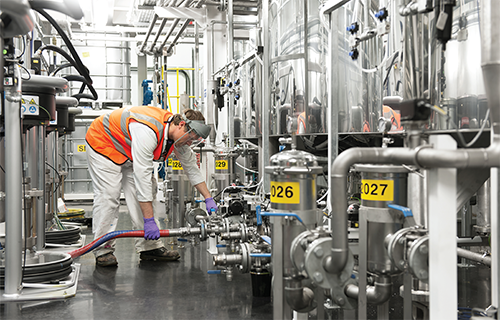 "I joined the business around this time, and my goal was to bring the various ink entities together into one group. Then to ensure that the newly formed Ink Solutions Group was working closely and effectively with the printhead business. Since then, we have created a great synergy and seen a lot of success."
As the product of four different companies coming together, the Group has a diverse portfolio of products and services. "We have specialist capabilities in delivering ink and dispersions for packaging, textiles, sign and display, commercial, and industrial printing. Everything we offer is linked by a huge commonality in that it is all held to an incredible standard of quality," Ian asserts.
The company's market-leading ink and dispersion technologies are supported by FUJIFILM's long history of innovation and industry insight, as well as an outstanding company culture. As Ian confirms: "The inkjet business builds on a heritage of producing dyes and screen printing and flexographic inks. We own significant intellectual property, which gives us advantage in certain areas. Using the expert knowledge and cooperation that we have within our multi-disciplinary team, we are able to elevate our product development process, and provide our customers with really advanced technology and reliable products.
"We also make significant investments in research and development, giving us the ability to develop new or customized products tailored to the needs of our customers. Our collaborative, project-based development process enables us to deliver high quality, fully validated, reliable inks to market in the shortest time, which is an industry leading capability due to the depth of knowledge our people have.
"Our technical teams are full of true industry experts, who really understand inkjet technology and its potential in real-world applications. In addition to their expertise, we also have access to a vast range of technology and resources through our parent company. Fujifilm is a major corporation, and it offers us access to the best tools in the industry.
"The company also prides itself on ongoing development. It's always been about growth through innovation, and we are always being encouraged to develop new services and products that will contribute to the evolution of our brand. Tapping into that culture, and those resources, has given us a real competitive edge."
These assets have helped make FUJIFILM Ink Solutions Group a world leader in inkjet ink and dispersion technology. Today, the company continues to make major investments into this category, in order to support a global digital transition. "We have made considerable capital investments over the past few years. These investments have been made across our product portfolio, however our RxD® inkjet pigment dispersion technology is the real driver of growth within the business.
"Our RxD dispersion products are designed to meet the demands of a rapidly growing aqueous inkjet market. This technology is always developing and becoming more sophisticated, and at the same time it's in high demand for high performance ink development across commercial, textile and printed packaging applications.
"We are currently supporting the transition from analog to inkjet technology in a lot of industrial settings, particularly in emerging packaging applications. The transition has been going on for a while, but it's recently gained a lot of momentum, which has accelerated our work. Our pigment dispersion technology is best-in-class; it has excellent stability – which is critical in the formulation of high performance inks – and manufactured to ultra high purity levels, which makes us the most popular choice for businesses transitioning to digital printing. We want to stay at the forefront of this transition, and so a huge amount of our focus is on that particular technology," details Ian.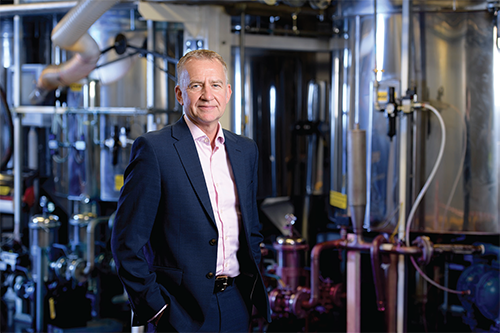 Supporting this shift toward digital processes is the Group's global network of development and manufacturing facilities. As Ian reveals: "Within the Ink Solutions Group, we have four main factories. Two in the UK, in Grangemouth and Broadstairs, one in the US, in New Castle, Delaware, and one more in Pune in India.
"Each facility specializes in specific areas; India is primarily focused on manufacturing analog screen and flexo technology, whereas the plant up in Scotland produces RxD inkjet dispersions and dyes. In Broadstairs we manufacture UV inkjet inks, as well as analog inks for the European market. In America, we have a very significant amount of aqueous inkjet manufacturing capability and have recently opened our first RxD dispersion manufacturing facility in the US.
"In order to manage the transfer from analog to digital, we have commissioned a second RxD dispersion manufacturing facility in the US. This second factory will double the size of our New Castle capacity. It will give us the capability to produce more ink and dispersion products, and distribute on a much larger scale. The construction process began earlier this year, and it will be completed by March 2023, which is very exciting.
"Between the sites, we have all of our bases covered. All our plants are state-of-the-art, and maintained to a high standard of accreditation. Being a Japanese company, we have adopted an ethos of continuous improvement. This means that we are always evaluating, and seeking to optimize the efficiency and effectiveness of our facilities. We run various improvement initiatives, focused on key areas such as sustainability, and these efforts are all linked to our overall strategy. We set ourselves yearly targets, depending on the focus of each facility, and then we measure our achievements according to those goals we have set ourselves. It's very motivating."
It is clear that the Group's sites are aligned in terms of their working culture, as Ian affirms: "We have a clear set of values and behaviors. There are five qualities that we always try to embody, which are Creativity, Teamwork, Integrity, Accountability and Responsibility. We regularly bring our international team together in meetings where we focus on reinforcing our values and our team charter and that helps keep everyone focused on our business purpose statement."
Driven by a mission to enable its customers' profitable business growth, and support their goals through the sustainable digitization of print, FUJIFILM Ink Solutions Group prepares for an exciting few years ahead. As Ian concludes: "In the coming years, we will continue to invest heavily in our factories and facilities, in order to support the digitization process.
"The future is really looking bright. Inkjet is going to become the industry standard and we will be the pioneers of that technology. With the backing and support of Fujifilm, we will be able to continue growing and unlocking new markets. Ultimately, it's all about making sure the company is in good shape to manage that growth."
FUJIFILM Ink Solutions Group
www.fujifilmink.com
Services: Ink and Dispersions for Digital Printing