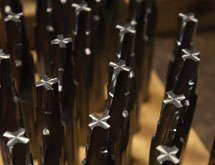 Fullerton Tool Co. has manufactured high-quality solid carbide cutting tools since 1942. "It is our 71st year and we have always been a precision tool-maker," says President Patrick Curry, a member of the third generation to head the family business. "We produce tools for maximum removal and minimal energy. We make diverse types of cutting tool that produce chips or holes."
Fullerton Tool serves a wide variety of industries with its tools, including aerospace, automotive, firearms, heavy equipment, medical, mold and die, power generation, recreational and small engine manufacturing. The company offers solid carbide cutting tools including drills, saws, PCD, burrs and end mills manufactured in a 40,000-square-foot facility in Saginaw, Mich.
Fullerton Tool products are known for their high metal removal rates. The company is also known for having the shortest lead-time in the industry for solid carbide saws.
Cost Savings
With its fast metal removal rates, Fullerton Tool products save customers time and money. "We just had a customer who had $200,000-plus in cost savings," Curry says. Another customer, Mathews, is a top manufacturer of compound bows for archery. Utilizing Fullerton Tool products and its F.A.S.T program, it saved more than 10 minutes in reduced cycle-time per part, Curry says. In all, Fullerton Tool has produced more than $2 million in documented cost savings for its customers.
Manufacturing managers are always on the lookout for methods to improve profitability and efficiency, but sometimes they miss an obvious point: Installing higher-quality cutting tools can reduce the cost per piece by 3 to 5 percent in a manufacturing process, translating into to 40 to 60 percent cost savings for the total product. This equals big savings, especially for customers producing millions of units.
Fullerton Tool can help customers change manufacturing designs, ensuring clients are using the correct geometry to compete globally, Curry notes. In one case, it helped a client move from three cutting machines to one with better results through Fullerton Tools.
Modern Technology
Fullerton Tool's business has become decidedly more high-tech over the past seven decades. CAM software has allowed for industry improvements. "There are faster calculations and you can do more with them. We can pretty much dream up any design in tooling we want," Curry relates. "The software has really helped our creative tool design as well as machining to grind it and make the tools."
Fullerton Tool runs an internal research and development lab to troubleshoot problems and develop new products for its clients. The lab features "the latest and greatest techniques and tools," Curry says. This includes new stainless steel, niche materials and applications. The lab helped Boeing develop cutters and maximize its machining parameters, for example.
Major technology advances in software, equipment, machinery and programming have led to improved efficiencies. "You can do a lot more with one tool today," Curry says. "It's a high-speed manufacturing and high-speed machining environment and we can support those speeds."
Fullerton Tool's offerings might not always be the lowest-priced, but once customers calculate metal removal rates and cost per piece, they find it to be the best choice, Curry explains.
To compete in its sector, Fullerton Tools provides superior customer service. "A lot of people have the same equipment we do but we have more experienced and qualified people," Curry says. The company has another advantage in the market because it is family owned and operated in the United States.
Despite its competitive advantages, the company is not standing still. It is investing more than $5.6 million in an upgrade to its plant with new equipment and technology. Fullerton Tool is also upping its marketing game. The company recently revamped its website to include online quote and ordering capabilities as well as increasing social media presence. Advanced marketing such as this can be lacking in the manufacturing sector, so these efforts put Fullerton Tool "ahead of the curve," Curry says. It also offers live chat and product selection features as well as online shipment tracking. The company is also marketing on social media through the work of its marketing team and in-house web developer.
"The customer base is doing more research and buying online," Curry says. "So that's the future."