All the right tools
A family-owned leader in industrial engineering supplies, FWB Products continues to provide its popular brand of individualized customer service, whilst embracing modern innovations like e-commerce
Home to nine product categories, including M&E, pipeline, PPE, fasteners, and tooling, FWB Products (FWB) blends traditional family service with modern ingenuity. For more than half a century, the industrial engineering supplies firm has been meeting the needs of its clients swiftly and efficiently, resulting in an active customer base of more than 3000 in 2021.
Operating from three core UK branches in Stoke-on-Trent, Wrexham and Truro, FWB remains in the family of its founder, Henry John Key, and thus, retains a sense of familiarity and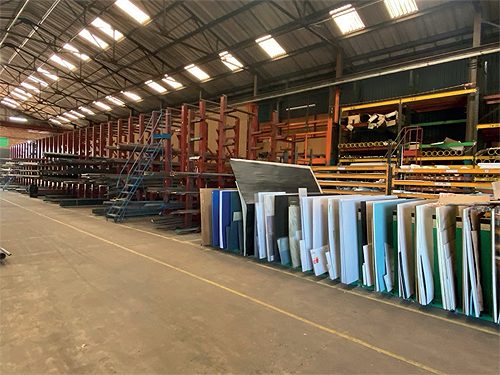 independence unmatched by larger organizations. This local flavor, combined with an ambitious approach to innovation, has enabled the firm to carve a niche in the market that continues to attract repeat business and new customers alike.
"One of our biggest strengths at FWB has always been our ability to meet the needs of our customers very quickly. We are well known in the industry for getting our hands on our range of products in an instant," explains Sales & Purchasing Director Martin Johnson. "A highly experienced and technical sales team gives us credibility in the marketplace, and after nearly 60 years in business, customers know they can trust us.
"We are a local supplier, we are independent, we are family owned, and that resonates with our customers," Martin adds. "In the Stoke area alone, we have in excess of 20 competitors, alongside large national businesses, but we are growing because we have stayed true to our values and pride ourselves on consistently giving our customers the very best service."
Always in high demand – even throughout the Covid-19 pandemic – FWB's recent projects include a tailored solution developed for a local Stoke-on-Trent pumping station. After being provided with a project specification by the client, FWB was able to identify, and supply a range of pipes, flanges, connectors, fittings, and steel products to perfectly suit the customer's needs.
"We currently have more than 1200 suppliers, which allows flexibility that feeds into custom projects and diverse market sectors," Martin states. "We have always operated our own fleet of transport and recently introduced 'Man in a Van', a same day delivery service built around quick response vehicles that can be within a 15 mile radius of the Stoke branch the same day. It adds a little nuance to the way we operate, and we know customers appreciate that level of integrated support."
Many of FWB's client relationships span decades, and the company strives to establish connections with a variety of contacts on multiple organizational levels. For instance, relationships with various key team members at 'Toyota GB' have enabled FWB to retain the automotive giant as a customer for more than 20 years.
"Major corporations like Toyota really enjoy the fact that their dealings with us are not seen as a transaction, but a relationship," Martin says. "Clients like working with us because we are independent and family-owned. Our internal team is encouraged to build on our family values and transmit that over to our customers through a high level of friendly customer service.
"Whether its Truro, Wrexham or Stoke, many customers know FWB is family owned. Over the years, we have centralized our sales functions and strengthened our operations at each branch to be more efficient, but we will never move away from local people and local branches as they are critical to our growth and success.
"Our founder Mr. Key had the entrepreneurial foresight to create a 'one-stop-shop' back in 1963, and we still embrace that philosophy today. FWB has the ability to cover a wide variety of industries, including the construction, food, automotive, environmental and energy sectors. Alongside three highly efficient trade counters for walk-in traffic, the company has recently supplied over 6000 copies of a catalogue showcasing the breadth and depth of the company's product range.
"Our trade counters are fundamental to servicing tradespeople on a daily basis, and those counters have grown over the last 18 months because we keep good stocks and monitor what customers want," Martin states. "We also decided to invest heavily in the production of a new catalogue to allow customers buying one category to see the full extent of the product ranges FWB holds at all branches."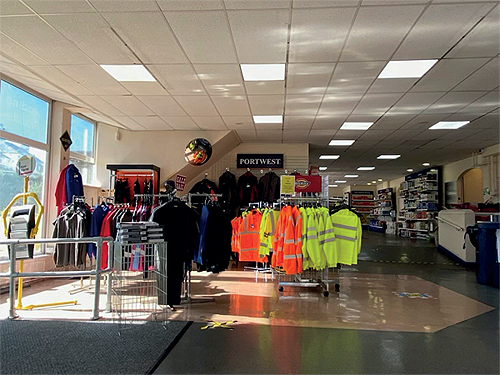 FWB's multi-channel approach to business is rounded off by a recently updated website and a newfound commitment to transforming the company's social media presence. "Our website allows customers to buy through a trade account by logging in and placing orders," Martin confirms. "Social media has really taken hold too. It's something we can't ignore, so we have embraced it, enhanced our social media presence, and introduced a new mobile app.
"As generations change, it is important to adapt, and social media will add to our success. We have to keep pushing our message to customers about what we do and what our USPs are, as well as giving them a variety of ways to trade with us."
Alongside its digital upgrade program, FWB invested in a new fleet of vehicles earlier in 2021. Now, in June, the company's attentions are turning to the installation of a barcoding system for its warehouse, which will not only improve efficiency and accuracy, but also expedite order completion and improve the customer experience.
As we move towards the halfway point of 2021, FWB hopes to remain consistent while managing the challenges presented by Brexit and Covid-19. Nearly 60 years since it was founded, the company continues to search for innovative ways to maintain its service levels, add value and keep customer retention high.
"FWB embraces a proactive approach and works directly with customers to explore solutions to manage a cost-effective strategy to the supply of products," Martin states. "We have seen customer expectations significantly change since 2020, and we continue to listen, adapting and staying reliable for each and every one of our customers."
Moving forward, FWB will maintain its trademark customer focus and family culture, whilst embracing and adding modern processes and practices that fulfil the complex needs of the contemporary customer. By staying flexible and moving with the times, FWB is confident that the company will be sustainable for decades to come.
"We have the structure at FWB to be able to adapt and minimize the effects of any unforeseen, unpredictable circumstances like Covid-19," Martin states. "FWB continues to invest in the infrastructure of all departments to offset any damaging market condition changes.
"Continual investment in our people to ensure all our staff are trained to the highest level possible and that we have the best technology in place to make us efficient and the 'go to' business partner. Furthermore, as an independent business we pride ourselves on keeping a competitive edge in a demanding and ever changing market."
FWB Products
Services: Industrial engineering supplies
www.fwb.co.uk