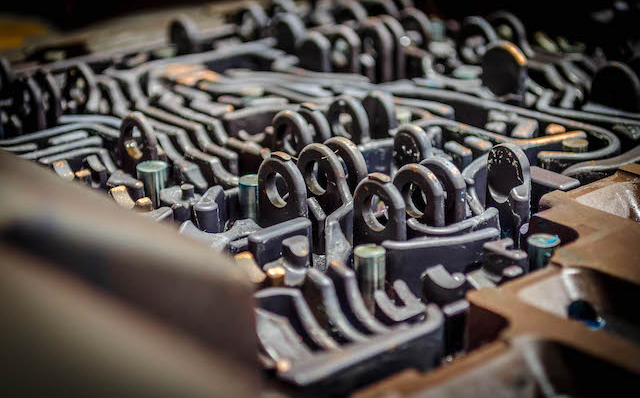 Since Gerry and Sue Hellebusch founded G.H. Tool & Mold in 1983, the company has grown to serve the tooling needs of customers in the North American automotive, aerospace, outdoor products, energy and other markets. Dave Graves, who started with the company in 1990 in the engineering department and assumed the role of president in 2014, has seen the company thrive as it has used creative design solutions to benefit a variety of manufacturers. "Our guiding principle," Graves says, "was established decades ago by the company founder. We design and build tools as if we had to run them ourselves."
To serve a variety of industries, G.H. Tool has a full-service engineering department for die cast part development and die design, or what Graves refers to as "plug and play" components. G.H. Tool's designs are well known in various industries for being easy to maintain and designed for both manufacturability and serviceability. "We feel like we have a very high value proposition because we can tool parts that perform at a high level," Graves says. "But not only are they the most reliable, but they are also the most repeatable."
While the Washington, MO based G.H. Tool is active in a number of industries, it has worked very hard in the lawn and garden sector." Graves adds. "We are committed to expanding and increasing our level of service to that market."
To grow in that area, G.H. Tool has expanded its operations in Statesboro, Ga. Graves notes that the company began operating there in 2000 to service  the casting operations for Briggs & Stratton's engine products group, also located in Statesboro. "We have doubled in size and added personnel," Graves says. "We are very proud of the work we have done with Briggs & Stratton, and have repeatedly re-invested  to provide that next level of service for them." Graves notes that G.H. Tool recently added a second shift of workers in its Statesboro facility, and is adding equipment throughout 2017.
In addition to its work in lawn & garden G.H. Tool has also established itself in the aerospace industry. "Notably, these are the  pieces of equipment that manufacturers use to build their airplanes." Graves notes. "We excel at remediating the unique difficulties that accompany these tooling projects.
G.H. Tool's largest customer in this sector is Boeing. In fact, G.H. Tool has received the coveted Supplier Appreciation Award from Boeing six times in the past seven years. "We are very proud of that," Graves says. "Especially when you consider that Boeing  has tens of thousands of global suppliers. Our team is dedicated to meeting every commitment we make to every customer."
In 2012 G.H. Tool opened it's second facility in Washington, MO. "That particular expansion enabled us to better serve our die casting customers that produce the large-scale castings such as engine blocks, transmissions, and high-intensity structural castings," Graves remarked. "This investment has proven invaluable for keeping pace with the demands of the large automotive casters and really helped our throughput across the board, due to the space and equipment added with that investment."
A Three-Legged Stool
G.H. Toolhas been part of Tooling Technology Holdings of Fort Laramie, Ohio, since 2015.  "We are all engineer-to-order companies with a common mindset," Graves said. "Although we serve different material forming processes, tooling is our passion and we strive to be the best."
Tooling Technology is a leading supplier of high-quality tooling for a variety of material-forming processes, including thermal forming, compression molding and automated assembly equipment for the automotive, outdoor and commercial products sector. G.H. Tool was Tooling Technology's second addition; earlier in 2015 it acquired Majestic Industries in Macomb, Mich., a progressive die maker whose major customers include Ford, GM and Chrysler.
Together, the three companies form the Tooling Tech Group. It is a one-stop shop for a wide variety of specialized tooling solutions, low to medium parts production and precision machining services, among other capabilities. "We are one leg of a three-legged stool," Graves notes. "As a platform, we can serve a variety of industries including automotive, aerospace, industrial and automation."  This commitment to service is visible in every tooling project the Group undertakes. "The best tool in the world is useless, if it's not delivered on time," Tooling Tech Group CEO Tony Seger says.. "That's why we all have an 'on time every time' standard."
Finding Help
Though this is a time of growth and expansion for G.H. Tool, Graves is mindful of the challenges that come with running complex tool shops. These include finding and training the right personnel. "Everyone struggles with staffing," Graves notes. "Fortunately, we have great relationships with a our local colleges and serve as advisors on for some of them as well."
One such college is State Technical College of Missouri. Graves himself is a design drafting graduate and frequently hires students who are in the pipeline. "Our end-goal is that when students graduate and work for us," Graves notes, "they are ready to hit the ground running."
With the combined resources of the Tooling Tech Group and continuing growth, Graves and his team have to guard against being too optimistic. "One thing we always preach," Graves says, "is that regardless of what the circumstances are, everyone knows we can do better."
Graves also notes that the team at G.H. Tool has a continuous improvement mentality. "You can never really sit back and say that you have arrived," Graves explains. " I really appreciate that about our team here. They are always reaching for the next rung on the ladder."