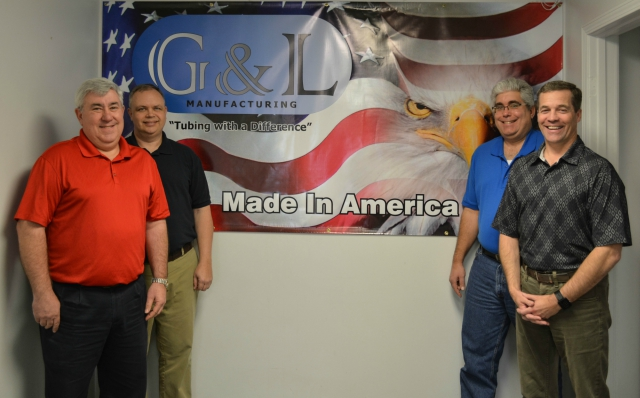 After more than 35 years, G&L Manufacturing has a strong reputation among its customers. "We've earned respect in the marketplace," says Phillip Jones, director and co-owner. "When you ship exactly what they want on-time, with great quality and stable economics, they keep coming back."
Based in Cookeville, Tenn., G&L manufactures tubing for the industrial and commercial heating, automotive and HVAC markets. The company takes pride in providing American-made products, while almost all of G&L's competitors produce their tubing outside of the United States. Founder Robert Gilreath started the company in 1982 with Art Lewis, after working for a local heating element company.
Gilreath managed the tool room at the firm and was responsible for making sure all the welded tube mills worked properly. After becoming dissatisfied with the company's level of quality, he designed his own tube mill in his basement, and went into business for himself.
He began serving clients with the tube mill, which led to the formation of G&L. After Jones, Rob Adams and John Salyards purchased the company in 2005, it grew organically and through the acquisitions of other firms, including the assets of Chicago-based Scientific Tube in 2010 and the assets of a Denver-based tuber in 2016.
"We've earned respect for what we've done, which is growing our little company from $7 to $8 million [in sales] to a well-known player in the tubing market," Jones says, noting that G&L's products are used in a broad range of applications, including hot water, oil and gas, semiconductors, military, automotive and even by end-users such as Chick-fil-A.
The company has locations in Cookeville and Denver and plans to open another in Laredo, Texas, later this year. "We're adding a warehouse and distribution center for all of our Mexico and border customers," he says.
A Better Mousetrap
Jones credits G&L's success to the standards set by Gilreath. "He built a better mousetrap," Jones says. "Our tubing is known for its quality, consistency and reliability."
One Gilreath practice that ensures these standards is the use of tube mills that it builds on its own. "He also built all his own cutters, straighteners and all his own tooling," Jones says, noting that this contributes to G&L's product consistency.
G&L also performs significant examinations on its welded tubing. "We've invested to be able to examine a micrograph of a weld down to the molecules," he says. "The whole area of product quality came from Robert Gilreath setting the pace."
The company also focuses on strong relationships with its customers, who have come to depend on the company to act quickly. "We're crazy about service and responsiveness to field issues," Jones says, adding that G&L makes sure not to abuse its strong relationships.
Many of the company's clients, he adds, make G&L their sole source. "We respect that and we keep the economics very stable," he says. "They reward us with the flow of new business."
Jones and Adams also make themselves approachable to customers who know "they can reach the owners quickly if they need to," Jones says. "We've earned respect from doing that. Recently, G&L's growth necessitated bring in a full-time president and general manager. Peter Neuberger joined G&L at the start of 2018 in this new position with a tremendous track record of growing manufacturing companies just like G&L."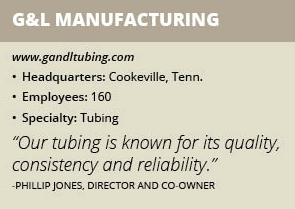 G&L also values its relationships with its suppliers, who play a major part in managing the company's lead times and delivery. "We have some excellent programs with some major strip suppliers," Jones says, noting that its service center vendors will stock their inventory with products for G&L.
"They've bought into supporting us, which keeps our lead times and delivery at a good pace," he says. "But it is to their benefit, too, as they enjoy the growth also."
Making Adjustments
G&L is seeing changes in the automotive market, which include General Motors moving away from carbon tubing to stainless steel in automobiles. The automaker, he explains, "set a goal of a 15-year life on a vehicle.
"They've been purging products, alloys and processes that they feel don't meet that standard," he says, noting that the industry is also moving away from aluminum to stainless steel. "We've been a beneficiary of that by having the capacity to manage it. G&L has been opportunistic in its acquisition and building of capacity and supporting Tier 1 customer programs with responsiveness and aggressive investments."
The company also will be responding to logistical industry shifts with its new facility in Texas. This will allow G&L to better serve its increasing base of clients in Mexico and on the border.
"I picture us continuing to grow from stronger manufacturing trends here in America and an economy which seems to have some fresh legs."
No matter what happens, Jones says, the company will continue its method of reacting swiftly to industry shifts. "We make decisions quickly with the owners and directors actively supporting Neuberger's plans, and that will also facilitate our continued growth," he says.
Closing the Loop
G&L recently achieved ISO 9001: 2015 certification, "which is a great standard you can achieve in quality systems," Jones says.
The company develops machine operator skills by providing extensive training when they first join G&L. This includes classroom time and working alongside a senior staff member in a shadow role. "It's important that we give them feedback and measure how they're doing," Jones says.
But training continues even after they have gained tenure at the company. "Continuous improvement is a culture here," he says, noting that this has only helped the company get better. "There's a fanatical desire to close the loop when things go wrong."
This desire also drove G&L to adopt lean manufacturing methods. "We're going through a significant, company-wide 5S process, purging things that have been on the floor but shouldn't be," he describes.
The company also is adding an internal Kanban system as it installs new automated cutting equipment. "We're going through a nice program here to implement those two parts of lean," he says.
Without Limits
Jones is proud of G&L's employees and the passion they put into its products. "That's No. 1 for me," he says. "If you can drive a culture where those two things – employees and pride – are important to how we run the business, you've got the cornerstone for growth."
He predicts more success ahead for G&L. "I don't see any limit to the future when you've got a solid culture, a great management team and dedicated employees," Jones says, noting that the company expects the next two years to be very strong.
Last year, G&L enjoyed sales of $32 million and expects to that number to grow to $42 million this year. "Our projections for 2019 are in excess of $50 million," he reports. "We've got some fairly significant growth going on.
"In 2005, when we acquired G&L, it had three tube mills built by Robert Gilreath and Mike Adams, our technical director," Jones recalls. "Today, we have 25 tube mills to satisfy our growth with more on the way."
The company also wants to grow its market share. Today, "We're very well entrenched in the automotive market now as a very good supplier and we have a very significant market share in heating," Jones says. "[But] we also want to expand in HVAC and oil and gas by adding sales reps skilled in these areas and supplying larger OD tubing products."
Sidebar — Partners in Tech
G&L Manufacturing has a long legacy with Tennessee Tech University, which is also located in Cookeville, Tenn. Founder Robert Gilreath is an alum of the university and earned his engineering degree from the college, Phillip Jones says.
Today, the company and the university are partners through an internship program. "We have two interns [earning] engineering degrees," Jones says, noting that the students work two to three days a week at G&L, which also offers a tuition reimbursement program.