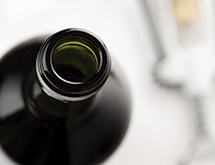 There might not be a more important package to its product than a bottle is to wine. The product inside is delicate and easily disrupted. In fact, improper packaging and handling can ruin the product completely. In some cases, part of the production process actually takes place inside the package. And the package – pouring from the bottle, setting it on the table – is part of the experience of enjoying the product.
It only makes sense then that a venerable winemaking family – Gallo – would also get into packaging products and supply chain services for the wine and spirits industry.
Located in Modesto, Calif., G3 Enterprises was founded by the third generation of the Gallo family. G3 partners with wineries, winemakers, designers and distributors nationwide. "With more than four decades of experience, we deliver results while building partnerships with our customers and suppliers," the company says.
G3's products and services include:
>Custom and stock closures with a wide range of options
>Warehousing and third-party logistics services
>Full-service bottling (on-site and mobile capabilities)
>Bottle etching and decorating
>Comprehensive technical and lab services
There are four main divisions to G3: labels, closures, mobile bottling and logistics.
"Through our experience working with boutiques as well as mass brands, we understand the complexity and requirements of customized pressure-sensitive and cut-and-stack labels," G3 says. "We provide full-service capabilities and choices that allow customers to pick what is best for their creative idea, while also meeting their production expectations. Not only are we well-known in the wine and spirits industry, but we extend our portfolio to specialty beverages and food industries that aim for the same quality that wine labels demand."
G3 makes traditional and alternative bottle closures for alcoholic and non-alcoholic beverages and services international markets in Canada, Mexico and Europe. It provides a full variety of corks, capsules, stoppers, crowns and screw caps, both standard and customized items.
Customers can avail themselves of G3's four bottling lines. A recent expansion increased bottling capacity, capability and flexibility.
The logistics team transports both raw materials and finished goods domestically and internationally – including grapes from vineyards to crush facilities, bulk commodities and imports and exports – via boxcar, intermodal and truck. There are G3 warehousing facilities in several locations to accommodate customers' storage needs. The company has 3 million square feet of warehouse space in California's Central Valley, 350,000 square feet of warehouse space in Chicago, and warehouse partnerships in Pennsylvania, Alabama, Florida, Texas, Kansas, New Jersey and the United Kingdom.
Technical Solutions
Talented technicians are recruited to address customers' specific needs. "Whether it's trouble with an application, designing a new package, improving a process or solving any challenge at the packaging facility, our technical team can assist customers from beginning to end," the company says.
"We can deliver any degree of support our customers require to ensure our products deliver the highest level of quality and performance. We provide these services through every phase of our relationship with a customer, from initial product selection or design through product application," G3 says. "Our technical solutions staff has decades of packaging experience and we understand the need to achieve profitability and efficiency in packaging and marketing success."
The company's packaging and product testing includes:
>Package evaluation tests: Cork pull force, cork characteristics (length, diameter, ovality, density, moisture), cap torque (or removal torque) and secure seal test (gross leakage test);
>Oxygen transmission testing: Testing closures, bag-in-box, plastic bottles and films, and customizing oxygen and relative humidity settings if necessary;
>Bottle Bore Profiles: Includes 222 individual measurements per bottle;
>Microbiology: Wine or closure sterility (bottled, BIB, corks, screw caps, etc.) and TCA-producing mold identification.
G3 is the only company in the industry that offers TCA (2,4,6-trichloroanisole) and IBMP (3-isobutyl-2-methoxypyrazine) wine analysis, paired with the technology to correct wines containing unacceptable levels of these compounds. This method of analysis satisfies the industry standard by using GCMS-SPME with an internal deuterated standard. The company developed and patented technology to selectively remove these contaminant molecules from wines.
Some of its quality tools include statistical process control, capability analysis, control plans and FMEA. Its state-of-the-art test equipment includes online vision systems, color spectrodensitometers, NIR spectrophotometers, GCMS and automated torque gauges.
New Markets
The wine and spirits market is G3's focus, but with its accumulated experience, the company is also able to offer refined packaging quality and logistics services to other businesses, including microbreweries in North America and apple cider and juice makers, particularly on the West Coast. "We are flexible and willing to meet different customers' demands," the company says.
G3 is expanding into niche markets such as olive oil, salad dressing, nutraceutical, energy drinks, tea, flavored water and flavored syrup that aim for high-quality packaging similar to the requirements of the wine and spirits industry.
Environmental Stewardship
Given that it serves businesses in agriculture, healthy maintenance of the earth is important to G3, and it uses environmentally sound practices and products. It has implemented processes to minimize waste, maximize the use of materials and conserve resources.
Its label, closure and mobile bottling divisions are ISO 14001-certified. Additionally, management has launched several initiatives to save energy and decrease potential adverse effects on the environment, including:
>650 solar panels are installed on the corporate campus.
>Aggressive recycling programs are in place for manufacturing waste.
>G3 Closure recycles 80 percent of its waste.
>G3 Label recycles 57 percent of its waste and uses energy lamps and lighting occupancy sensors in production, storage and office areas.
>G3 Mineral installed a photovoltaic solar system that is expected to provide up to 30 percent of electrical operating cost.
>Motion-detecting lighting is used in more than 3 million square feet of warehouse space, and exterior lighting was switched to energy-efficient fluorescent fixtures.
>88 percent of packaged products are shipped via rail and water, decreasing gasoline consumption. mt