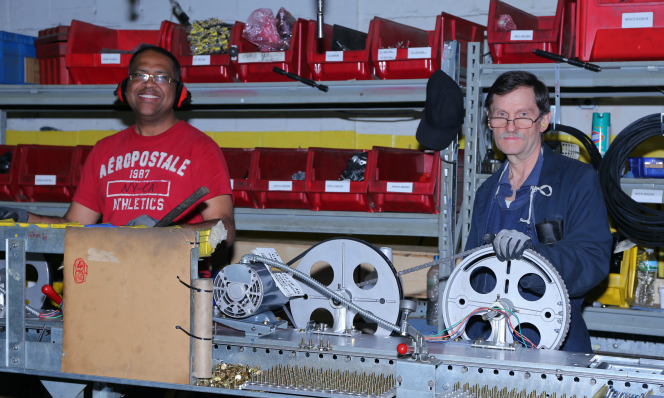 Started in 1927, GAL Manufacturing Corp. is a leading provider of push button panels, door equipment and controllers in the elevator industry. From its 100,000-square-foot manufacturing facility in the Bronx, the company manufactures a vast array of products in-house.
"GAL started out by designing and manufacturing elevator components and got into door operating equipment and control systems over time," Vice President Paul Seifried says. "We provide products to elevator contractors installing elevators throughout North America, and we do a fair amount of business overseas in the U.K., Australia, the Middle East and South America."
Today, GAL has more than 250 people involved in production in its New York headquarters. Its manufacturing capabilities range from single spindle drill presses up to CNC machining and punching equipment, and the company can perform many machining, punching, forming, welding, and finishing operations. It also produces solid-state boards while offering painting and coating, centrifugal casting, injection molding and assembly services. GAL has an extensive customer support team along with a large production engineering staff.
"Five years ago, our focus was on investing in machine tools," Seifried says. "In the last few years, our focus has been engineers and leaders who can look at ways to bring capacity up and help us to achieve more. New York is not the manufacturing hub that it once was, as it is more service oriented. But we have a strong history and longevity in our company, and we are in a great industry."
Smooth Ride
Most people may not think much about elevators until they need to use one, but GAL is keenly aware of the fact that there is no margin for error in the elevator industry. Although it isn't the fastest paced industry, it is always under pressure to ensure that elevators are safe.
"There are extensive regulations, and any advancement have to be proven," Seifried says. "This is a cautious industry because of safety concerns. So the cutting edge is really focused on safety related advancements, such as control systems or devices used if there is a malfunction. For example, traction elevators use wire rope, and if a car malfunctions a brake is applied to the rope and stops the car safely. We are one of a few players who make that product which meets code requirements."
Other advancements have focused on elevator capacity challenges. For example, smart buttons and communication between panels have made wiring easier for elevator contractors – even if the riding public may not notice a difference.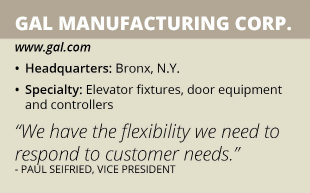 "Elevator control algorithms can now help get elevators to the right floor as quickly and as efficiently as possible," Seifried says. "Destination dispatch systems can direct people to elevators by providing information on where people are going. This can help save cost on equipment and provide more usable space in buildings."
Other challenges in the industry are based on the state of the construction industry. Modernization work is always ongoing, but the new construction market can go up and down with bigger swings.
"Right now, the industry is very busy in new construction and modernization," Seifried says. "Many buildings are being modernized, and that is often a very substantial overhaul of equipment. We play more in the modernization world than new construction. Our challenge is making sure we have the manufacturing capacity to meet customer needs, as lead times are much shorter now. Our manufacturing capabilities allow us to get products built very quickly, and we have the flexibility we need to respond to customer needs."
Closer Ties
Perhaps the main priority right now for GAL is to make sure that all of the parts of the GAL family are working together in harmony. In addition to GAL's presence in New York, it also includes the GAL Canada operation based in Mississauga, Ontario. Additionally, GAL acquired Hollister-Whitney in the 1960s. Hollister-Whitney makes products such as elevator hoisting equipment and related safety products.
"The companies have run as separate entities, although we have tried to work together and attend trade shows together," Seifried says. "An initiative we have going on now is focused on bringing the companies closer together to enhance customer convenience. We essentially want to provide one-stop shopping for customers needing an elevator system, so they can come to us and specify all of their needs, and we can do everything they need other than the elevator cabs."
Having created a diverse set of capabilities between the entire GAL and Hollister-Whitney family, there is a natural synergistic relationship between the companies. Some of the equipment that Hollister-Whitney makes interacts with the equipment that GAL makes. That equipment needs to be designed in ways that will ensure that they work well together.
"We can't make a GAL controller without knowing the design of the Hollister-Whitney traction machine – both products depend on each other," Seifried says. "We can treat ourselves as two companies, or we can work as one. Since we have the same ownership, it doesn't make sense to force the customer to work between the two entities to gather information."
What the organization wants to do is make use of the capabilities it has to continue to design equipment that can work together as an integrated package while making the entire process as seamless as possible for the customer. That will add value to the customer, as GAL and its sister companies can be a system integrator instead of customers having to integrate the systems on their own. This is a critical strategy for GAL as the company looks to build off of its successful past.
"This is something we have been working on for a while, and we are most of the way there," Seifried says. "We have invested in tools that will help to configure equipment between the sister companies that can be integrated and work together well. Shortly, that system will be putting work orders out at both companies, and that will help us to meet our customers' needs."