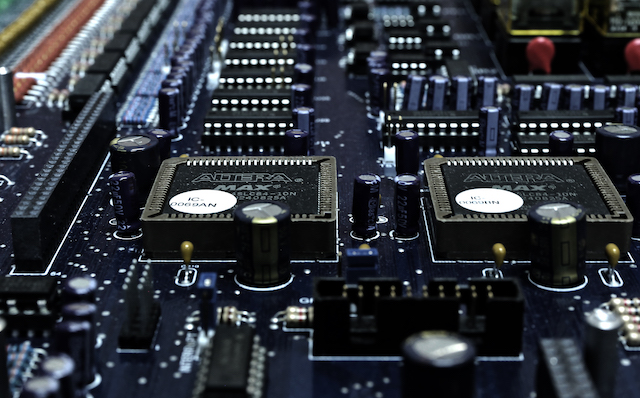 Skyscrapers probably wouldn't exist if people had to climb stairs to get to destinations above the 10th floor. GAL Manufacturing, an independent manufacturer of elevator door equipment, has been around since the age of the skyscraper had begun.
Although the company doesn't take credit for building the city skylines that popped up in the 20th century and that continue to grow, it likes to think that it played a part. "The skylines would not exist if it weren't for companies like GAL Manufacturing," Vice President of Operations Paul Seifried says.
The Bronx, N.Y.-based company has been selling elevator door equipment, controllers and push button panels since 1927. Operating out of a 100,000-square-foot facility in the Bronx, GAL offers its customers innovative solutions, technical support, skilled design and manufacturing capabilities.
"We open the door for you," Seifried says. "We're the largest producers of elevator door equipment in U.S. and Canada. A good majority of elevators have our equipment."
Generating Regeneration
In a world concerned with green initiatives and saving energy, manufacturers are now giving more attention to improving energy usage in elevators. "One of the trends in elevators is regenerative energy," Seifried says. "Energy costs money. The elevator systems are now smart enough so that not only do they reduce energy use, they can pump the energy back into the building."
GAL has seen an increase in demand for energy-efficient elevators in mid-rise and high-rise buildings. Traction elevators, the most common type, pull up their cars by means of rolling steel ropes over a deeply grooved pulley. The weight of the car is then balanced by a counterweight.
Although it takes energy to make the elevator go up, new technology allows the elevator to generate energy on the way down. In the past, there was no means to capture and regenerate that downward power into electrical energy. But that has changed. These traction elevators have improved controls, hardware and other systems.
Smarter Elevators
While traction elevators are getting smart, a new type of elevator has entered the market – and it's even smarter. Called "destination dispatch," this elevator calculates how to get passengers to their destinations faster and tells them which elevator to use. New destination dispatch control technology allows elevators to reduce a building's overall energy usage by reducing the number of stops a group of elevators make. In theory, this will reduce the total number of elevators required in a building.
"Destination dispatch is a more efficient way of getting people to their destination quicker," Seifried says. "It's gaining popularity, but it can come at a price."
When using a typical elevator, passengers must first call it by pressing an up or down button. Once inside, they select their desired floors. Destination dispatch elevators are different. Instead of pushing a button to go up or down, passengers first select the floor they want while still outside of the elevator. They are then directed to an elevator that will take them to their destination with the fewest number of stops. This makes it faster for the passenger than a typical elevator.
"The real payoff is that [the building's owners] may have enough efficiency so that they could have one less elevator," Seifried says. "Besides the energy reduction, it saves them space, which they can then rent out."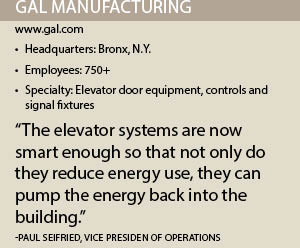 Destination dispatch control elevators are designed for mid to high-rise buildings. Such a system wouldn't make sense for a building that is less than 10 stories.
Smart Operator 
As one of the largest independent elevator door equipment manufacturers, GAL often introduces new and innovative products to the industry. It recently introduced its new line of linear door operators, called NextDOOR.
"This smart equipment is our latest elevator door operator," Seifried says. "It is an intelligent door operator which has the capability of determining how fast the doors can close depending on code requirements."
The system determines door mass and calculates optimum door characteristics according to guidelines. It also ensures that the elevator door's speed meets code based on the system's kinetic energy. Featuring few moving parts, the system is quieter and easier to maintain than its predecessors. When correctly matched to installation demands, it can offer trouble-free service.
"This is a plus for our customers," Seifried says. "It's a one-touch setup. Our objective was to make it easier for the individuals in our field who install that equipment. What used to take hours of work is now reduced to minutes."
GAL has developed a reputation for efficiency in the industry, especially when it comes to its elevator control systems, Seifried says. Elevator control systems are responsible for coordinating all aspects of elevator service such as travel, speed, acceleration and deceleration, leveling and hall lantern signals.
"One thing that makes us shine is the intelligence of our control system," Seifried says. "It determines the most efficient way to bring that elevator to you and our algorithms are some of the most efficient in the industry."
Safety First
GAL has long been committed to promoting elevator passenger safety. Its focus on safety was brought to the forefront 1978 when the company designed, patented and manufactured the industry's first door contact fault monitor.
Since then, it has sold more than 10,000 units worldwide and is being used in relay, PLC logic and solid-state logic controllers throughout the industry. GAL later designed another monitor that detects unintended car motion and provides protection from ascending/descending over-speed car conditions.
GAL followed this up by developing RESCUvator for hydraulic elevators. In the event of a power outage, it activates and provides sufficient power to allow passengers to exit safely at the lowest level.
Elevator safety controls rarely elicit much attention beyond industry specialists. But their potential impact on code compliance has made them a topic of interest for elevator consultants, engineers, architects and building owners.
Broadening Horizons
GAL was founded by three men in a small basement in New York City. Herbert Glaser, Jack Ambramowitz and Harold Leon started their own line of gate switches, interlocks and door operators. They called it G.A.L. Electro Mechanical Services. Their company quickly grew from being a small supplier of lift products to serving customers across the country.
In 1960, the company bought Hollister-Whitney, a manufacturer of elevator equipment that broadened GAL Manufacturing's line of nonproprietary equipment products.
In 1967, the company was renamed GAL Manufacturing Corp. In 2005, GAL Manufacturing acquired Elevator Components Inc. and merged it with GAL Canada based in Mississauga, Ontario.
"Between our three groups of companies we employ over 750 people and have 500,000 square feet of manufacturing facility space," Seifried says.
GAL Manufacturing produces the majority of its products in-house. Their capability ranges from single spindle drill presses to computer numerical control machining and punching and laser equipment. It also offers surface mount and through-hole circuit boards, injection molding, welding, forming, centrifugal casting, coating and assembly services and finishing operations.
The company produces solid-state boards along with painting and assembly operations. GAL's large customer support team and production engineering staff are equipped to offer its clientele innovative solutions. "One of our strengths is high reliability," Seifried says. "The last thing people want to do is be trapped inside an elevator."