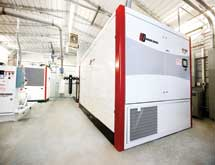 Gardner Denver – Industrial Products Division
Gardner Denver is proof that a successful company never stops trying to improve itself. Already a leader in the design, manufacture and marketing of compressors, pumps and blowers and marking its 150th anniversary last year, the company has recently undertaken a massive culture shift toward leaner production and a stronger concentration on listening to the customer. Gary Gillespie, Director of Sales and Marketing for the compressor business within the Industrial Products Group, says the initiative is the passion of CEO Barry Pennypacker, who was named to the position in early 2008.
"He expects us to work on the bus­iness, not in the business," Gillespie says. This means the company has a stronger focus on continuous imp­r­o­vement, which has led to a number of changes that have increased efficiency, empowered employees' decision-making, and reorganized the company to better serve its customers.
This latest initiative has further strengthened Gardner Denver's position in the markets it serves, where it has been a constant presence since 1859. Founded by Robert Gardner, the company redesigned flyball governors to better harness the power of steam and eventually developed steam pumps and high-speed vert­ical air compressors. The company received a boost when its steam pump technology was adapted for use in mud pumps used in the drilling process for oil and natural gas wells.
In 1927, the company merged with the Denver Rock Drill Company, be­c­oming Gardner Denver. Begin­ning in 1959, the company began growing through a series of strategic acquisitions, gain­ing capabilities in the production and servicing of equipment such as helical screw blowers, pumps and compressors. Gill­espie says the company began looking for opportunities in the industrial sector during the 1970s and 1980s because it wanted to find a way to avoid the peaks and valleys caused by the cyclical nature of the oil and gas business.
Today, Gardner Denver manufactures equi­p­ment under numerous brand names and is divided into two groups: the Industrial Products Group, which services a broad base of customers in the industrial, manufacturing, transportation, energy, mining and construction sectors; and the Engineered Products Group, which produces engineered systems for use primarily in the oil and gas drilling industry. Gillespie says the combination of organic growth and acquisitions has made Gardner Denver one of the top three producers of compressors in North America, and a leader in other market sectors. "We're a very strong player in many markets in the United States," he says.
"Our company which started out fo­c­used on a single technology has evolved into the very global and very diverse company we have today," says Phil Hilde­brand, director of sales and marketing for the blower business within the Industrial Products Group.
Looking Inward
Diversification was the driving force behind Gardner Denver's growth, but now the influence of Pennypacker has shifted its focus to internal improvements. The company's growth is now being fueled less by bringing new cap­abilities into the company and more by sharpening the capabilities it al­ready has. Gillespie says Pennypacker re­in­vigorated the concept of lean within the company as part of a larger program to concentrate on addressing the needs of the market.
Hildebrand explains that customers, shareholders and employees make up three points of a triangle that supports the Gardner Denver Way. One of the most prominent changes that has occurred within the company's culture has been simply the recognition that things can change, and that change can be effected much faster than in the past. Hildebrand says part of the new cor­porate culture at Gardner Denver is that employees are empowered to make de­cisions that help the company serve its customers faster and better.
"One of the main things is action," Hildebrand explains. "There's a stron­ger push to make changes happen that you know are going to drive the business forward."
One area in which the company is working closer with its customers is energy efficiency. Gardner Denver is providing air audits for customers through remote monitoring of their own operations. "Energy isn't going to get any cheaper," Hildebrand says. "We've worked long and hard at educating ourselves, our distribution network, and our customers on maximizing the efficiency of air use."
Lean Thinking
In addition to the cultural changes go­ing on at Gardner Denver, the com­pany also has made some practical changes that have improved productivity. Director of Manufacturing Les Middleton says the company's manufacturing facilities have undergone significant transformations that emp­hasize velocity, according to Pennypacker's dir­ectives.
During the last 18 months, Middleton says, Gardner Denver has transitioned to lean manufacturing through activity-based kaizen events and other organized activities. This has created "islands of lean" throughout the plants, but Middle­ton says it's only the beginning.
"Where we're at right now is at that precipice between event lean and regular lean," he says.
The process of implementing lean within Gardner Denver's plants began with examining where the majority of the wasted time was spent. Middleton says the company discovered that the most time was wasted looking for things, whether they were parts, tools or even a worker's next task. The company cleared away much of the "rubble" that created this inefficiency and developed a visual workplace management system so employees could immediately identify what needed to be accomplished and get to it sooner. Employees also are being cross-trained so they can assist co-workers when there is an opportunity to do so.
In the near future, Middleton says Gardner Denver will be cascading the remainder of its goals to become completely lean, but he admits there will never be a point at which the company can stop improving its processes, saying that the company expects to find areas for further improvement. "The journey's never really done," he says.
Other Improvements
The efficiency of its manufacturing operations is not the only area in which Gardner Denver concentrates its energy, according to the company. It says it has a strong environment, health and safety program in place that ensures its employees can work confident in the knowledge that they will be safe.
"Gardner Denver ensures that emp­loyees work in a safe and healthy environment and strives to eliminate hazardous conditions, materials and pro­cesses from our manufacturing and service operations by employing sound environmental and safety standards that are the same for operations worldwide and providing necessary resources to achieve those standards," the company says. "Operations are responsible for, and are held accountable for their environmental and safety performance through regularly reported metrics and a comprehensive compliance assurance system."
The company also stresses the importance of developing new technologies, staying on the cutting edge of the industry. "At Gardner Denver, our goal is to create and provide innovative compressed air and gas, vacuum and fluid transfer solutions worldwide," the company says. "This provides our customers with a competitive edge that defines the difference between moderate and superior results in today's marketplace. We offer extensive technological and support synergies benefiting our customers around the world. Gardner Denver and its brands are widely recognized as international leaders in technical innovation. Our products provide customer solutions in many industries, including petroleum, chemical, medical, wastewater, among others."
The company adds that its engineers are constantly working to develop new products. "Gardner Denver views research and development as an all-important means to help our OEM's add value to their products," the firm says. "Our engineers and technicians develop new technologies, improve existing designs, and proactively respond to critical needs by conduct­ing customer specific tests that mimic actual operating conditions. Our ongoing investment in development staff and facilities – unmatched by any other company in our business – reflects our advancements through the practical evaluation and creative application of vacuum and pressure technology."
Tough Times
Initiatives such as lean have become more important than ever because of the recession, Hildebrand says. Every mar­ket sector Gardner Denver services has been impacted by the economy in one way or another.
"It's a matter of to what degree it got hit," Hildebrand says.
However, Gardner Denver is using the lull as an opportunity to reorganize itself and further entrench itself in certain markets. Hildebrand says many of the internal initiatives the company is undertaking currently would have been more difficult to pull off as quickly as it did in a normal business environment.
"It was a good time for us to launch a number of initiatives that created a lean culture, and it also gave us the opportunity to restructure our organizations to better serve our customer base," he says.
The economy also had an impact on one of Gardner Denver's most recent acquisitions: European compressor manufacturer CompAir. Gardner Denver acquired the company in late 2008 for approximately $360 million, giving it the position of No. 2 in the compressor market throughout Europe.
"This essentially aligned the Gardner Denver name with a compressor company that already had significant presence in the European market" Gillespie says.
However, once the global economy started to slip, Gardner Denver began to aggressively pursue restructuring opp­ortunities that complimented its lean programs and a new cultural focus on customer service. By right-sizing the entire company, it was able to grow market share on a world-wide basis while leveraging the benefits inherent in the acquisition.
Hildebrand says he sees Gardner Denver's strategies paying off al­ready, especially as consolidation hits the industry and more competitors focus on simply selling products without regard to creating long-term relationships with customers. "The relationships that we are developing with our channels and customers will be solid and long-lasting," he says. "We're very focused on meeting the needs of our customers."