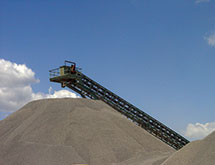 Garlock Rubber Technologies
Garlock Rubber Technologies has a unique standing in the manufacturing world. To its knowledge, it is the only manufacturer of both heavyweight conveyor belts and sheet rubber products in North America. Although most of its competitors do one or the other, Garlock's involvement in both fields adds to its knowledge of how rubber works best.
"This is something that we talk about a lot here," Sales and Marketing Manager Jeff Phillips says. "From a manufacturing standpoint, it gives us some flexibility and it gives us the opportunity to do some things that our competitors are not capable of doing."
Based in Paragould, Ark., Garlock houses one of the most advanced technical labs in the industry where it tests the physical, chemical and component properties of materials and finished products. Over the years, the company has achieved a number of technical "firsts" that it can proudly boast about. For instance, it pioneered the use of the alkali reclaim process to cure rubber more efficiently and make it easier to handle. It also developed and patented the Rotocure Vulcanization Process that achieves uniform continuous curing.
Garlock's in-house engineering, testing and development teams create the basis for its two main product lines. Its line of heavy-duty conveyor belts, including the DURAKING, FLEXKING and TECHFLEX brands, serves industrial sectors that perform bulk hauling, such as agriculture, mining and construction. Two years ago, the company increased its crane capacity, allowing it to manufacture conveyors weighing up to 50,000 pounds, from 36 to 72 inches wide and from 1/32nd-of-an-inch to two inches thick.
Its line of engineered sheet rubber products includes products for sealing, protecting and cushioning. The products include slit-to-width skirtboard and chute lining, and other sealing and protecting products.
"We have a couple of things we're working on now that are not necessarily completely new, but they are different than what we see in the marketplace today," Phillips says. "One is for the sheet rubber market and one is for the conveyor belt market. One of those is for sectors we are already in, but the other is for a new sector, but it's a design that still fits with our current capabilities. We're branching out just a little bit, which is something that we're always looking to do. Whether it be with a different compound or a different design, we always look for those opportunities."
Process Improvements
As the company continues to work on new products, it is also making investments to enhance its manufacturing process. Since 2006, the company has continually improved its ERP system by adding and upgrading control systems on its machinery.
"Everything is communicated now in real time," Phillips explains. "We've gone paperless on the production floor. We can look at orders and see how they are progressing through the system in real time. It's been a big improvement for us from a scheduling standpoint."
The updated controls also help the company maintain consistent quality, which Phillips says is the No. 1 concern of its diverse customer base. That's why Garlock Rubber controls the majority of its process, from specifying fabrics and mixing compound materials, to engineering and manufacturing.
"Every customer wants to see consistent performance," Phillips explains. "Part of the reason we are updating our controls is to make sure we have a consistent product and consistent quality. The fact that we are able to deliver that is what I'm most proud of."